Ok, it seems that you somehow ended up in Zagreb with a group of friends. Let's say that you've just done your portion of sightseeing in the morning and all of a sudden the beast awakens with a loud growl. It's feeding time. You know that your big plans for a superb, unforgettable Croatian lunch will have to wait for more sensible times because your travel companions are hungry, and more importantly, YOU are hungry. Since you probably want to avoid a likely frustratingly long discussion at all costs because John wants a pizza, Jane is in the mood for seafood, Anne is a vegetarian, Ben won't stop talking about pasta and you want to try something local. Don't worry, everything is under control. If you're hanging out somewhere around Zrinjevac Park or you're picking up some nice flowers on Flower Square (as if), there is a convenient option that could satisfy the needs of the many (without outweighing the needs of the few) and it's called Bistro Fotić. It is located in Ljudevita Gaja 25 and you will recognize it by the strange and pretty creepy looking mannequin dressed as a waiter on the otherwise cute shabby chic terrace. Unusual terrace decoration aside, Bistro Fotić is a fairly decent bistro with a surprisingly large menu, maybe even slightly too large for a bistro, but in your case that's a plus.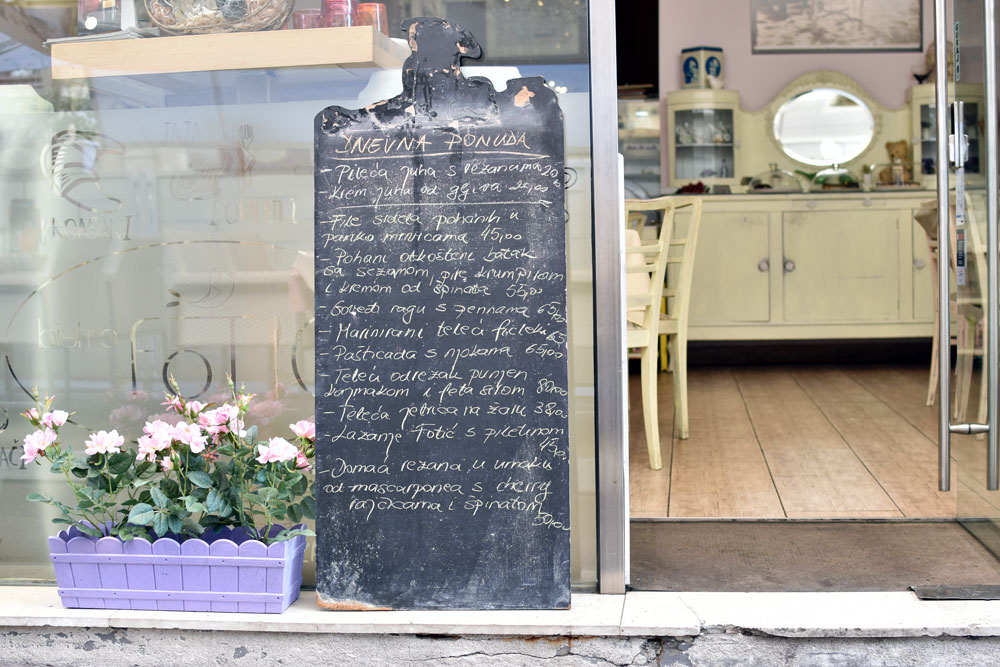 So the menu is a bit confused about its nationality because it's mainly international but you can find some parts that are truly Croatian. Specialties such as hake fillet (from the Adriatic Sea, mind you!) served with potato salad and tartar sauce (it's basically the Croatian fish'n'chips), octopus brodet (fish or seafood stew) served with soft polenta, kale stew with minced beef cutlet (a dish that brings back college memories and eating in canteens), pašticada (Dalmatian pot roast or beef stew) served with homemade gnocchi, grilled veal liver with braised potatoes... We could go on for hours (and get reaaally hungry) but you get the picture, hopefully. Aside from the nice selection of authentic Croatian dishes there are also yummy Italian pastas, pizza, Mexican tortillas, quesadillas, French onion soup and probably anything that comes to mind when your hear the term "international cuisine". Also, they offer daily menus with 10 dishes where you can find at least, but usually more than one local dish for a fair and moderate price. Let's not forget the nice welcome basket filled with homemade bread and bagels served with cream cheese and coarse seasoned salt.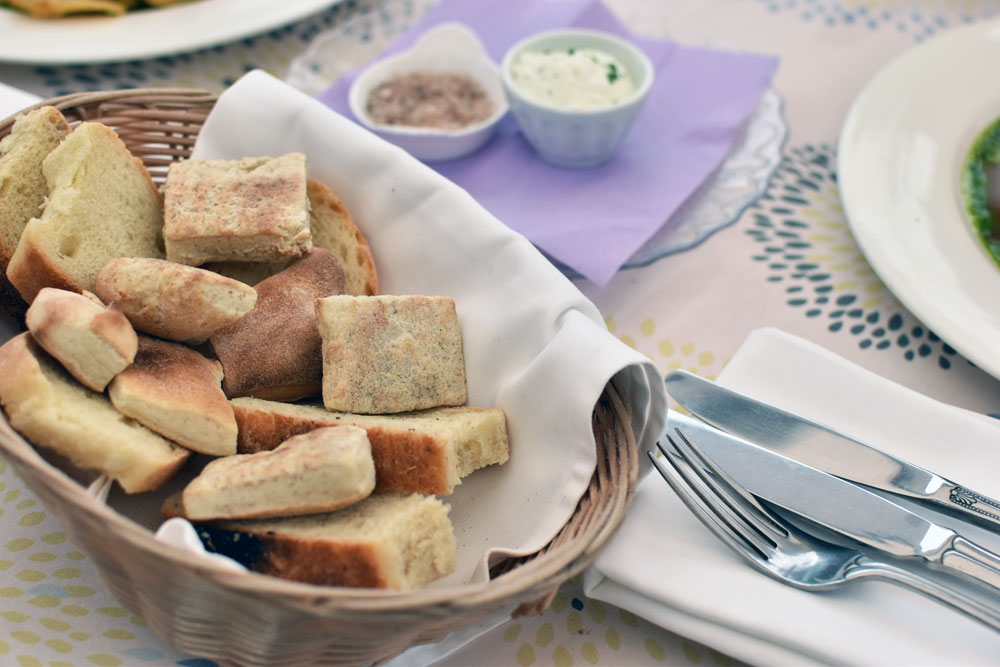 To cut the long story short, Katarina recommends pašticada which is really soft and saucy. It comes with potato gnocchi which are definitely homemade and you can tell it by both the taste and texture; however the jury finds the dish guilty of not blowing Katarina away, which may not be the case with you. On the other hand, Barbara was very much pleased with her marinated roasted veal strips and oven-roasted chips. Crispy and juicy at the same time!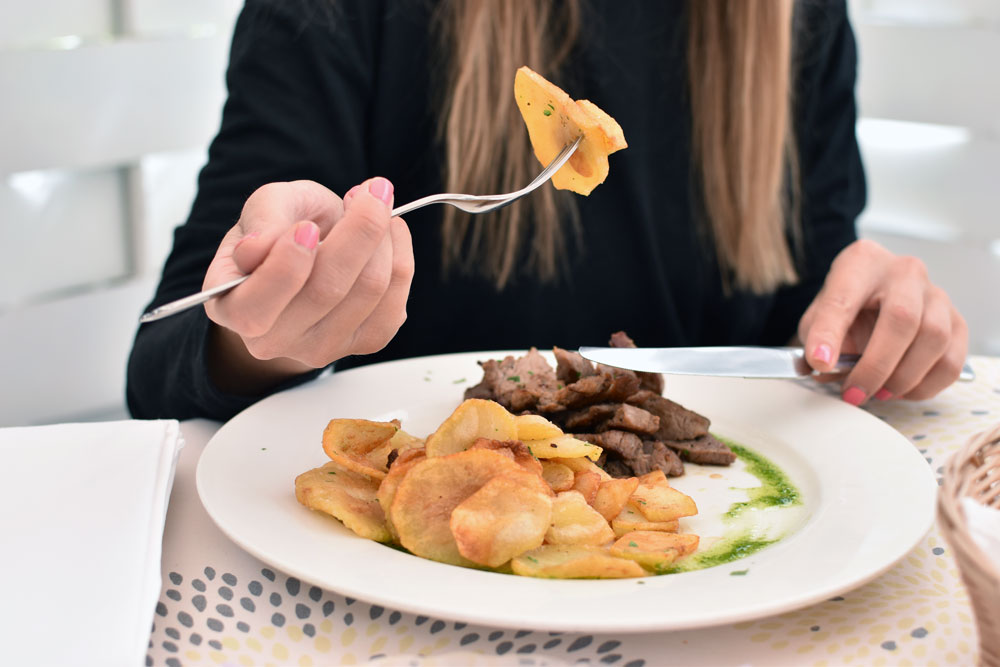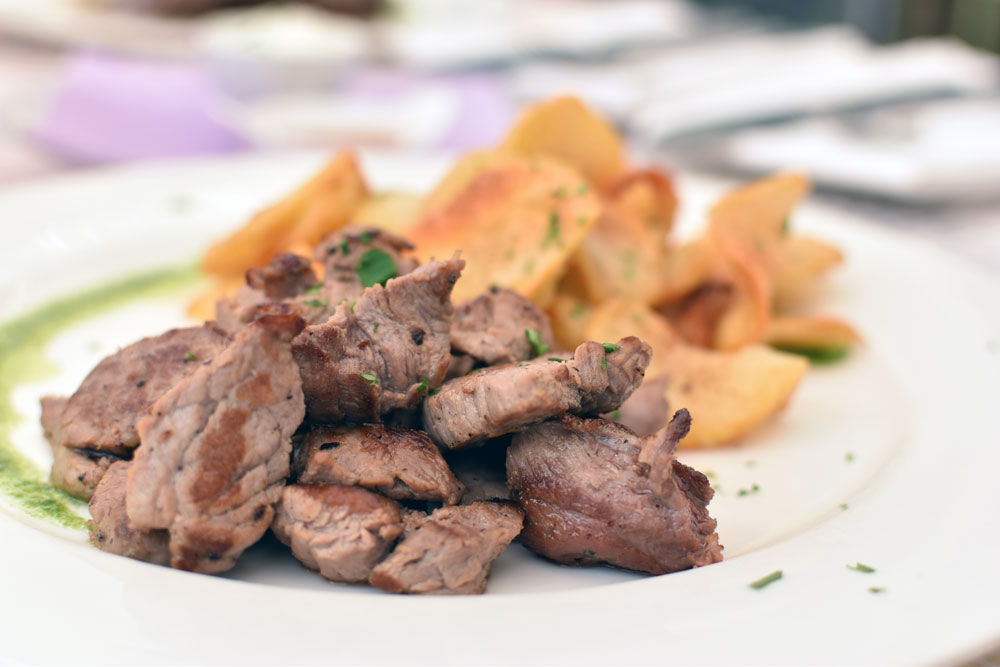 We noticed that Bistro Fotić is rather popular among business people, mainly lawyers, which is not so surprising since there are several law firms in the neighborhood and the venue is a convenient lunch/brunch option. But the atmosphere is not formal at all, don't worry. The word we're looking for is eclectic, and the same goes for the interior. Shabby chic, wooden cabinets in pastel colours, vintage open shelving, decorative bird cages, lots of vintage photos (because the owners used to run a very successful photo studio), vintage cameras, an open kitchen with hardworking staff and a large room with exposed brick walls, with a retro industrial vibe ‒ to sum it all up, the place is warm and homely with a substantial menu, generous portions, varied dishes and a very relaxed atmosphere. Just ignore the creepy mannequin!