At the beginning of January (the most terrible month with its dismal and dreary days which no matter what the clock says always make you feel like it's 7 pm) we were in search for some comfort food. So we decided to pay a visit to a bistro we were completely indifferent to for quite some time... After the initial rave following the opening of Bistroteka in December 2014, with superlative reviews and comments about this new "simple and unpretentious" place in Nikola Tesla Street (at number 14), we patiently waited a couple of months to check what the fuss was all about (though not together but on separate occasions). Looking back and discussing the impressions we've collected so far, we have to admit that neither of us has been impressed. The words we mostly used to describe the food were "average at best" and "very far from astonishing". Has anything changed?
Almost a year has passed since either of us felt the need to check Bistroteka's food level. And on one freezing cold January Saturday, in the spirit of New Years' beginnings, we decided to give it another chance (and thank goodness we did!). It was the ski week (in Croatia it's traditionally the first week in January) and the city was pretty empty, so there was no need for reservations. But remember, this is usually not the case. Saturdays are their busiest days so booking in advance would be wise.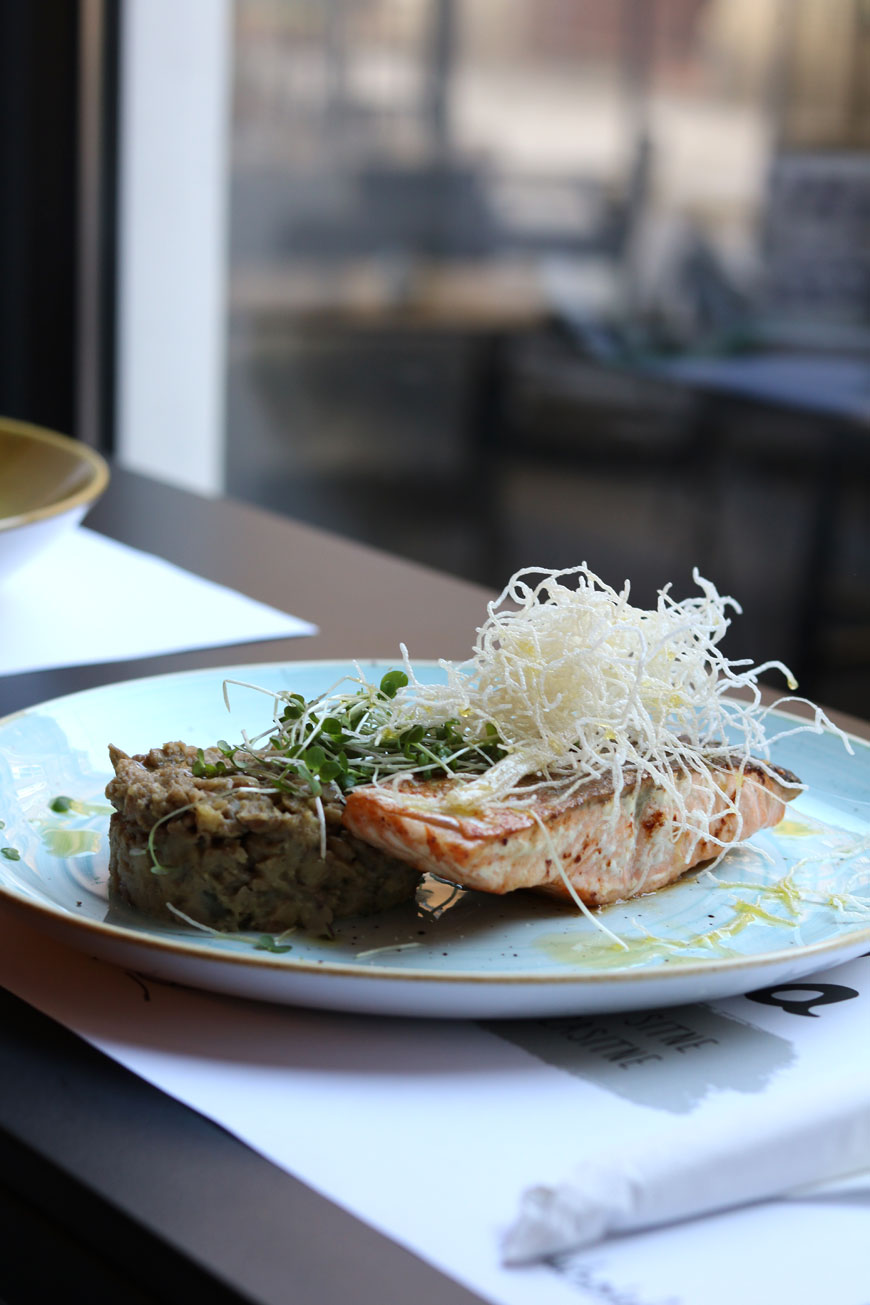 We were seated by the window ‒ the perfect spot with a nice view of Nikola Tesla Street, where every now and then a person covered in hundreds of layers of clothes passed us by. The wait staff was friendly and unobtrusive and gave us enough time to make up our minds about the food. The interior was carried out in black and white with eye-popping floor tiles and amusing wall design. Stylish but not posh. It is charming in an industrial-design kind of way with some nice and subtle background music to make the atmosphere all cosy.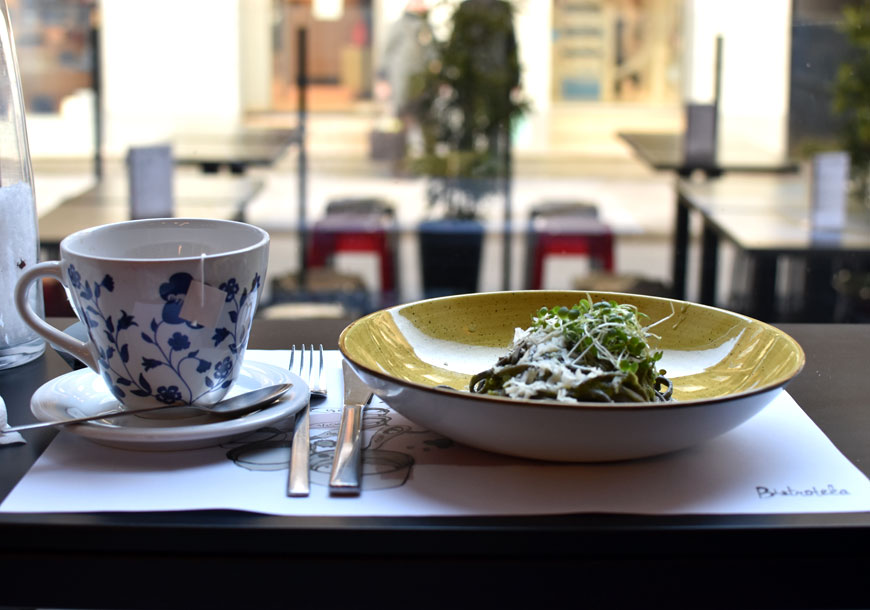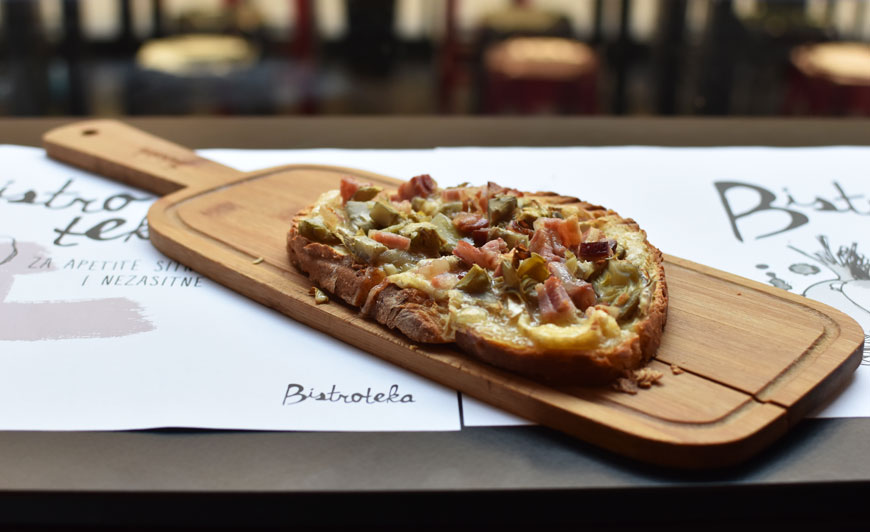 We warmed ourselves up a bit with a cup of green tea and went on with our starter ‒ crostini with brie, artichoke and bacon. Wow! We definitely hit the jackpot with that one! The bread was beautifully crispy and the combination of brie cheese, bacon and artichoke was melting in our mouths. It was crunchy and gooey and so flavourful at the same time. Simply brilliant! And let's not forget how tantalizing the smell of bacon was while we took pictures. To be perfectly honest, we'll most definitely go back very soon and order crostini again, but as a mains, in a double portion! :D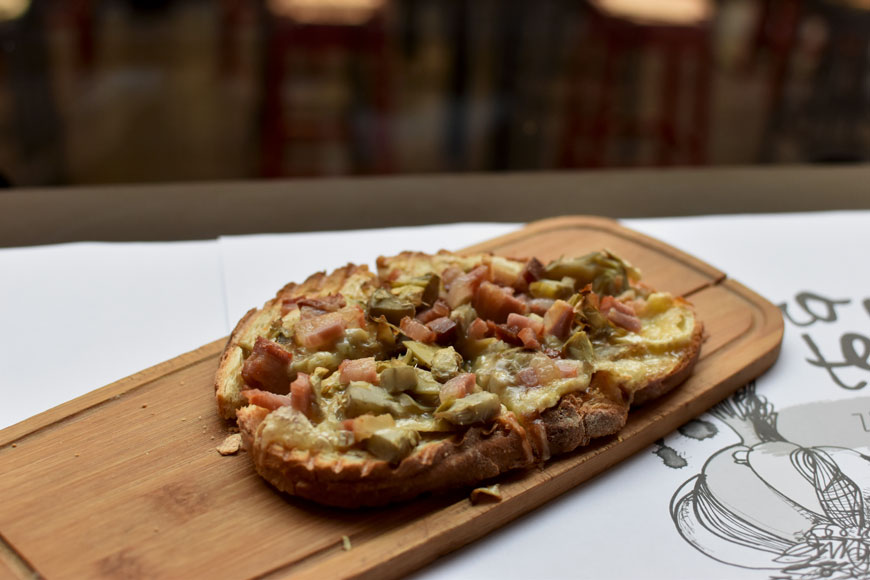 The regular menu follows the typical bistro style dishes including several breakfast options, varying from smoothies, avocado toast, porridge and oatmeal, to eggs in three versions. And if you prefer a lighter lunch or you're in a hurry, you can choose one of their meaty sandwiches: shredded beef, honey mustard chicken and pork rib, while the avocado with spinach and goat's cheese sandwich is a nice option for vegetarians. A bit more exciting food can be found on their daily changing menu with around eight different dishes, inspired by popular international cuisines, which put seasonal, fresh produce into the spotlight. We're talking teriyaki chicken wings, chilli con carne, a spinach and salmon quiche, pork cutlets with cauliflower puree, rib-eye steak, BBQ ribs, stews both for vegetarians and carnivores alike, a tuna burger, various creatively assorted salads, pasta dishes and much much more. Enough to cater for a wide range of palates and tastes. We could say that Bistroteka is successfully channelling that typical European casual dining bistro vibe.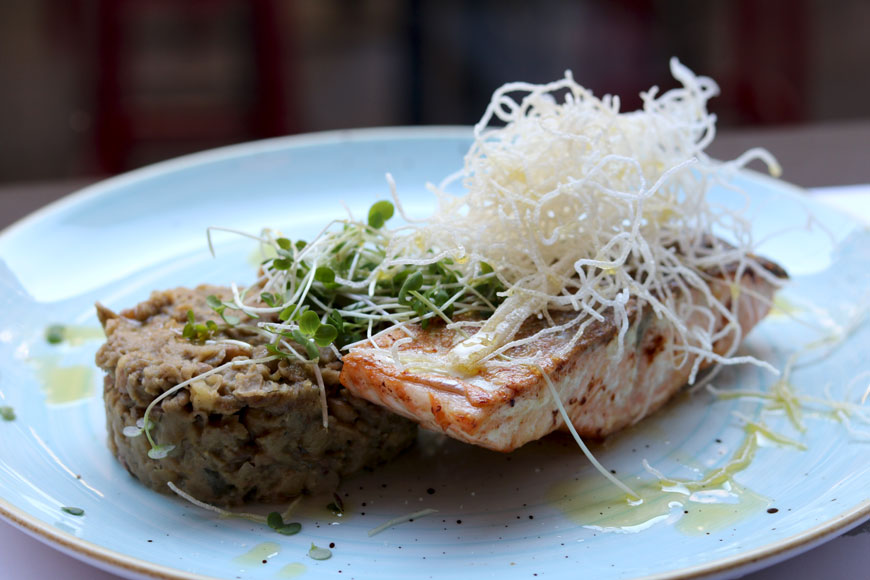 After the most delicious crostini in our lives, we were excited to try the mains. Barbara had the seared salmon fillet with green lentil and fried rice noodles from the daily menu. The colours and textures really popped against the beautiful light blue plate. The salmon was beautifully rosy and together with the greens and crunchy rice noodles looked very appetizing. The dish was very much up to standard and far from disappointing. It was pretty, healthy and yummy.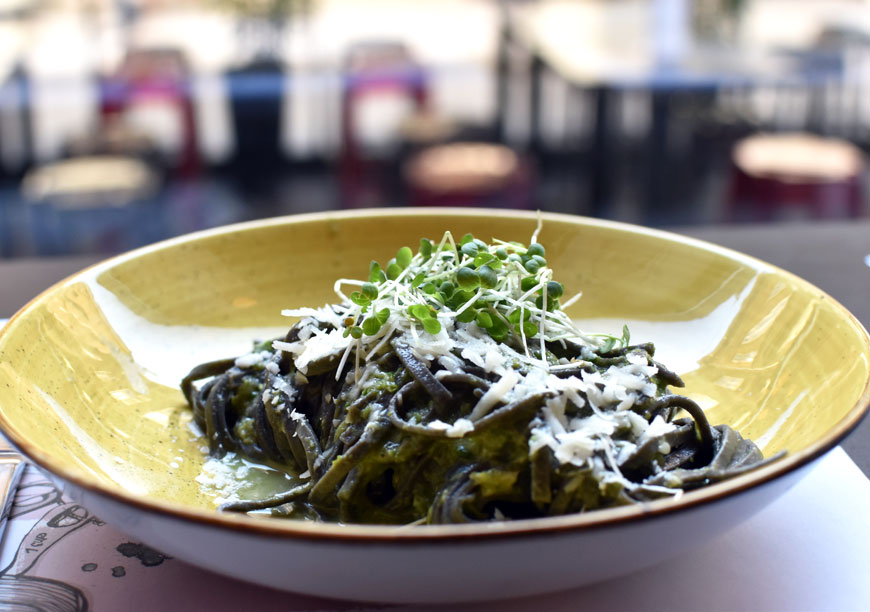 Katarina was in the mood for a meatless lunch so she opted for green pasta with kale, leek and Parmesan cheese, adorned with some fresh microgreens. Surprisingly, it was a very light dish, considering the main ingredient was pasta, and the flavour combination was a bit unusual but delightful. The kale, as well as the leek, was very subtle, and the Parmesan added a nice nutty touch to the dish. All in all, delicious enough to make us come back! The prices are similar to other bistros in Zagreb, which means you won't spend a ton of money. The daily specials are priced at around 10 euros on average, which is pretty reasonable, right?
If you're visiting Zagreb and you need a break from all the walking and sightseeing, Bistroteka should definitely be on your map. It' located in Zagreb downtown, near Petar Preradović Square, popularly known as the Flower Square. And it's especially delightful during the warmer months when you can enjoy a freshly prepared dish on a street side terrace and feel the city's pulse. What else could you wish for?
What kind of bistros do you like? Do you have any particular preferences when it comes to food? Share your thoughts in the comments section.