This time you're in for some seriously sensational sophisticated sinful spoonful savouring! (Try saying that three times really fast!) We're taking you on an exquisite gourmet journey in Le Bistro Esplanade located by the stylish art nouveau Esplanade Zagreb Hotel near the Zagreb Central Station. Before we make an attempt at describing our finger-licking affair at Le Bistro we would like to share a few interesting anecdotes from the eventful history of Zagreb's legendary Esplanade Hotel.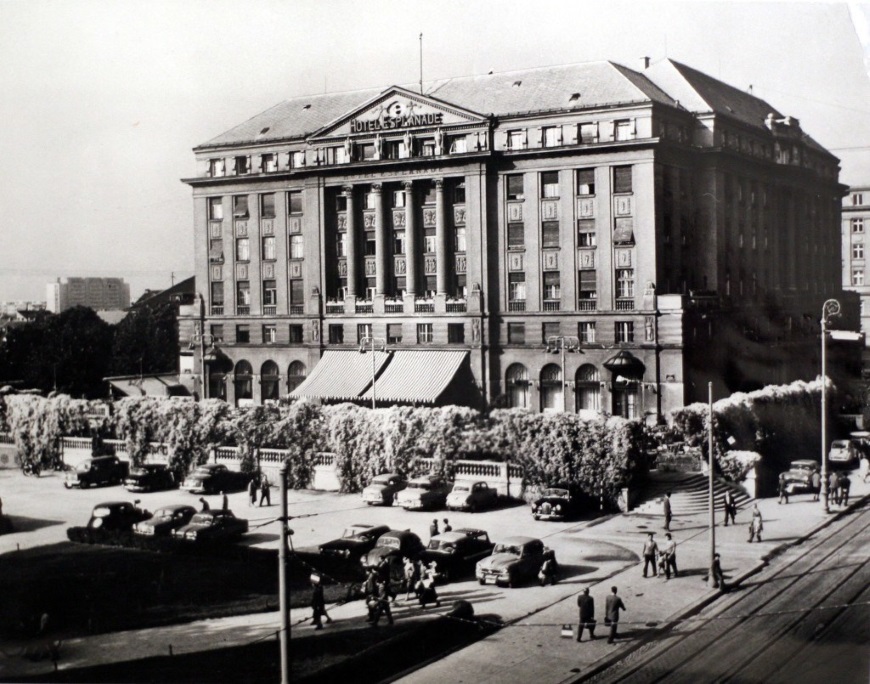 The iconic Esplanade Zagreb Hotel has assumed an important role in the city's social life ever since it opened in 1925 in order to provide accommodation for the passengers of the famous Orient Express train. It is the invaluable chronicle of the old Zagreb city's spirit and its legendary parties, exciting but not very legal activities at the time (hint: roulette tables, baccarat and ladies of the night), annual dances and many glamorous events. The hotel hosted the first Croatian beauty pageant in 1926 as well as the scandalous 1929 show by the legendary Josephine Baker, famous for her barely-there dresses and erotic dance routines. (Mon dieu!) We can only imagine exactly how much she stirred the pot of the conservative 1920's Zagreb social life.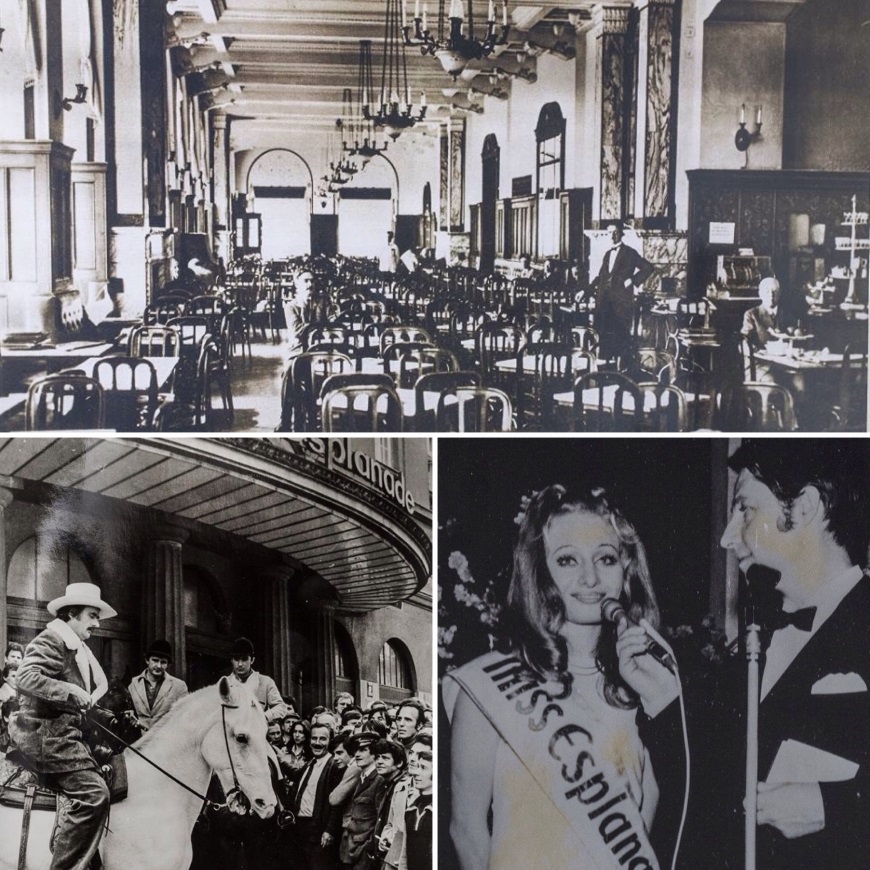 The Esplanade Zagreb Hotel together with its distinguished (and usually very demanding) guests (let's name a few: Charles Lindbergh, Orson Welles, Vivien Leigh, Alfred Hitchcock, Elizabeth Taylor, Sophia Loren, Louis Armstrong, and many many more) has always been the talk of the town, continually reaching the newspaper headlines ‒ Adultery at the Esplanade Hotel, Missing Valuables at the Esplanade Hotel, A Sombor Lawyer Jumps out of the Esplanade Hotel Window, A Big Arrest at the Esplanade... (It's the first half of the 20th century, mind you!) Despite its controversial past, during its exciting 91 years the hotel has always kept its top position on Zagreb's restaurant scene for serving outstanding food.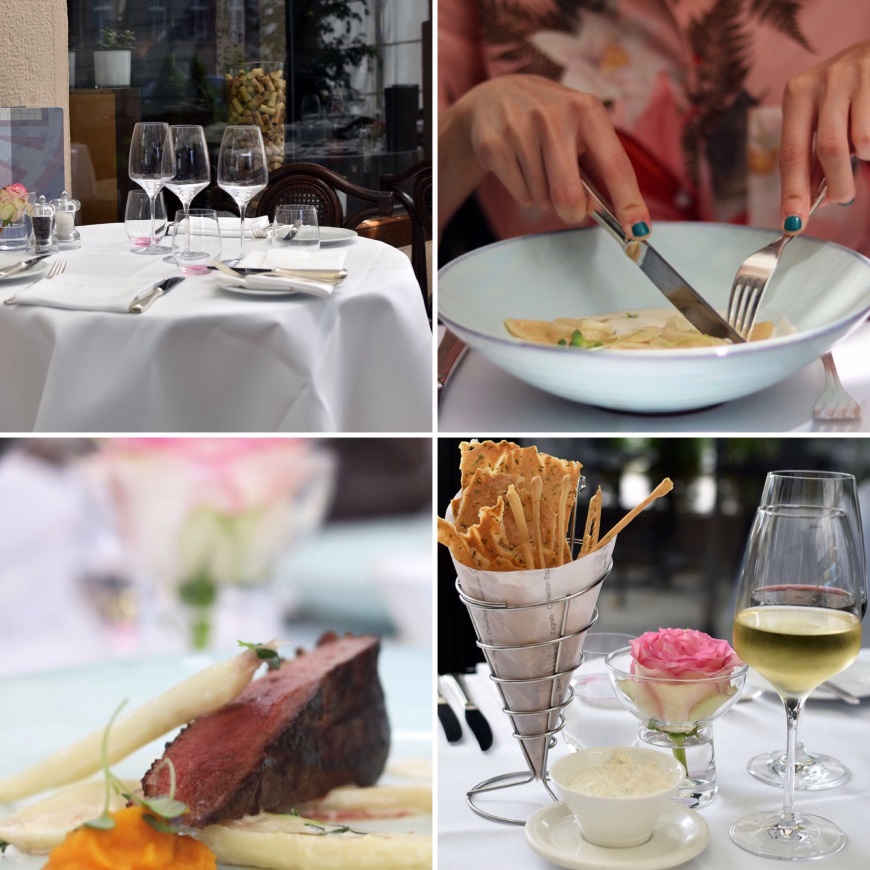 Nowadays the Esplanade houses two restaurants ‒ Le Bistro Esplanade (opened in 1986) and Zinfandel's (fully renovated in 2004) ‒ both run by the young, talented and ambitious chef Ana Grgić, who proudly relies on cherishing Esplanade's tradition of high-end gastronomy using local and fresh ingredients (which she concocts into very creative and stylish dishes, as you will see). So, this time we visited Le Bistro, but we're definitely coming back to Zinfandel's for their tasting menu, and soon! A word of warning, both Le Bistro and Zinfandel's are on the more expensive side than your average Zagreb restaurant, but it's worth every kuna.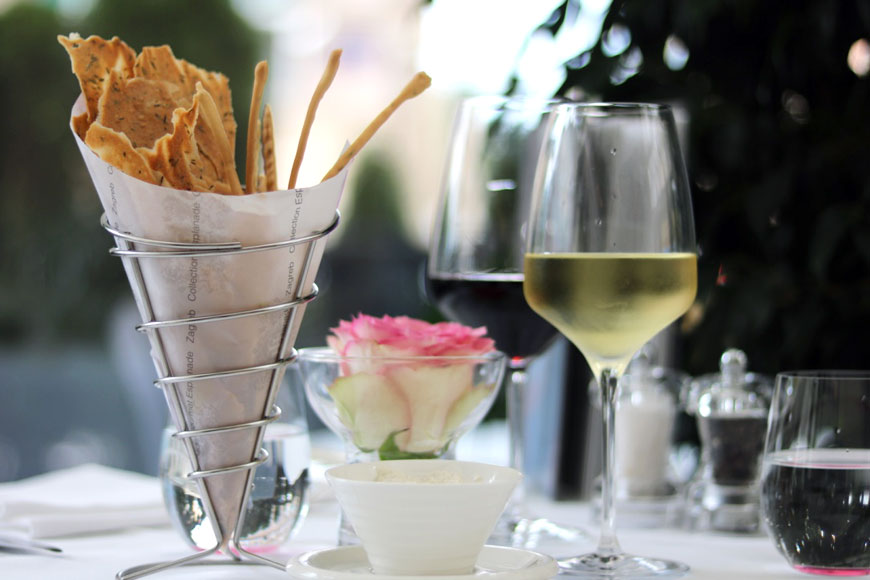 In the airy and elegantly decorated interior of Le Bistro you can expect trendy but classic French cuisine with special attention to flavour balancing, seasonal produce, nice presentation and of course wine pairing. So, everything on the menu sounded shamelessly tempting. The agony of Tantalus! We wanted to try the zucchini flower stuffed with goat ricotta cheese served with zucchini velouté and fried quinoa, and the crunchy frog legs with garlic cream and parsley soup, and the brie cheese tartlet, and the scallops with cold spinach cream, and the foie gras mousse with pear and almond crumble, and the veal cheeks in port sauce with crispy shiitake and celery cream, and the John Dory fillet served with chickpea cream and dried tomatoes, and the steak tartare ‒ AND do we REALLY need to go on?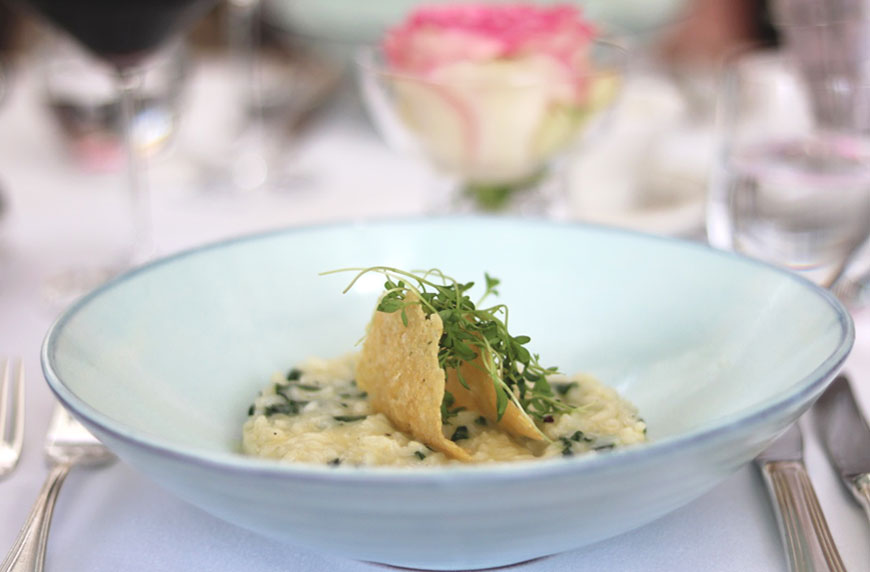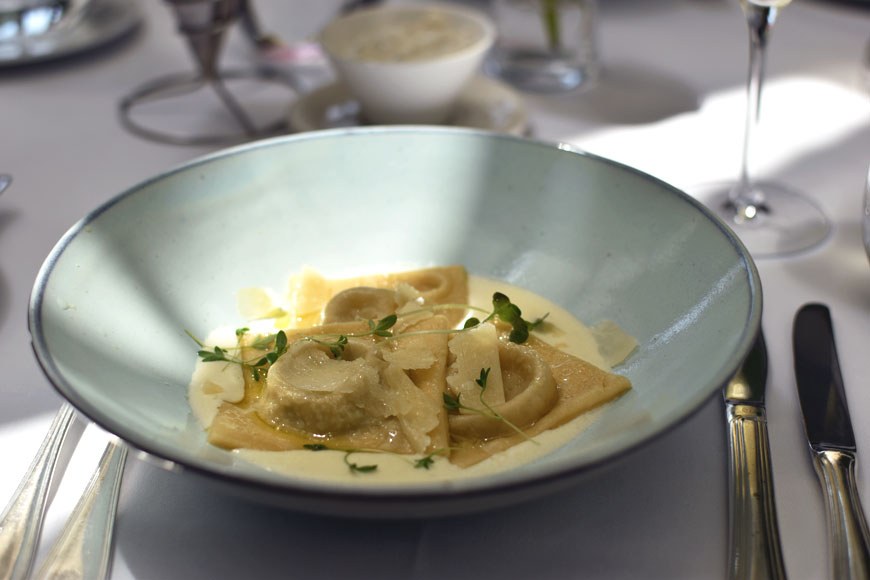 It was a tough decision but in the end we had to make a choice. Barbara opted for the creamy spinach risotto with goat cheese while Katarina decided on wild mushroom ravioli in parmesan cream adorned with parmesan shavings. The food was *beep* amazing! If we weren't in such a fancy restaurant, we would've probably licked the plate clean! But sitting in one of the most prestigious bistros in Zagreb in one of the most prestigious hotels in Zagreb, we had to refrain ourselves and stay cool. Speaking of the plates and tableware ‒ they are absolutely beautiful and delicate and the food looks amazing in those light pastel-coloured plates. (Guilty of having a thing for pretty tableware!)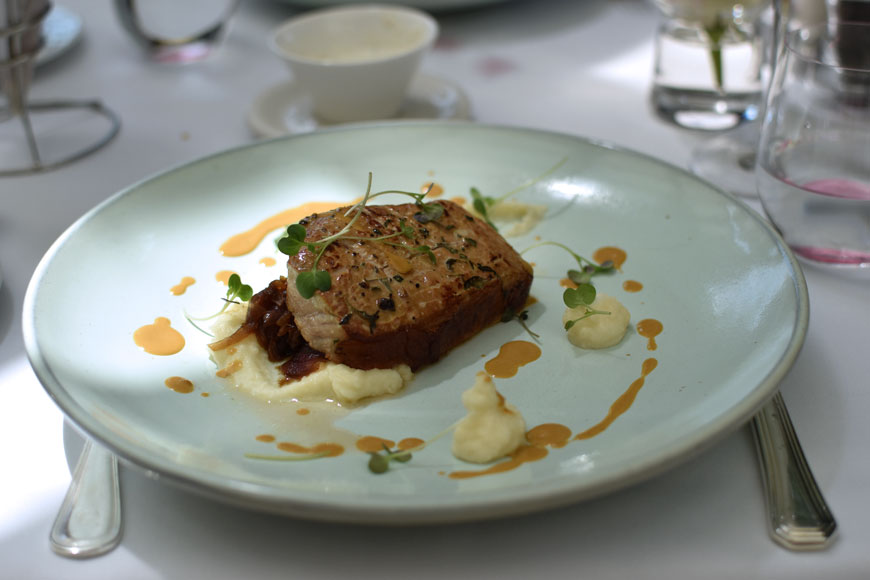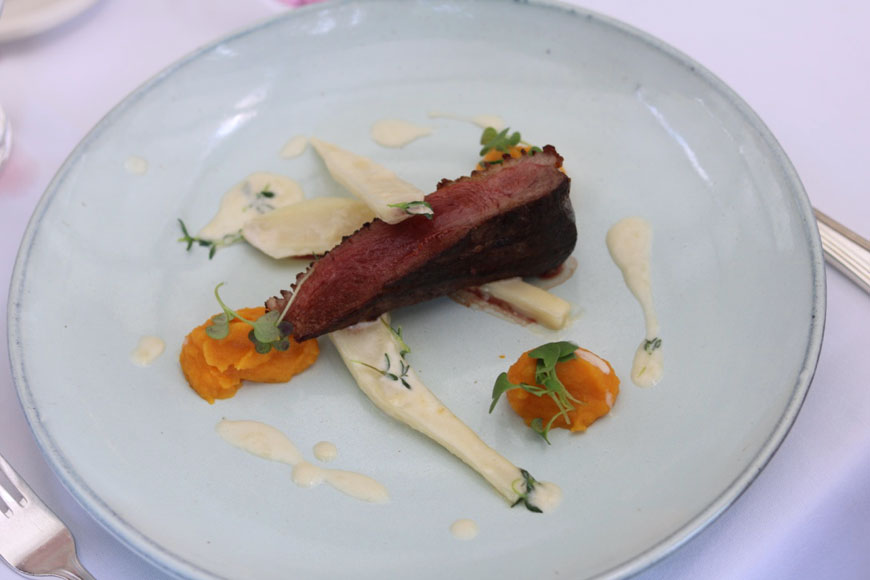 The sinful spoonful affair continued with the mains ‒ duck breast with caramelized parsnip and pumpkin cream for Barbara and a smoked seared boneless pork chop with creamy mashed potatoes and caramelized red onions for Katarina. Again, *beep beep*! It was fascinating how all those different flavours and textures fused beautifully into a delicious umami. Katarina's pork had a deep and smoky aroma that was smoothly balanced with caramelized onions and the velvety texture of mashed potatoes. Plus the drops of mustard-based sauce gave it a zing and elevated it to a whole new level. Graševina Krauthaker followed the flavourful tune. Barbara's duck breast was soft and rosy on the inside and had a nice crispy skin, while the caramelized parsnip and pumpkin cream with their delicate flavours complemented the duck in perfect harmony together with Merlot Krauthaker.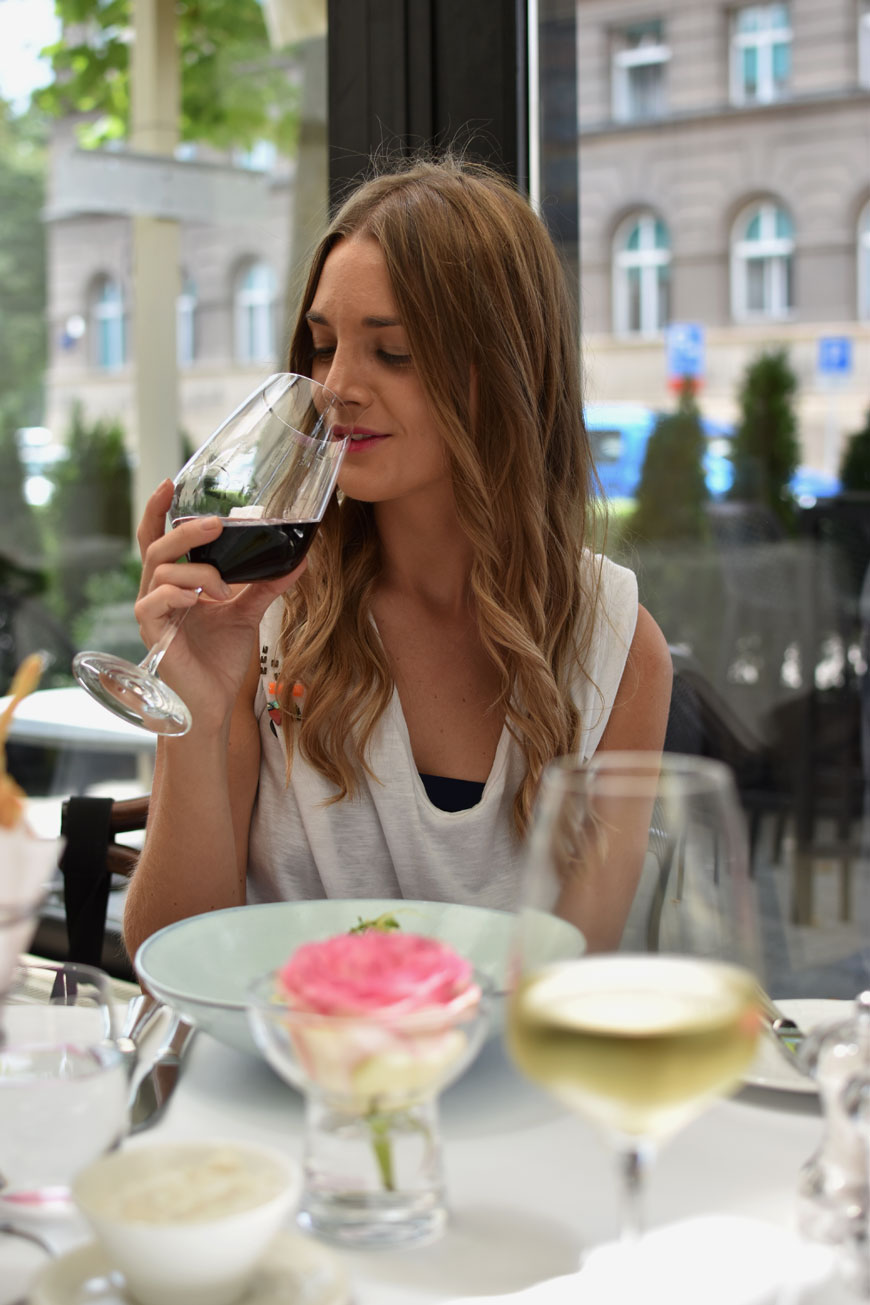 Watch the beauty of this Ferrero Rocher mousse with hazelnut crust and toasted hazelnut on the side and weep with us! It is pretty hard to describe the taste by not using any swear words (because we Croatians like to emphasize everything with jebeno). In simple, polite words it was silky, creamy, sweet but not too sweet, crunchy, rich with chocolate and hazelnut aroma. And it made us close our eyes and go mmmhmhm!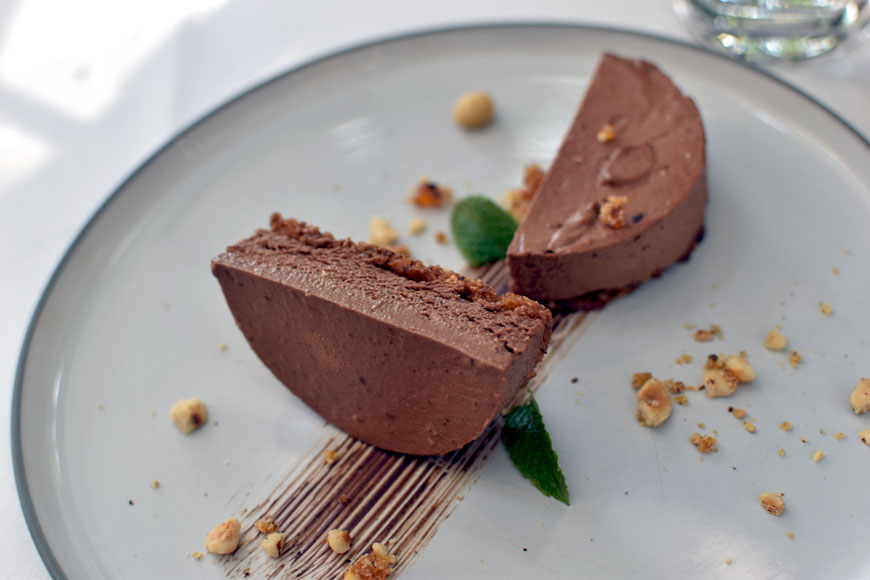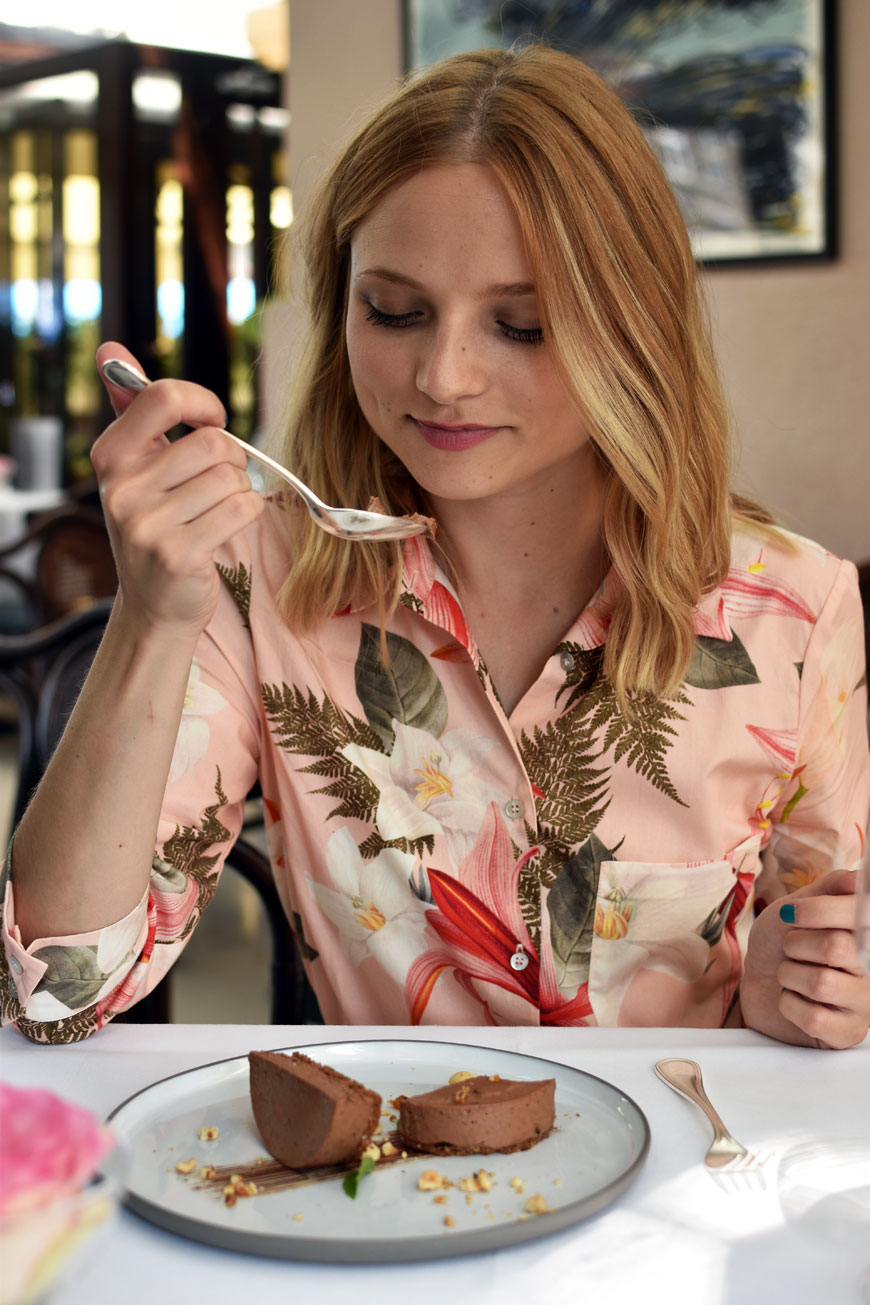 And if that is not the biggest expression of admiration both for the food and the cooking, than what is? But you better go and see for yourself! If we forgot to mention the address, it's Mihanovićeva 1.
Old Esplanade Zagreb Hotel photo credit goes to the Esplanade Zagreb Hotel.