I thought this post was never going to see the light of day, but at last, here it is! I must admit that I was having a lot of trouble with reviewing this particular restaurant (the kind of trouble also known as writer's block or "Look, there's dust everywhere and I should clean the entire apartment, iron all my clothes, my boyfriends' clothes and find the answer for world peace" level of procrastination). And it wasn't because I didn't like the food, I really did, but it had to do with the fact that this place is seriously popular with tourists, and I'm particularly careful at recommending a restaurant as touristy as this one.
Don't get me wrong, Trilogija is by no means a tourist trap, but due to its attractive location, at Kamenita street 5, next to a popular Zagreb sight – the Stone Gate – their main clientele are, surprise surprise, tourists, usually on their way to explore the secrets of the medieval Upper Town. There's a blackboard with the ever-changing daily menu outside to lure you in and the interior is quite nice, very rustic with exposed red-brick vaulted ceilings and cobblestone flooring visible from the street. The moment you step in it feels more like an old inn because of its charming interior design, but I enjoy the sense of warmth and antiquity the rustic aesthetic brings to the space. I believe it blends perfectly with the rich history of this part of town.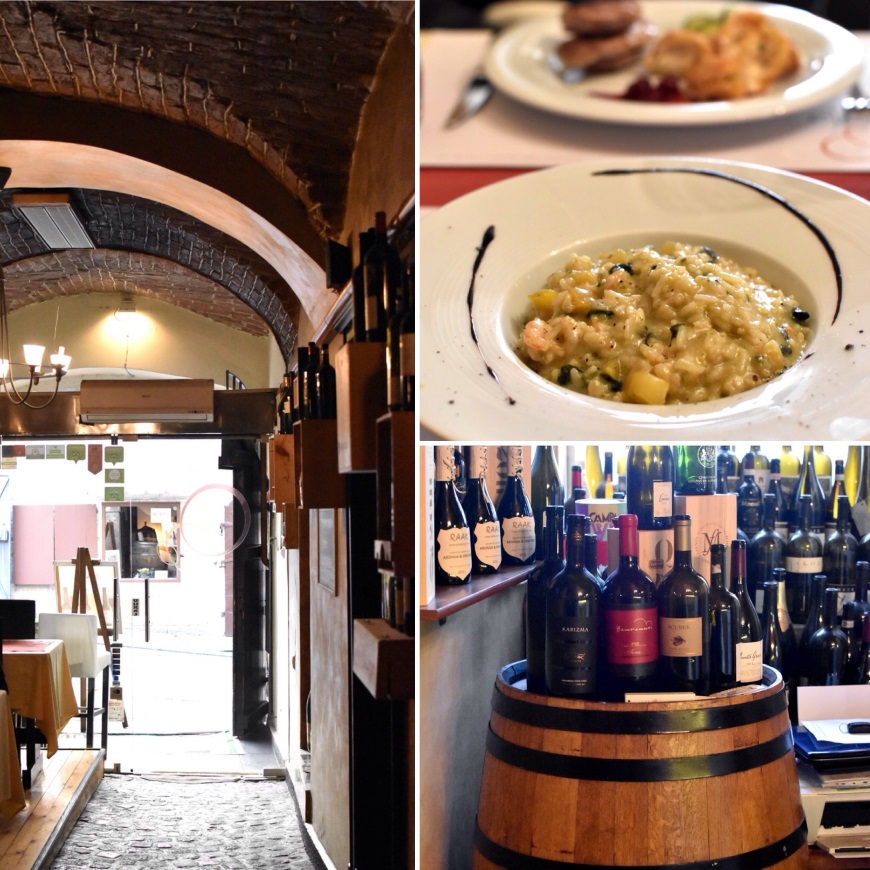 Moving on to the food and the absence of a permanent menu... Their idea of making daily meals in line with the seasonal produce available at the nearby Dolac market is great. However, this means you'll never know what kind of dishes you'll find, at least not until you actually find yourself in front of the restaurant.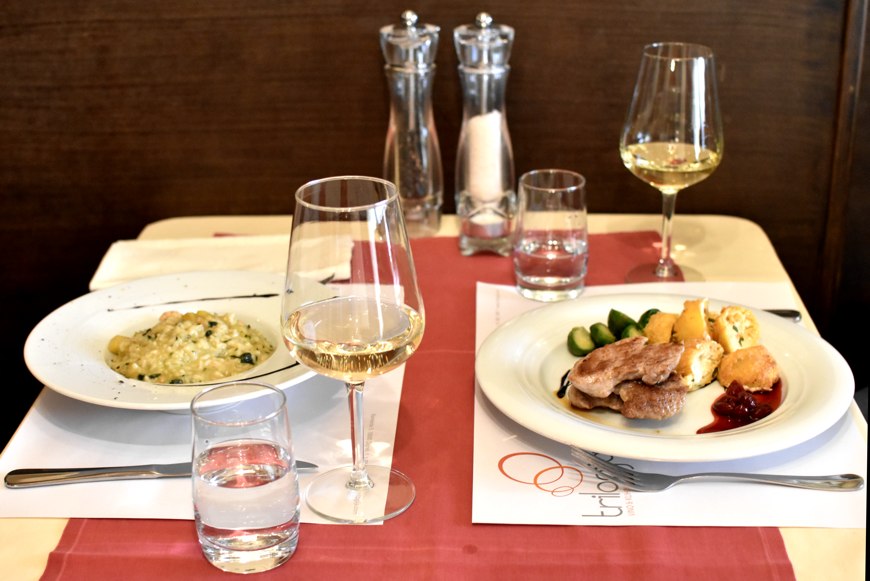 Generally, you can expect Croatian cuisine mixed with international influences, with a popular Croatian specialty or two. On the day my companion and I visited Trilogija the menu had 17 dishes available, with the soup of the day, octopus carpaccio, veal with potatoes, lamb confit and tuna steak with lentils to name a few.
I had the prawn, spinach and mango risotto creamed with parmesan cheese and drizzled with balsamic vinegar with raspberry flavour (if I remember correctly) and my boyfriend had the seared pork tenderloin with cheesy potato croquettes and sour cherry sauce.
Both dishes were very nicely cooked with risotto being the standout dish of our Saturday lunch in Trilogija. It was perfectly creamy, the rice was cooked al dente and the most exciting element was the zingy mango flavour. I was surprised how well it worked with the prawns and how the flavours complemented each other. It inspired me to try and copy the dish at home, but I still haven't managed to find the time. I definitely will, though.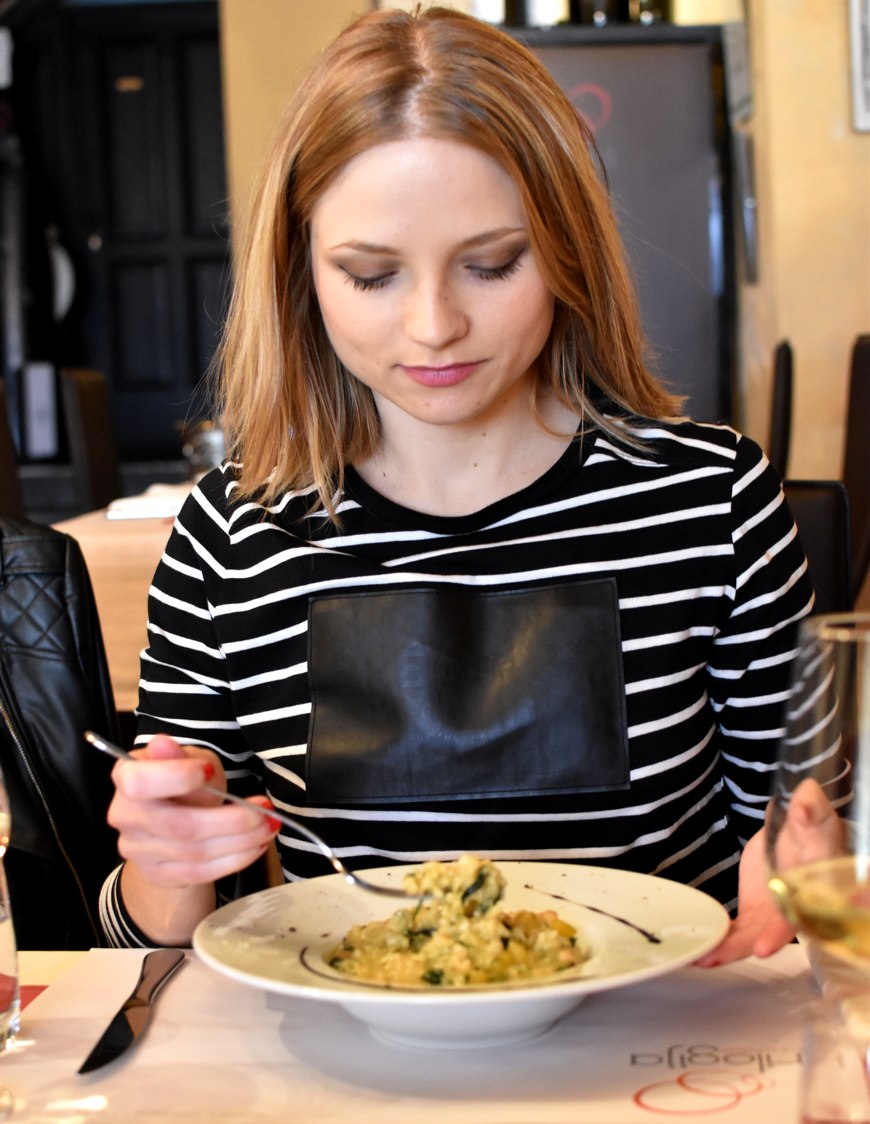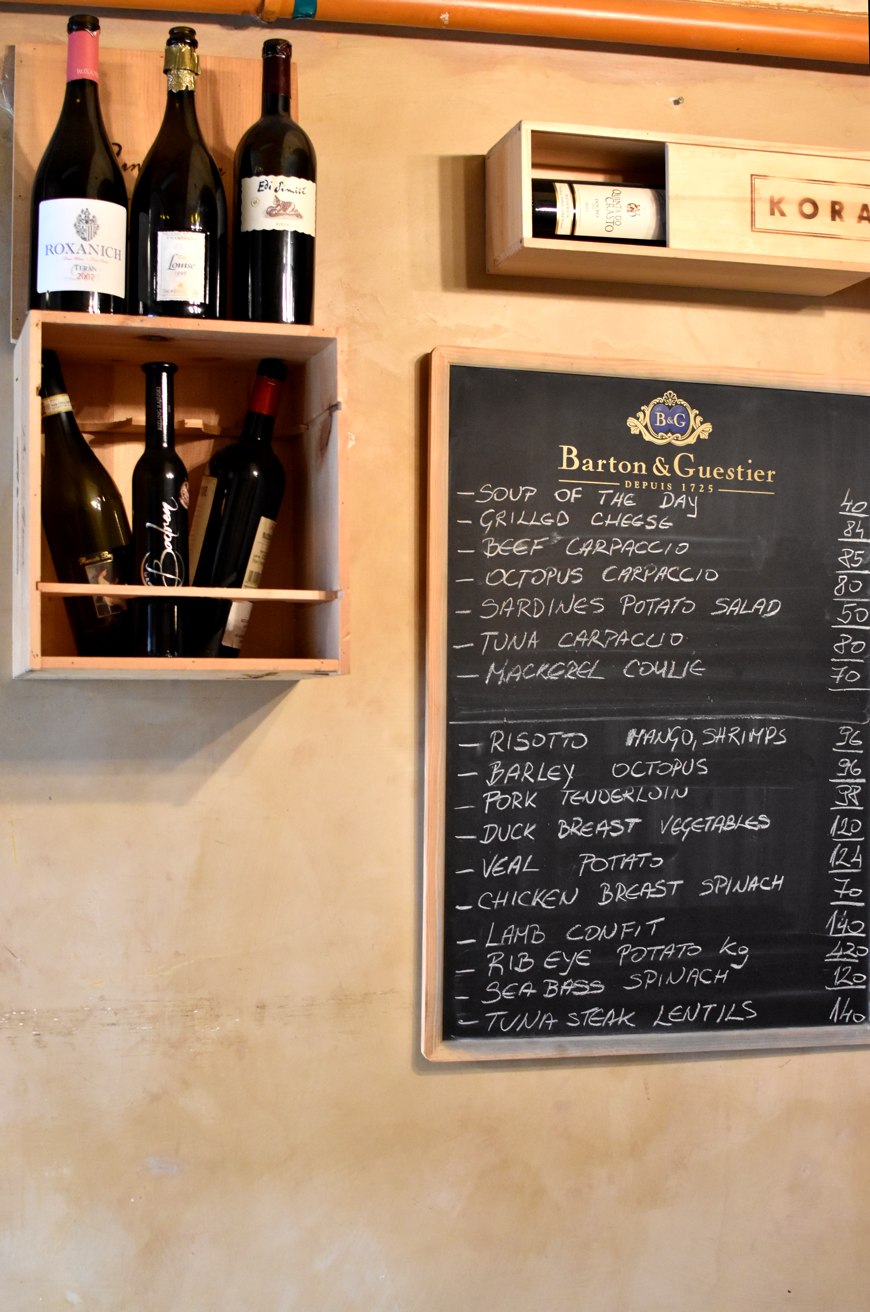 Their wine list is extensive, with 130 domestic and imported wines, 30 of which can be served by the glass. The staff are very knowledgeable and friendly and they're always ready to help you out with the wine recommendations. The prices are a bit high, with mains running from 85 to 140 kuna (from 12 to around 18 euro). In other words, they come close to the price range I've seen in some more upscale Zagreb restaurants, and since the cooking is more bistro-style, I do find it slightly overpriced.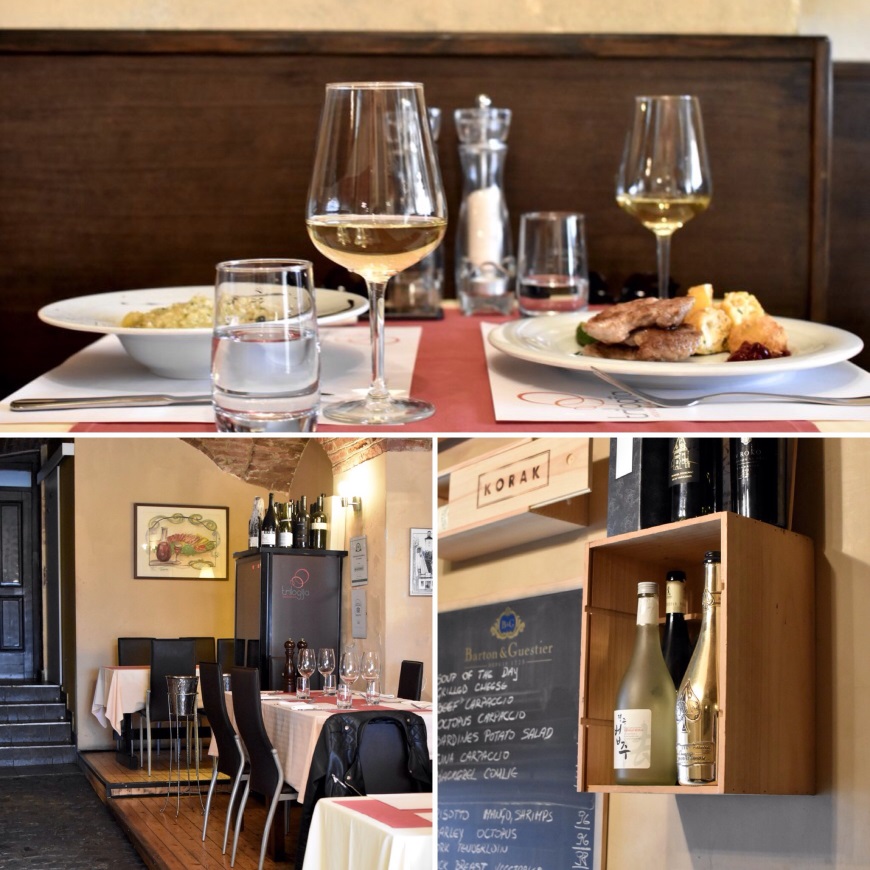 Even though Trilogija is quite a touristy restaurant, it's still worth visiting. Just don't get surprised if you hear someone sitting behind you speaking your native language. :))
What kind of traveller are you? Do you usually visit popular restaurants with trusted ratings and reviews or do you prefer a secluded, off the beaten path kind of restaurant? Leave a comment below!
By: Katarina Burić