The Christmas season is in full swing in Zagreb (or on steroids to be more accurate) and it seems that every living soul in this city is roaming the streets eating sausages and drinking mulled wine. You see, us Croatians always like to exaggerate when it comes to food and holidays and this year we even managed to transform Winter Wonderland into some twisted Winter Sausageland.
And yes, we too are snooping around searching for the yummiest holiday dish (that is, the best sausage) with frozen fingers wrapped around a warm cup of spicy mulled wine, but we haven't forgotten about the regular food venues, because we know that is what interests you, dear traveller. This time we decided to pay a visit to one of Zagreb's highly esteemed restaurants, which has, in the many years spent on Zagreb's culinary scene, profiled itself as an authentic restaurant with a strong focus on Croatian dishes prepared according to traditional recipes. So if you're craving quintessential Croatian veal "under the bell" (ispod peke), we know just the right place!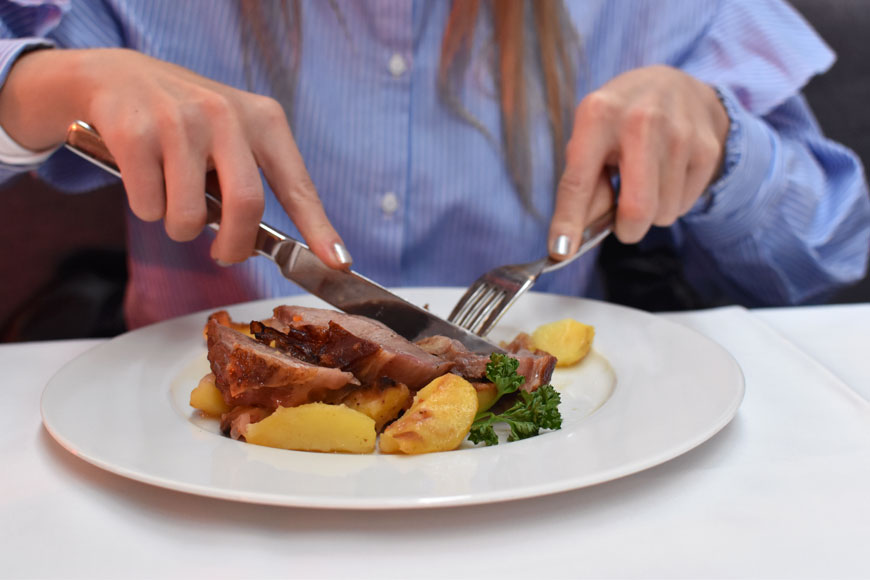 Vinodol restaurant is located at Teslina 10, in the heart of downtown Zagreb. However, you won't spot it while strolling down the street because it is tucked away in a quiet spot a bit off Teslina Street. Anyway, just follow the signs. The setting is amazing and the decor is very sophisticated with brick-vaulted ceilings and touches of warm grey that set up a neutral, but elegant ambience. Vinodol is a big restaurant with lots of space ‒ the interior can hold up to 180 guests, while the terrace sits hundred and judging by the number of people eating there at lunchtime on a Tuesday, it would be wise to make a reservation. We didn't, but luck seems to follow us, so we were seated the moment we stepped onto the bright and spacious, covered terrace. It was a very cold Tuesday but since we completely rely on natural light while taking pictures, the indoor section was not really an option. But it was perfectly OK since the terrace had several heaters. Having walked around in the stingingly cold weather, dressed like idiots without hats and mittens (do yourself a favour and wear a big scarf), we were in serious need of warming up from the inside so we decided on soup as a starter because nothing beats the winter chill like a steaming bowl of homemade soup or a hearty stew.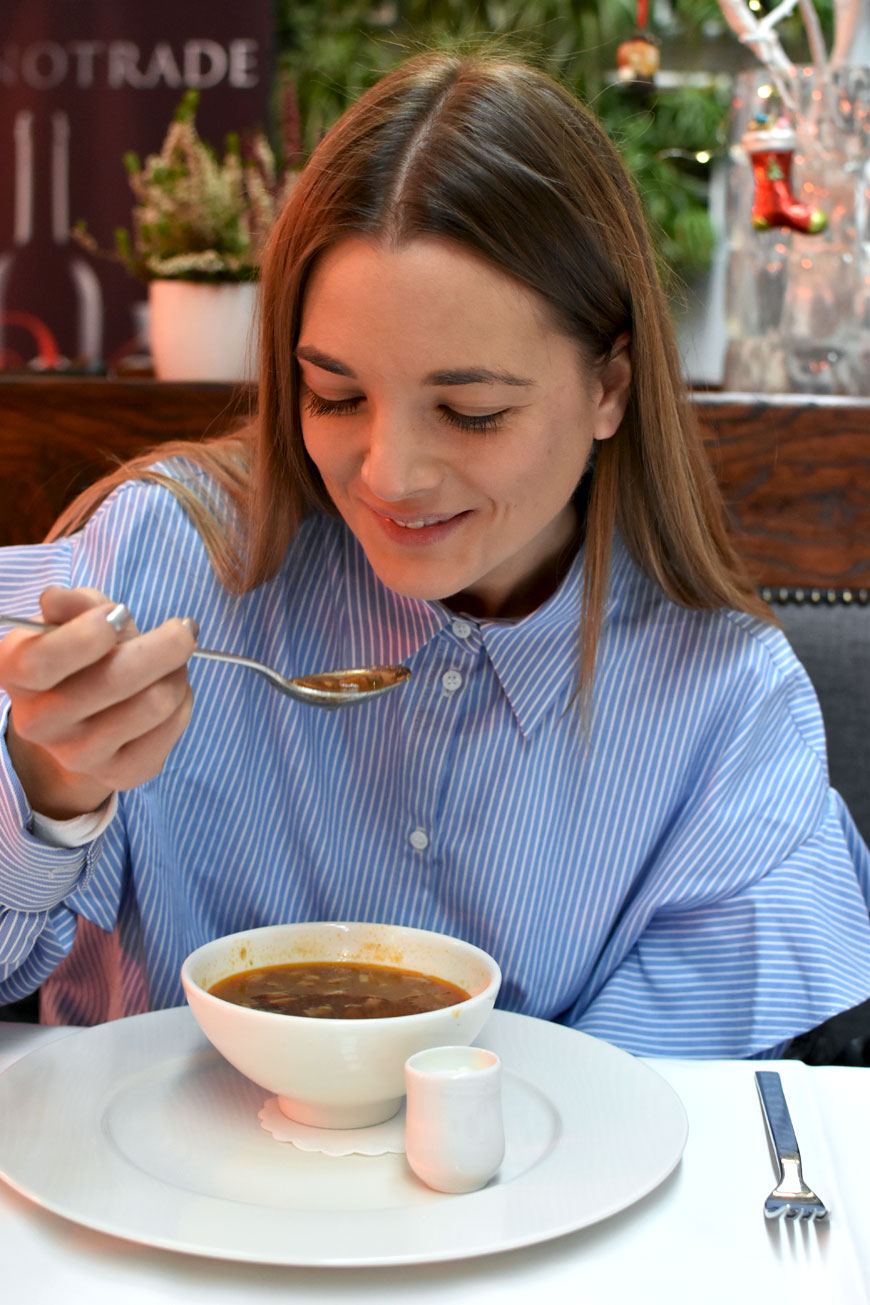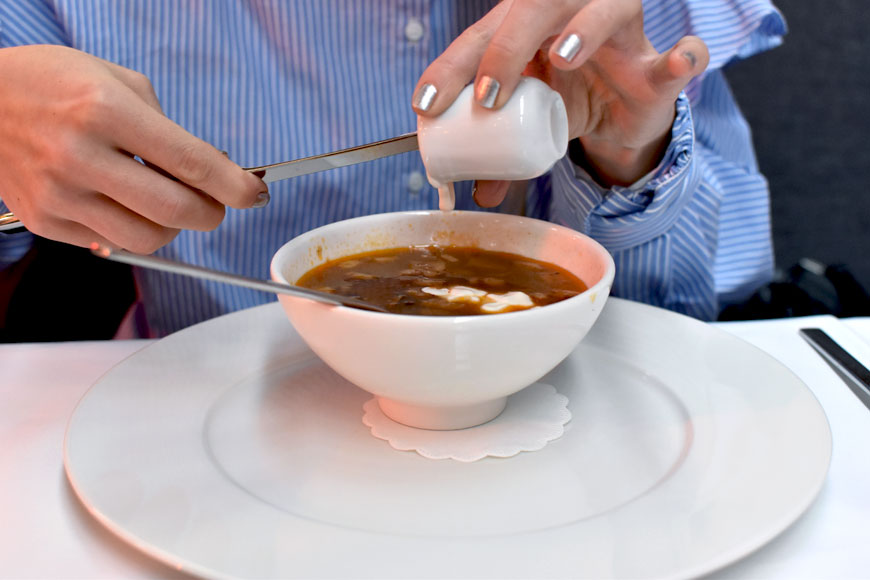 Barbara had the iconic Zagorje soup with mushrooms, potato, bacon and sour cream, while Katarina opted for a pumpkin soup from the daily menu. Just what the doctor ordered! Both soups were flavoursome and generous and they brought us back from the White Walkers' realm.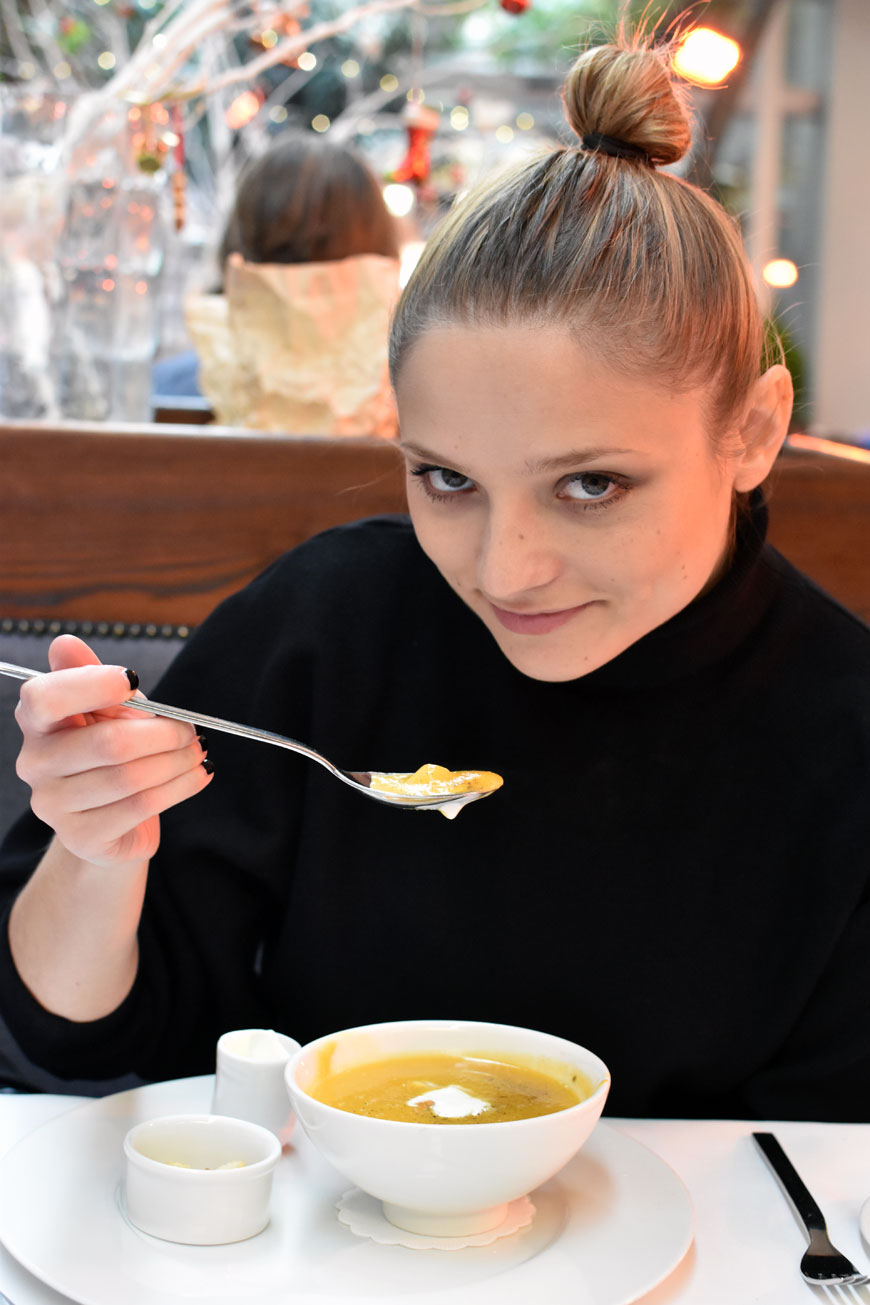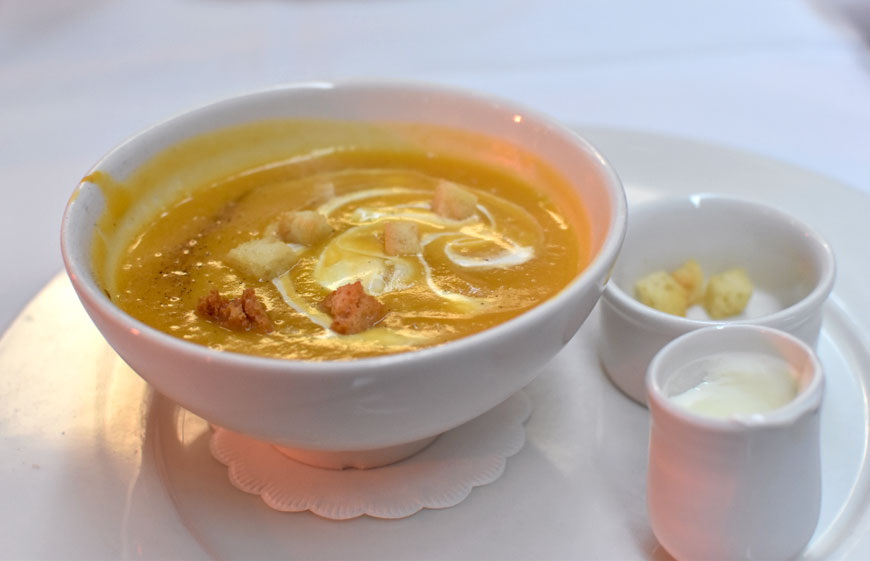 The Vinodol menu brings to the table some of the most typical Croatian dishes so if you wish to taste Dalmatian prosciutto, Slavonian kulen (a spicy, pepper-flavoured sausage), Zagorje štrukli, Pag island cheese, Istrian pasta fuži with truffles, roasted turkey with Zagorje mlinci (a type of flatbread), Zagreb veal cutlet or some other dish originating from one of Croatia's regions, this place is a convenient starting point for researching the intricacies of Croatian cuisine. More so, because their menu shows a careful, common-sense selection of premium ingredients assembled into honest, familiar flavours.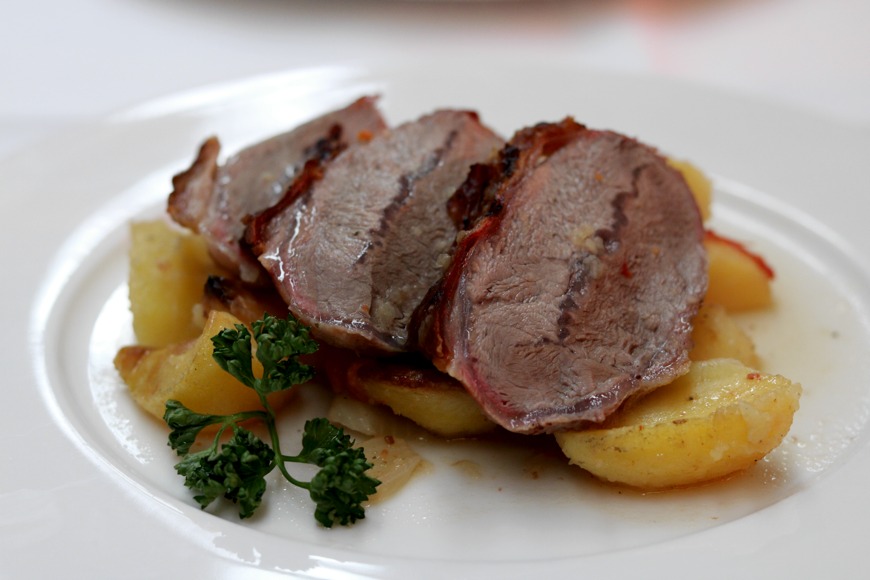 Barbara's veal under the bell was nicely cooked, although not tender enough for her taste but still very tasty, and the potatoes that came with it were perfectly seasoned and crispy. In keeping with tradition, Katarina's dish once again took the prize as the gastronomic star of the lunch (#SorryNotSorry :P). The dish that blew Katarina away was a sirloin steak served with truffle sauce and roasted vegetables.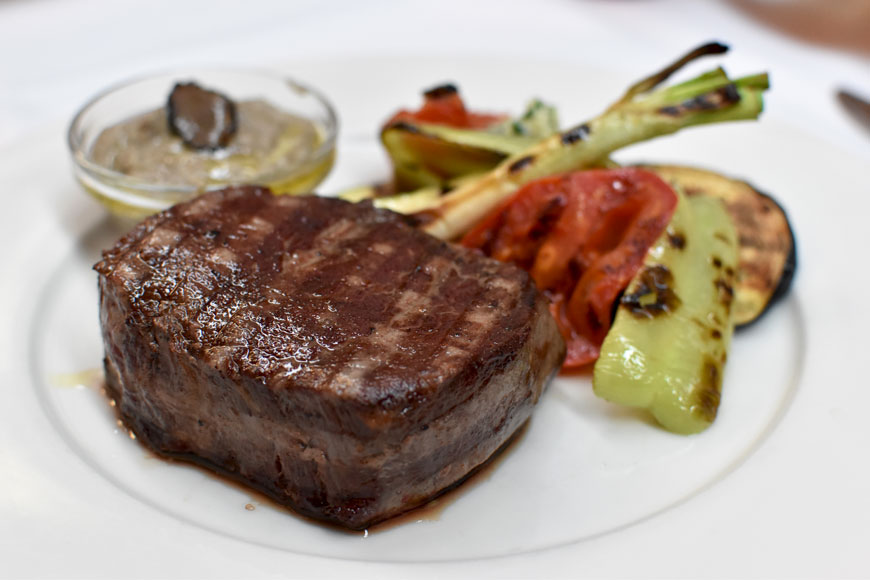 The medium-well steak was so tender and juicy, perfectly rosy, and together with the truffle sauce, made for a gourmet firework. The veggies served only to provide more texture and add colours to the plate, but went almost entirely unnoticed by Katarina's meat-clouded mind. It was definitely one of the most memorable meat cuts she's had in quite some time and she recommends it highly. The prices are quite reasonable with cold starters ranging from 7.5 euro to 16 euro, which is what you'll need to pay for a cold platter of various regional smoked hams and game salami, while most of the warm starters cost around 7 euro. The most expensive dish on the menu is actually Katarina's steak with truffles at around 22 euro, which is a fair price for the experience you'll get.
To wrap things up, because the creative juices are no longer flowing, Vinodol is a fairly elegant eatery, nothing out-of-this-world crazy spectacular, but you'll find honest and hearty food that's easy to enjoy and leaves a smile on your face.
How about you? Will you be paying a visit to Vinodol any time soon?