This time we're taking you far away from the Zagreb food scene, all the way up to the capital of the Emerald Isle. Yup, the city is Dublin or Baile Átha Cliath in Gaelic (I dare you to try and guess how it's pronounced). We'd also like to take this opportunity to introduce you to a new section on our blog: the Travel Diary. We will share the travels we experienced either together or individually with plenty of tips and recommendations for you fellow travellers and foodies. The story you're about to read is Katarina's.
As a foodie and a food blogger from Zagreb, it was only logical that on my recent visit to Dublin I would be interested in what the Irish have to offer and which foods are not to be missed (apart from anything made with potatoes). While googling I came across some 8-10 popular food tours in Dublin, but at this time of year most of them run only on Saturdays, and Saturday was not an option for me and Marijana (Sinful Spoonful's line-editor and proof-reader, and my best friend) because we'd already planned to do a pub crawl on Friday evening, and there's no point in explaining why taking a food tour on a Saturday morning would be a terrible idea. That's why we opted for the Irish Food Trail, which runs daily in the afternoons and evenings. Perfect! The price is 60 euro per person, which, I believe, is quite acceptable.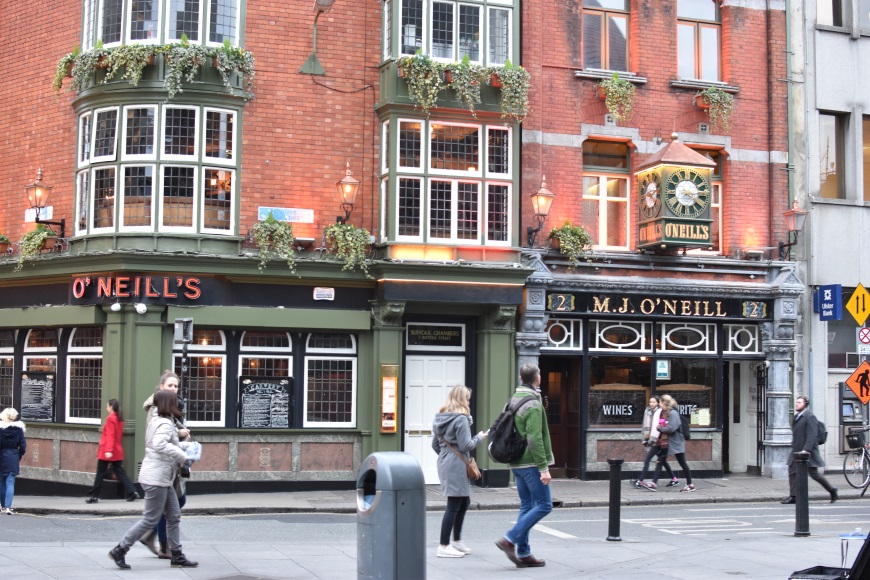 Let me just start with a little weather setting here. It was a relatively warm grey Tuesday afternoon (1.45 pm to be precise) in Dublin when Marijana and I showed up at Dublin Castle, the meeting point of the Irish Food Trail tour. We came a bit early so I was able to let my social media freak flag fly. Armed with a camera hanging over my shoulder and a smartphone in my pocket, I was ready for whatever challenge may come my way. Not even the grey skies could ruin it!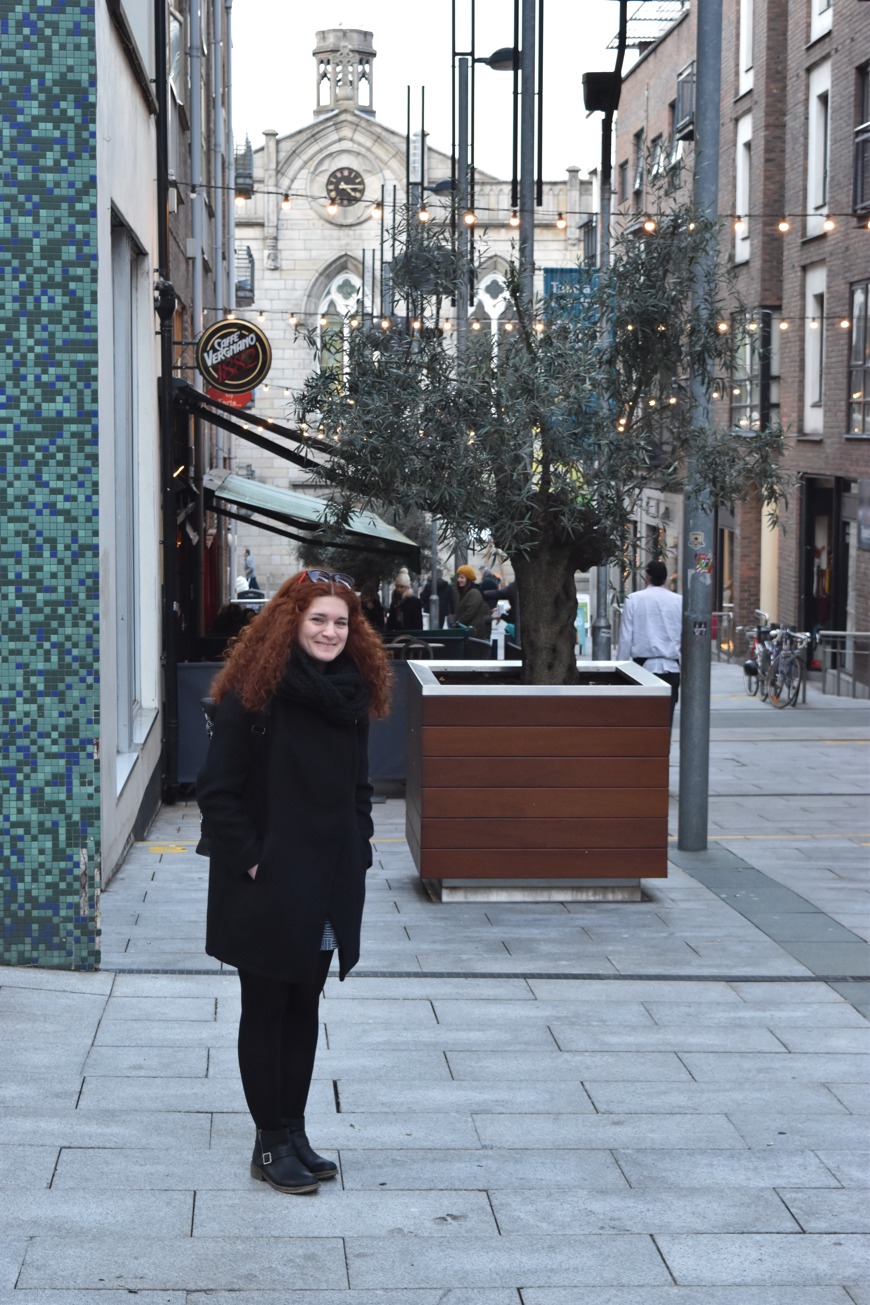 Suddenly we were greeted by a very friendly lady in a cool hat called Grainne (pronounced Grawn-yah) who very quickly managed to remind me of the famous Irish hospitality I'd already forgotten about since the last time I visited Dublin in 2014. Grainne was our tour guide. There were only three of us on the tour (plus Grainne), which was pretty cool because we got a chance to chat and ask anything we wanted (not that we needed to because you know how charmingly chatty the Irish are). So our walking tour started with some basic historic facts and interesting stories just to give us an overview about Ireland and its capital.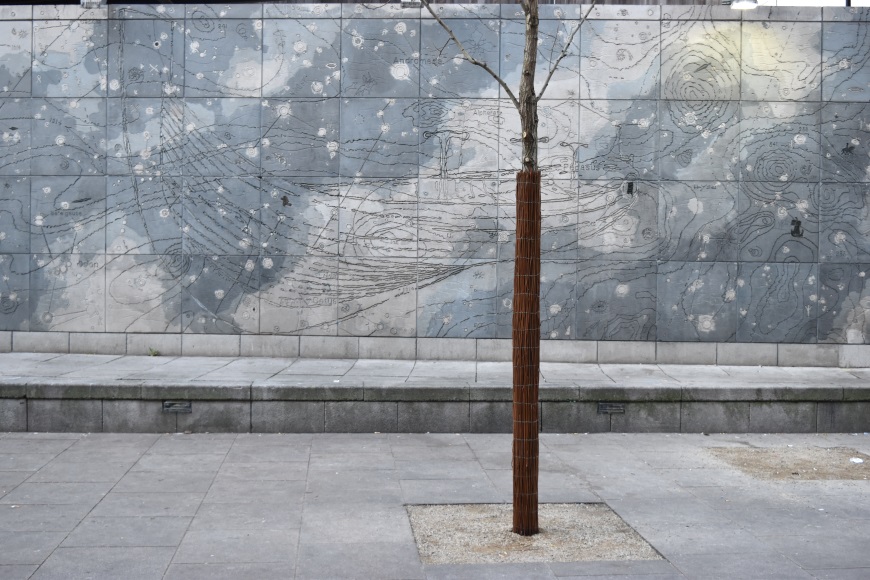 As we walked along the cobblestone streets of Dublin and moved through the busy Dublin centre's avenues and crossings, we learned some old legends and tales of some famous people and architecture (which I'm absolutely in love with). We also got some very useful everyday tips like: Don't die! (in the chaotic Dublin traffic). We caught up with the most common Dublin lie that everything is located "within a 15 minutes' walking distance", which in fact might mean 5 or 30 minutes. Also, it seems that everybody is related to each other and Grainne warned us that once someone lets you into their clan, you'll never get rid of them :D. Funny thing about the Irish (and the British as I'm told) is that in the middle of January some people walk the streets in very light clothing. I also saw a number of girls wearing their school uniforms (usually skirts) with no tights, completely barelegged (bloody hell!). Okay, I'm digressing now, but I'll share some more quirky Irish traits in an upcoming post on the entire trip.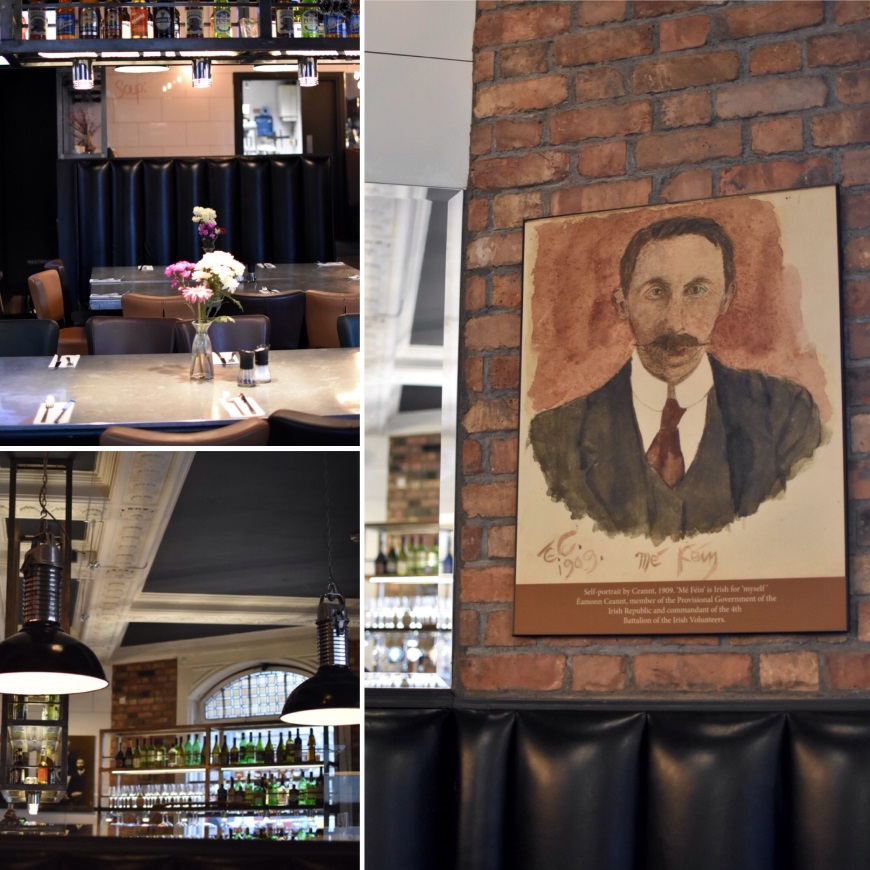 Our first stop was Gallaher & Co Bistro & Coffee House (16A D'Olier Street), located in an impressive 1891 building originally constructed for Gallaher's Tobacco Company out of yellow brick and terracotta. The interior is bright and cosy, with plenty of interesting details evoking the crucial events of early 20th century Irish history. You know, the Easter Rising and stuff.
The bistro prides itself in preparing meals with the freshest ingredients sourced from the finest suppliers in Dublin. Sounds promising! We were told we could choose one of the four appetizers prepared for us which included a soup of the day (carrot and parsnip) with a slice of homemade bread, market fresh fish and chips with hand cut chips, celeriac remoulade & watercress (hand cut!), honey glazed goat's cheese salad with candied beetroot, ruby grapefruit and a split lemon dressing and, finally, ham hock terrine, celeriac and Granny Smith apple remoulade and walnut sourdough.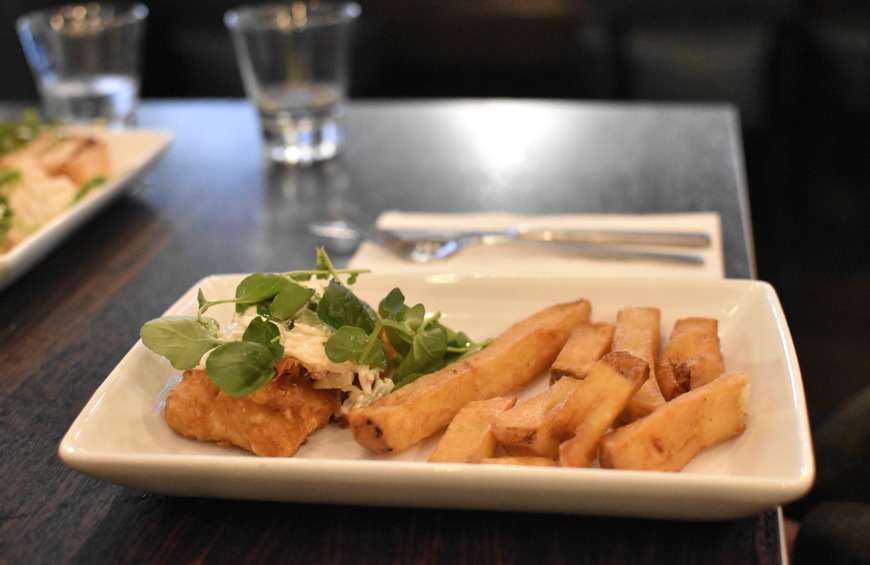 Marijana decided on the fish and chips, which she washed down with a Fiach Dubh stout. I was completely sold on Grainne's story about the premium Irish dairy products and ordered the honey glazed goat's cheese salad, paired with an apple cider. I must admit the Irish know how to make a tasty cheese, which comes as no surprise since almost all of their farming is organic with no chemicals, pesticides or antibiotics used in the production of milk or any other ingredient. Grainne explained that they have their terrible Irish weather and vast green pastures the island is famed for to thank for their top-notch produce. Thank goodness for the weather! :D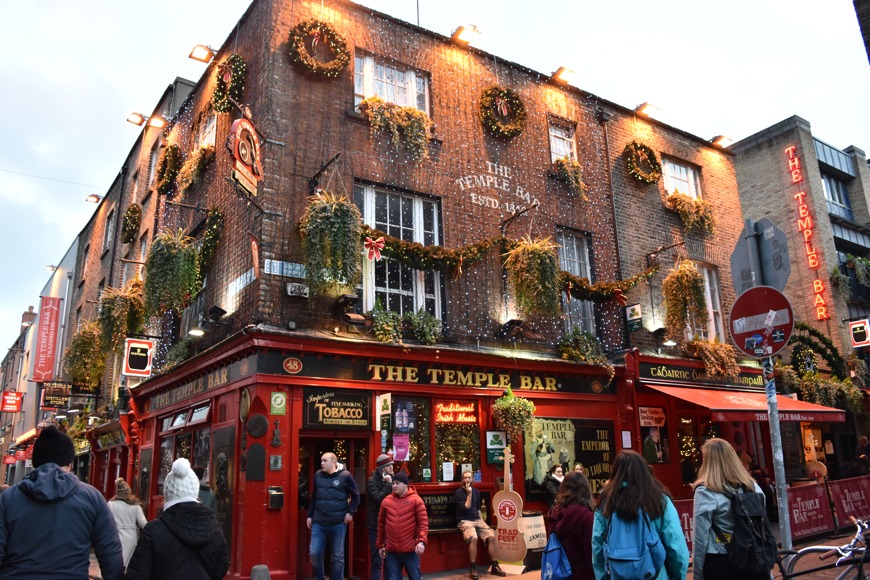 After a few laughs and a nice chat, it was time to walk the starters off and learn a bit more about this amazing city. I won't go into it because I want you to find out for yourselves! Our second stop was at Temple Bar – one of the most popular areas of the city. Grainne kindly warned us about the tourist traps and pointed out some places worth visiting that still have that local vibe. One such place is Gallagher's Boxty House (20-21 Temple Bar) with the 25-year-old tradition of serving home-grown produce and offering a genuine taste of modern Ireland. Traditional and modern? Yes, please!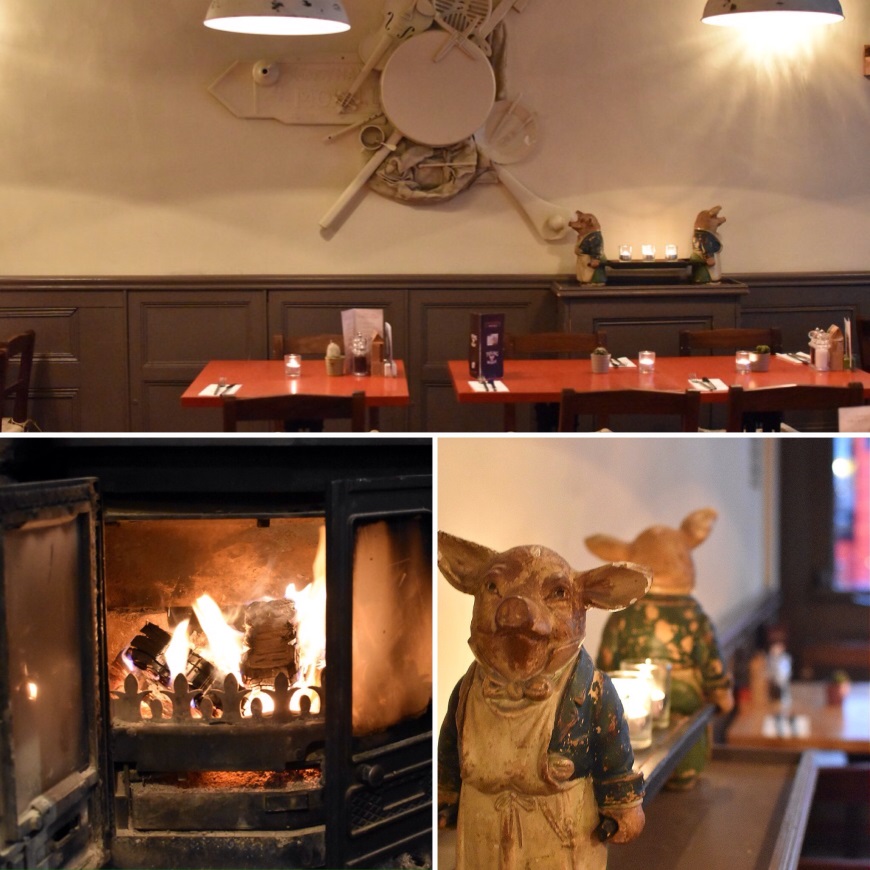 By the time we got to Boxty House the weather got a bit chilly and the turf fire we were sat next to was the perfect setting for the main course. The smell of fire mixed with the aromas of rich stews will stay with me for a long time! A platter of three traditional stews served with a tablespoon of salted butter (yummy!) and a slice of soda bread was waiting for us while Grainne explained the story behind the recipes.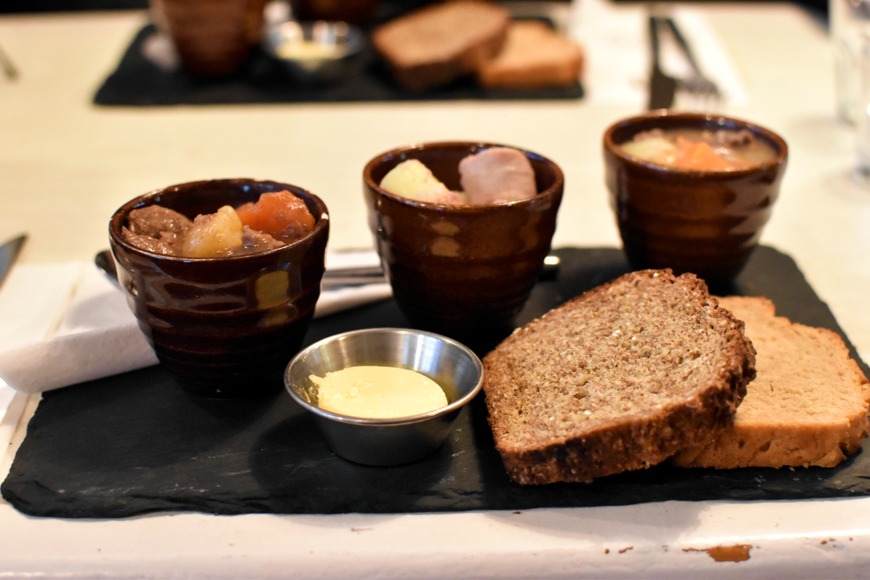 The trio included a beef & Guinness stew, some Irish stew (made with lamb) and a Dublin coddle – a traditional working-class Dublin dish made with roughly sliced pork sausages and rashers with sliced potatoes and onions. #funfactno1 The name coddle comes from the slow simmering or "coddling" of ingredients in a one-pot stew. #funfactno2 There is no specific recipe because the meal is actually made to use up all the leftovers at the end of the week (I think I'm going to steal the "recipe"). I really enjoyed the beef & Guinness stew and Dublin coddle, but the Irish stew was a bit too "lamby" for me. Grainne warned us that the non-Irish people usually find the lamb to have a bit stronger, gamey taste, which is exactly how I perceived it. Although, to be honest, I could easily get used to it. Marijana and I paired the food with some more beer. This time we opted for their own brew, I can't remember whether it was an IPA maybe lager (and I've tasted so many beers over the week that it's actually amazing that I even remember the trip). The important thing here is that it was an amazing culinary experience.
By the time we finished our stews we were already pretty full, but there was one last stop to make. Luckily, we had "a 15 minute walk" to our final destination and some more secrets to find out. I really enjoy legends and myths so the stories around the Fishamble Street Grainne told us were super fun. Especially the one about the notorious Dubliner called Darkey Kelly, an Irish brothel-keeper and probably the first Irish female serial killer. The street is otherwise famous as the site of the first performance of Handel's "Messiah", which took place in the Music Hall on April, 13th 1742 before an audience of approximately 700 people.
So the last thing Grainne had arranged for us was doing all the dishes (funny, Grainne!). No, we were supposed to prepare our own cup of Irish coffee with the help of a very amusing bartender (with a heavy Polish-Irish accent) in the Oscars Cafe Bar Christchurch. After detailed instructions (which I barely understood) and a hands-on presentation (thank goodness!), each of us had to finish their own coffee. And then drink it the right way! No stirring, no adding sugar, nothing! Or you'll give the bartender a heart attack. You simply need to drink it through the cream. And if you're wondering about the amount of whiskey that goes into coffee, we were told that the simplest way is to count to four while pouring the whiskey. And that's a lot of whiskey, mind you!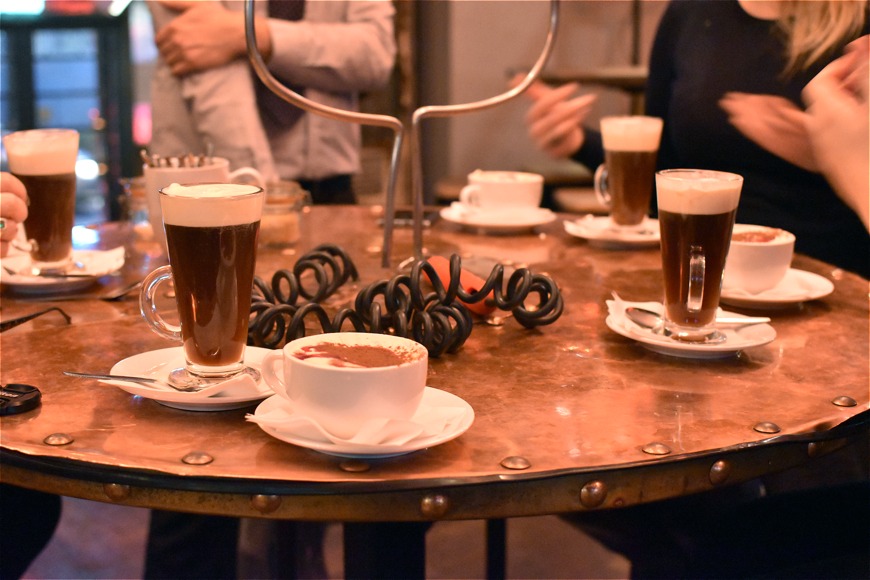 That was not the end of it, nope! The Irish Food Trail promised we won't leave the tour hungry. I don't have to tell you that I was already bursting at the seams by the end of the second stew, but when on vacation you have to go big (literally!). The total knockout to my stomach was the Baileys cheesecake made with the heaviest heavy cream I've ever tasted and mixed with chocolate chips.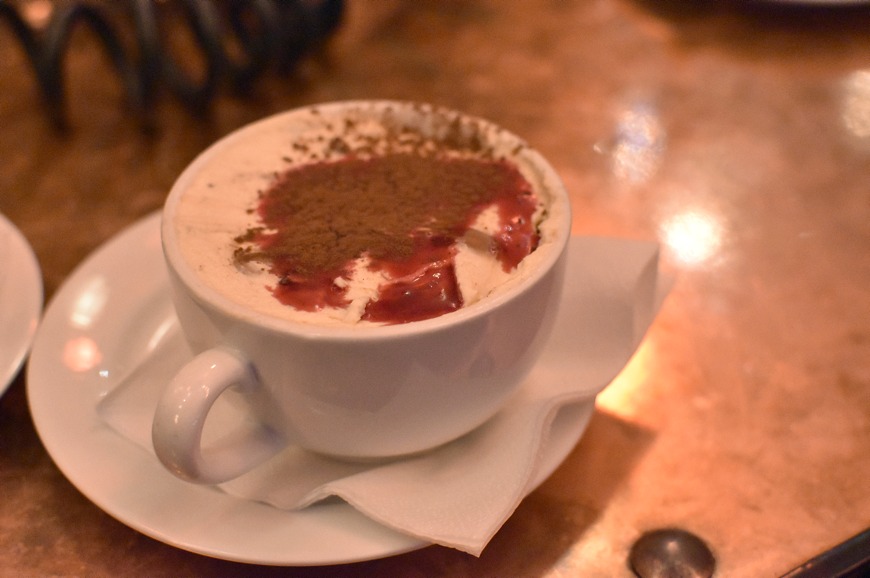 Both heaven and hell served in one cup! But I simply couldn't resist. #YOLO Grainne congratulated us on finishing the cup, ensured everyone is okay and finally wished us "a great time" with a typical Irish greeting "Cheers, ladies!"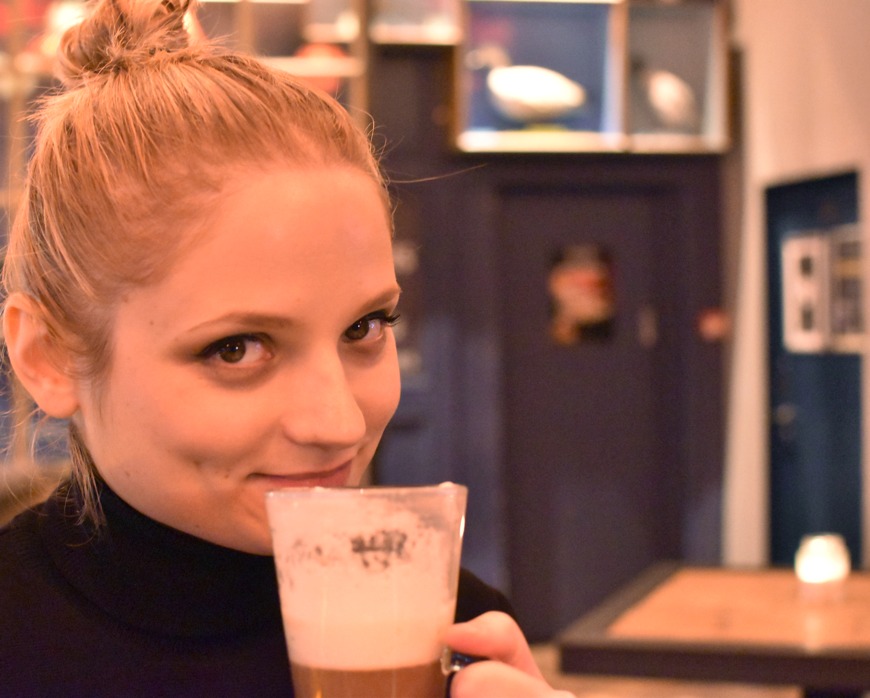 At the end of this long story, I just want to make sure everybody understands how brilliant the entire experience was, and that I wholeheartedly recommend it. Not only because I believe that you can truly experience the essence of a country and its culture through food, but mostly because you get to know the local people and their way of life. And in the case of the Irish, you get to enjoy their unbelievable friendliness and cheerfulness. And that's absolutely GRAND! :D
What are your thoughts on food tours as a way of exploring a place? Have you ever been on one before? Share your experiences in the comments below!
*This review, just like all the other reviews on this site, is not paid for or sponsored in any way. The opinions expressed are based entirely on my own experience.
By: Katarina Burić