The Carnival season is just around the corner, with Mardi Gras falling on February 28th this year, and in our foodie minds that equals donut season! This year we've decided to roll up our sleeves and find the best donut (krafna in Croatian) in a cute new pastry shop in Zagreb that specializes in donuts. Located off the beaten path, in Harambašićeva Street 32a, this charming donut shop, conveniently named Miss Donut, offers no mediocre deep-fried balls found in your average bakery or supermarket in Zagreb.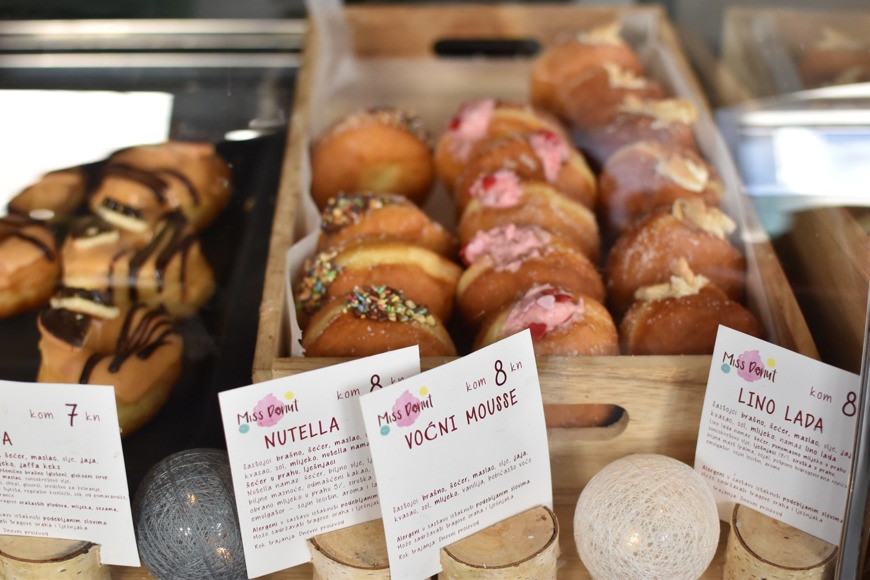 Almost every country in the world has its own donut version. They come in various forms, with various fillings and toppings but they are typically either ring-shaped and glazed or without a hole and filled. The Croatian donut version is similar to the Austrian one and even the name krafna is derived from the Austrian word Krapfen, which is essentially a Berliner Pfannkuchen. Mind-blowing, we know! The Croatian donut follows the same recipe as the German Berliner, which means it is made from sweet yeast dough, usually flavoured with a dash of rum. The dough is then fried in fat or oil, filled with marmalade or chocolate cream and finally sprinkled with some powdered sugar.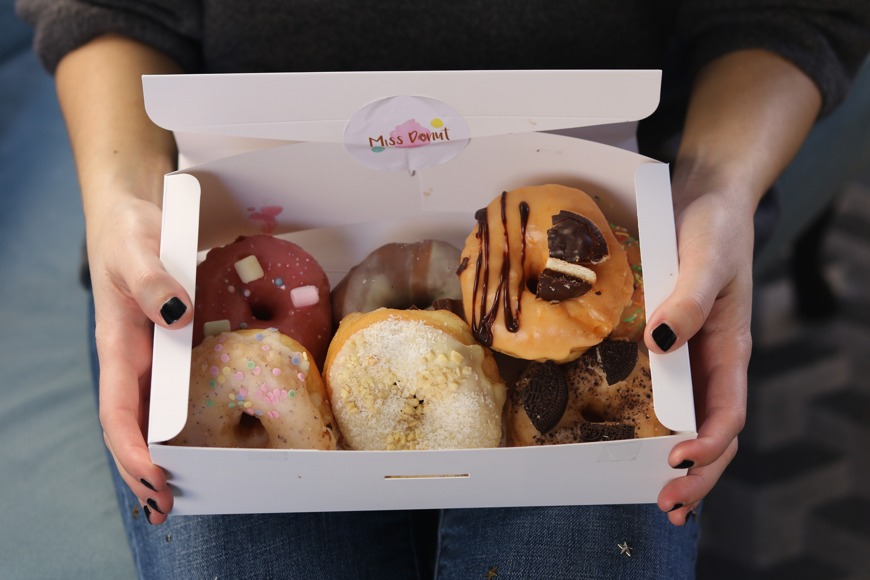 While the rest of the world is snug in their beds sleeping tightly, the pastry chef Antonija Laginja is making each and every one of her donuts by hand according to the recipe she had been working on and tweaking for a long time until she found the perfect one. There are several traditional Croatian donuts on offer at Miss Donut (with a slight twist to the fillings), but they specialize in American style donuts, ring-shaped and glazed with creative and delicious toppings. It is worth mentioning that the dough contains no additives or preservatives and the donuts are always freshly prepared. Every day these colourful cuties come out in around 15 different flavours. Beautifully displayed in the window, they will tempt you and torture you with their satiny chocolate/lemon glaze embellished with coconut chips, Oreo cookies, Jaffa cakes, milky Kinder chocolate, creamy Raffaello treats and other sinfully succulent sweets. If you're more of a Berliner fan, you'll be happy to hear there are several versions, filled with crème brûlée, cheesecake cream, Nutella, and fruit mousse that will intrigue your palate.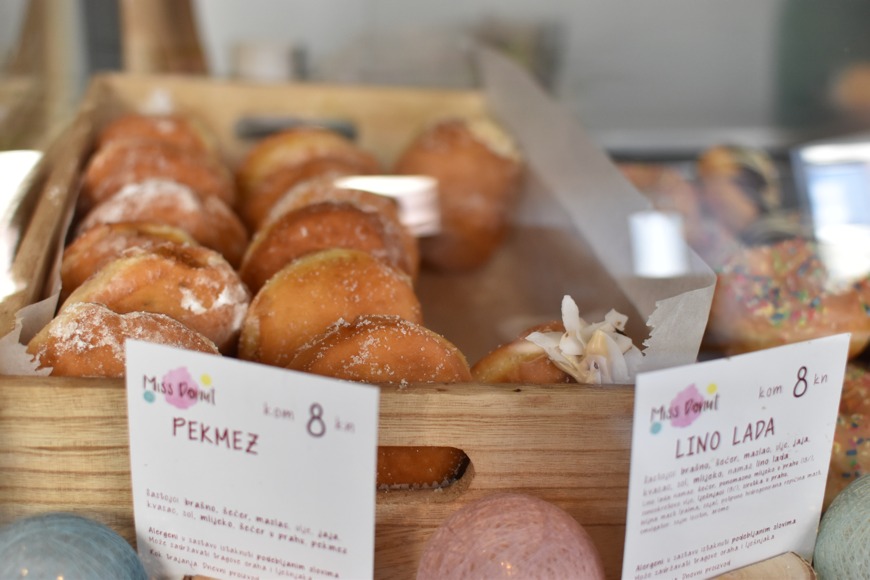 As serious in our food blogging as we are (because food is serious business), we approached the donut subject with diligence and empty stomachs. In order to deliver a sensible and legitimate review, we decided to taste test all of their flavours available that day, and the number of donuts we tried was 15! Yes, you heard it correctly: fifteen! It's safe to say we've done this year's portion of donuts. In less than an hour.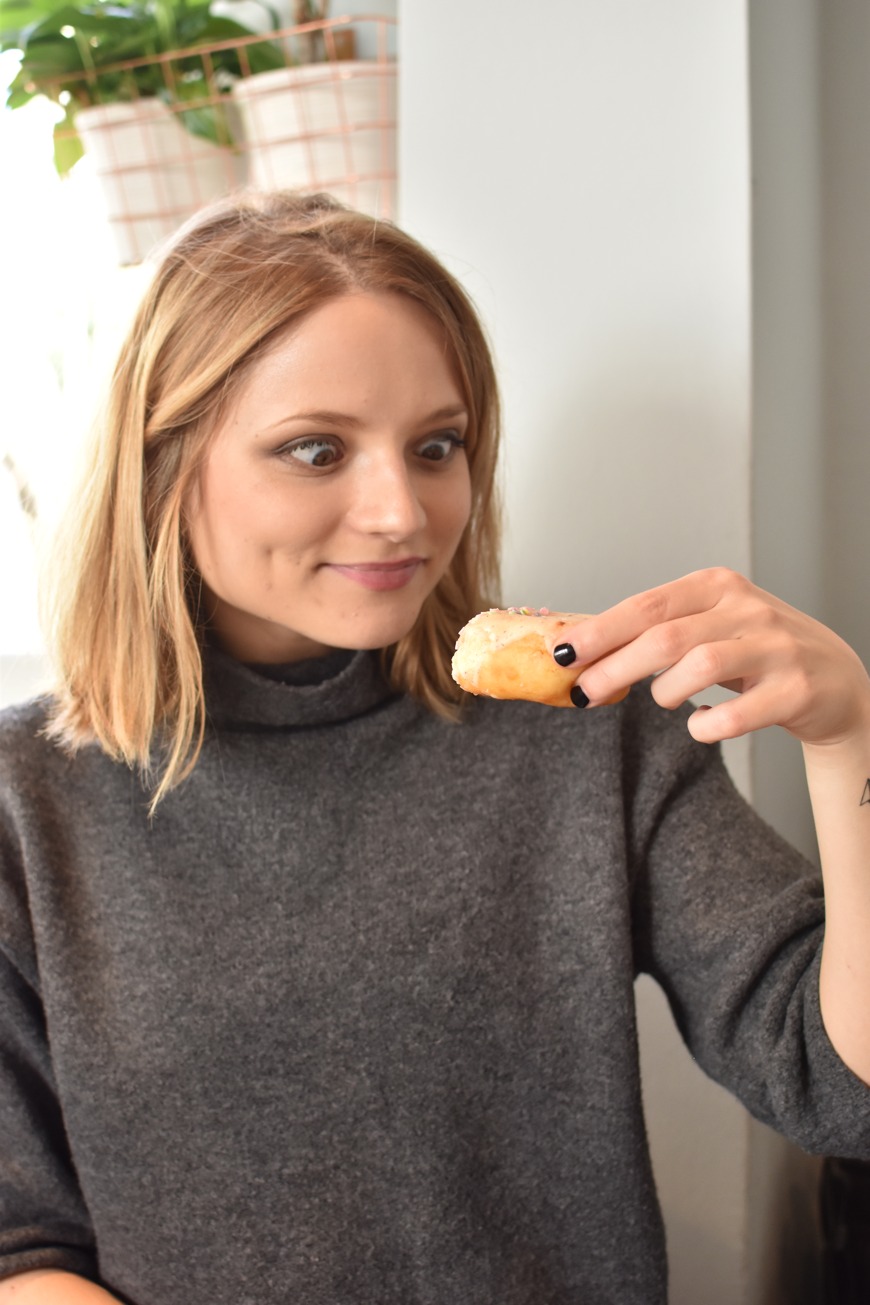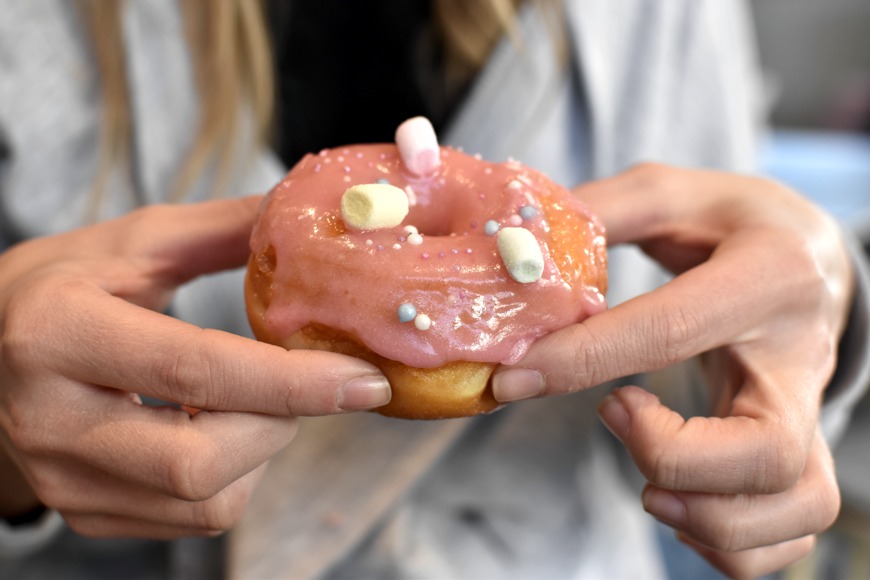 Having tried all of the donuts, we realized we're much more traditional when it comes to the American vs. Croatian donut issue. Even though the ring-shaped donuts with glazes and icings were quite delicious, especially Kinder and Oreo cookies flavoured (drooling over the keyboard right now), we concluded that the traditional ones with fillings were more up our street. The reason is simple: the donut dough was delicious and rich and the sweet filling was just right to give it a nice touch without being too sweet. We're not saying the other ones were not yummy but some of them were a bit too sweet for our taste. And let's not forget that we were having 15 donuts one after another (yes, we split them into smaller bites, otherwise we'd be dead by now), so this might have affected our judgement. Rather than presenting clear-cut rankings, we'll just name a few of our favourites that made it to the top 5.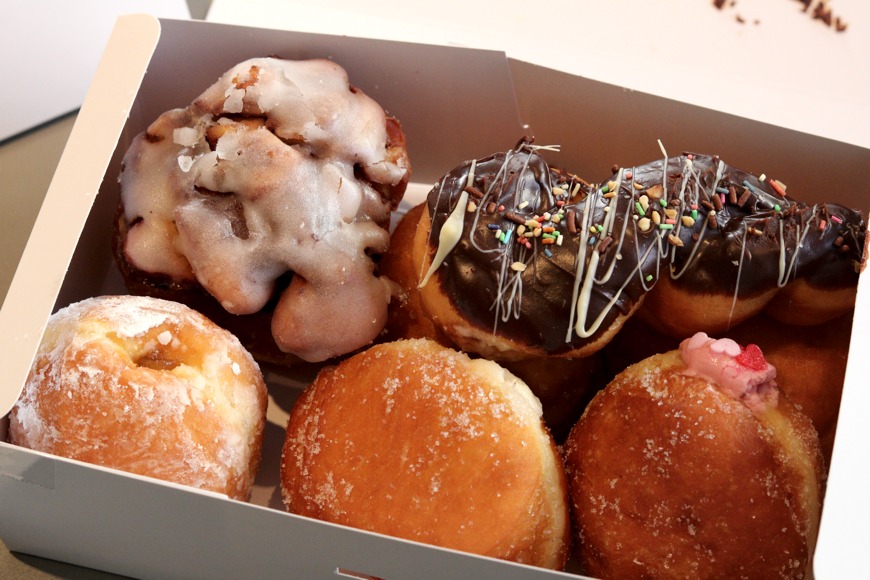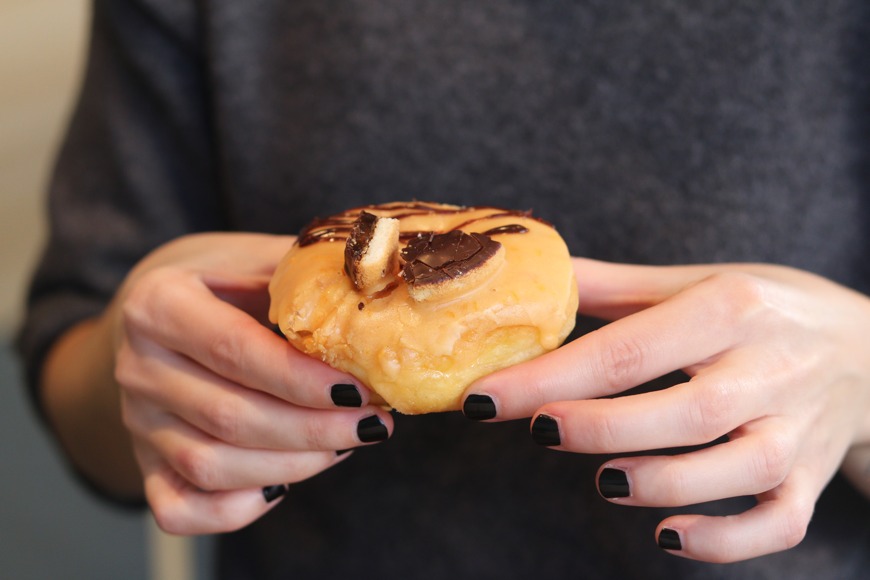 They include a Kinder chocolate flavoured glazed one (Barbara's number one) and an Oreo cookie flavoured icing one among the ring-shaped donuts, along with the classic donut with Nutella filling, which unlike the ones found in Zagreb's bakeries was very generously filled. The apricot marmalade filled donut also made it to the top 5, surprisingly enough, since it's the most common (and probably the most boring) type of donut, but the marmalade was exceptionally delicious. The last among the top 5 is not a donut but an apple fritter coated in cinnamon icing, which is Katarina's absolute favourite and she'll be coming back for more. We expected the prices to be high or at least significantly higher than in bakeries but they're actually very fair. The ring-shaped donuts are priced at 6 kuna (less than a euro) and the filled ones at 8 kuna (1 euro).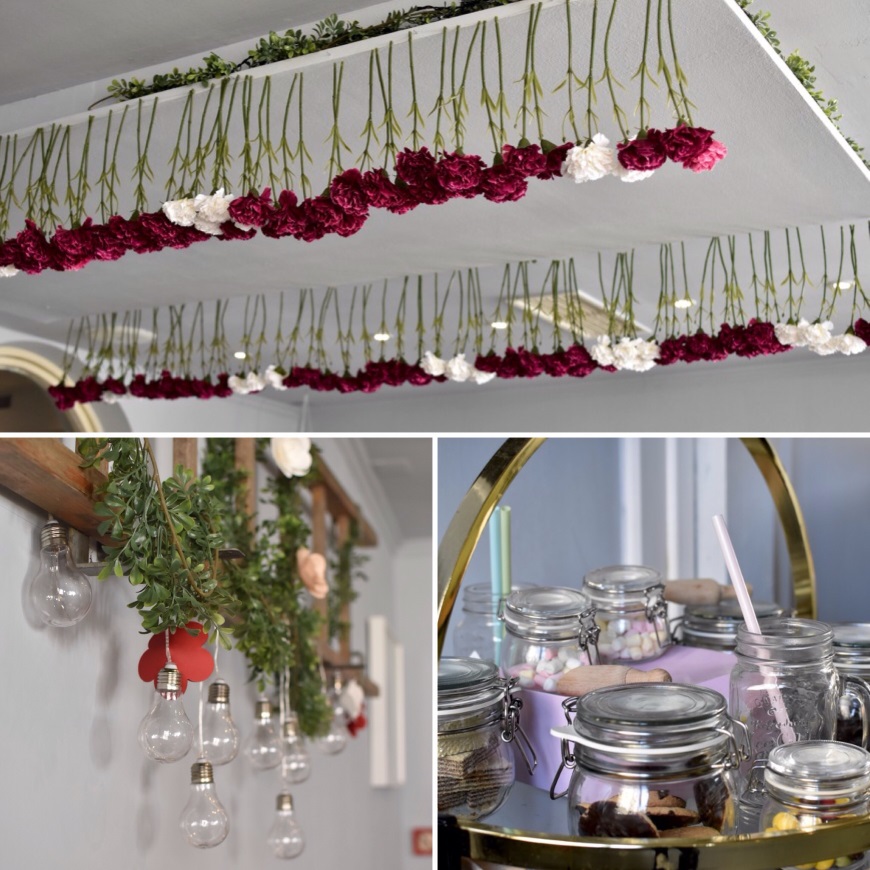 As we've already mentioned, Miss Donut is located slightly off the beaten path, in the Maksimir neighbourhood. If you're strolling down Maksimir Park or visiting the Zagreb Zoo, which we strongly recommend, you might as well do just a little bit more walking and take a sweet break in Miss Donut. The interior is super cosy with cute vintage details that add a touch of shabby chic. As soon as you step in, you start to feel like you've entered somebody's living room. The living room of a very cheerful owner! Some fairy or a unicorn, perhaps. Also, the place is pet friendly and there's Wi-Fi. The address is Harambašićeva 32a, and remember: do or donut, there is no try! ;)