Although Oranž Streets (previously called Oranž bistro & wine bar) is not the newest kid in town, their recent change in staff, with the renowned Maltese chef Jeffrey Vella taking the helm of the kitchen, has undoubtedly put Oranž Streets on Zagreb's food map. And mine, too :). I've known of Oranž for a while and passed by its glass walls on the corner of Ilica and Margaretska Street a thousand times, but there was nothing particularly interesting about this place that made me want to check it out. Until now.
The reason for this sudden change of heart lies in the name of Jeffrey Vella, the mastermind behind Oranž Streets' exciting new menu. Before getting into this food and tourism project and into the Zagreb culinary scene in general, I was completely unaware of and indifferent to any of the names of famous Croatian chefs, or foreign chefs working in Croatia. However, as I started digging deeper and thoroughly investigating the scene, there was one name in particular that kept standing out: Jeffrey Vella. It probably got stuck in my mind because it was closely connected to the Esplanade Zagreb Hotel, or more precisely to the kitchens of Esplanade's two restaurants ‒ Zinfandel's and Le Bistro ‒ where he worked with and mentored its current chef Ana Grgić. According to most Croatian culinary critics, Vella's greatest deed is revitalizing Esplanade's cooking and, more importantly, introducing the Zagreb food scene to haute cuisine. On top of that, he also left a big mark on the Dubrovnik food scene while working at two famous high-end restaurants ‒ 360° and Portrait.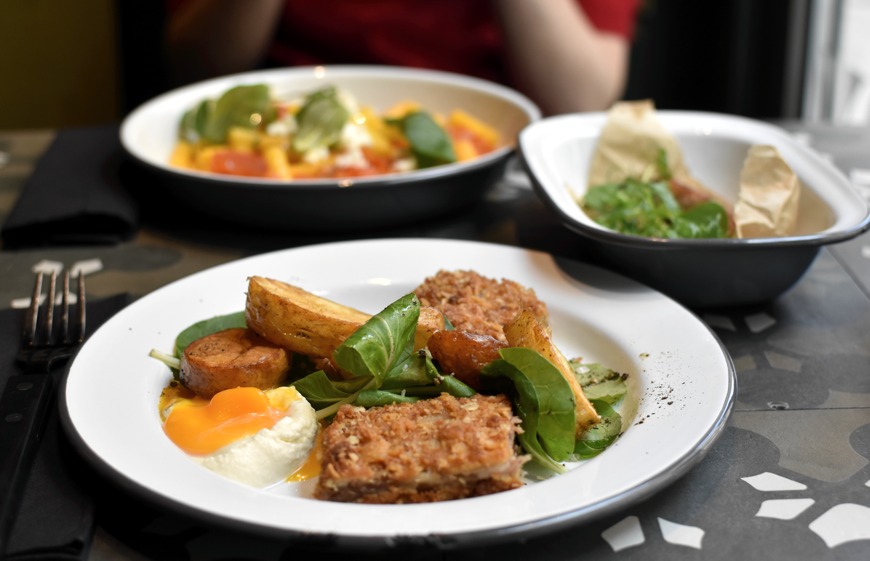 Luckily, he returned to Zagreb and it seems he's on a mission to breathe new life into Oranž, which makes me super excited because now I no longer have any more reason to keep ignoring it and because this could be the new candidate on my list of Zagreb's top 8 bistros, but we'll have to wait and see.
In order for you to understand why this is such a refreshing change, you need to know that ever since it opened in 2011 at Ilica 7, Oranž was primarily a café where you could relax, enjoy a cup of coffee and savour one of their 35 cakes and desserts, or maybe snack on a light sandwich, sporty salad or a slice of quiche. Not different from any of the numerous cafes around Petar Preradović Square, popularly known as the Flower Square. Being located at the most central and most popular Zagreb street, Oranž has been people's usual Saturday morning/lunch time stop. The "Zagreb špica" time. Let me just briefly explain what "Zagreb špica" is. It's a kind of social phenomenon happening every Saturday from early morning till around 3 pm when people, usually all dressed up, meet with their friends for some coffee (which in Croatia means chatting for hours), shopping, going to the Dolac market for fresh fruits and veggies, and basically catching up. It's quite an interesting Croatian peculiarity, which I'll talk more about in a separate blog post.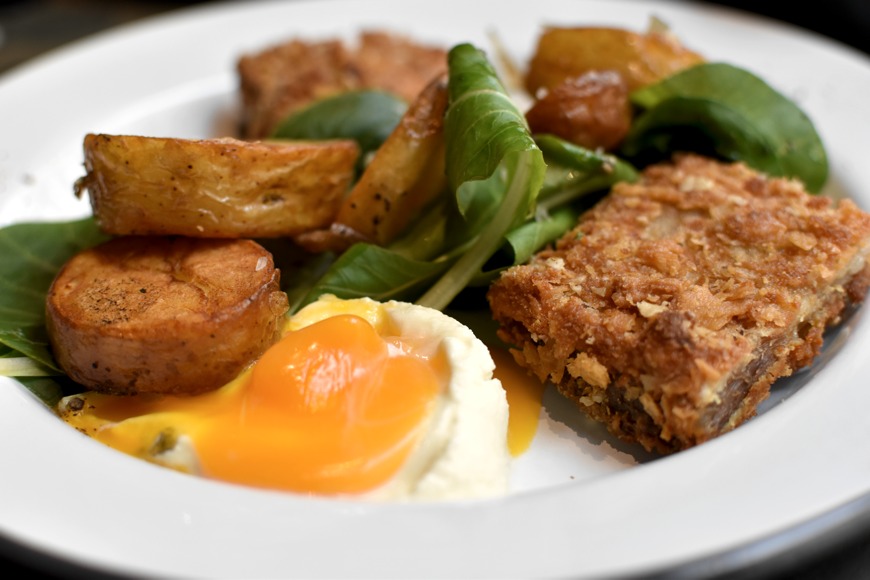 Anyway, one Saturday morning I decided to join the "Zagreb špica" with a friend whom I haven't seen in a while, so we really did have a lot of catching up. After a brief visit to the colourful and bustling Dolac market, we found ourselves seated by the window of Oranž, ready to taste the new and exciting dishes created by Jeffrey Vella. Unlike the haute cuisine menus at Esplanade, the idea behind Oranž Streets is simple bistro food prepared only with the freshest seasonal ingredients, meaning the menu will change according to the availability of the ingredients. At first glance, it's obvious that the menu has been carefully crafted to provide good value and top ingredients, sourced from trusted suppliers. So far so good!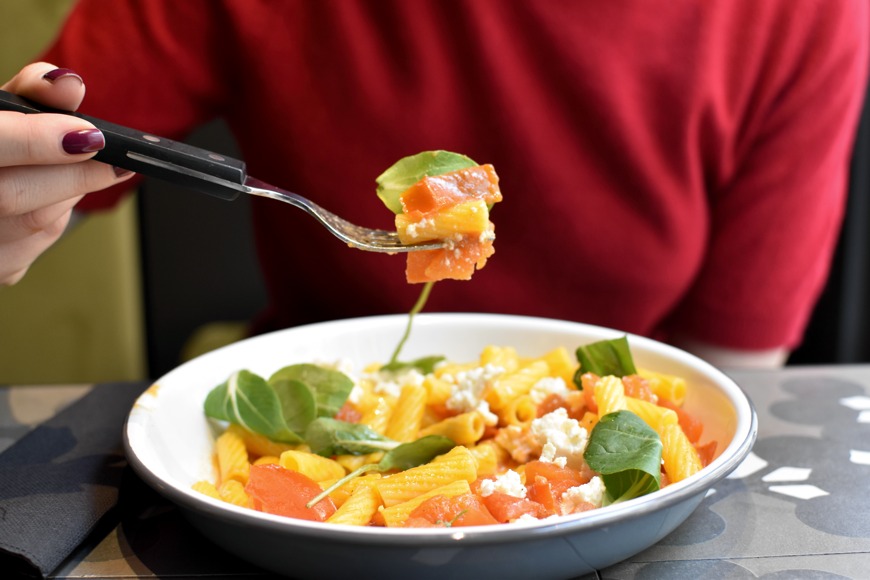 All the dishes like octopus goulash, black cuttlefish risotto, organic corn-fed Zagorje chicken, tender beef cheeks with freshly cooked baby veggies, steak tartare with potatoes from the Lika region, pork ribs, pulled pork shank (from the Black Slavonian pig) in a steamed bun and a crunchy chicken club sandwich sounded so delicious that I wished for a second stomach. I decided on the slow cooked crispy breaded lamb served with potatoes from the Lika region (famous for its high quality potatoes), poached egg and aromatic goat's cheese. With it came a goat sausage served on a separate plate, which was a bit surprising, but very tasty.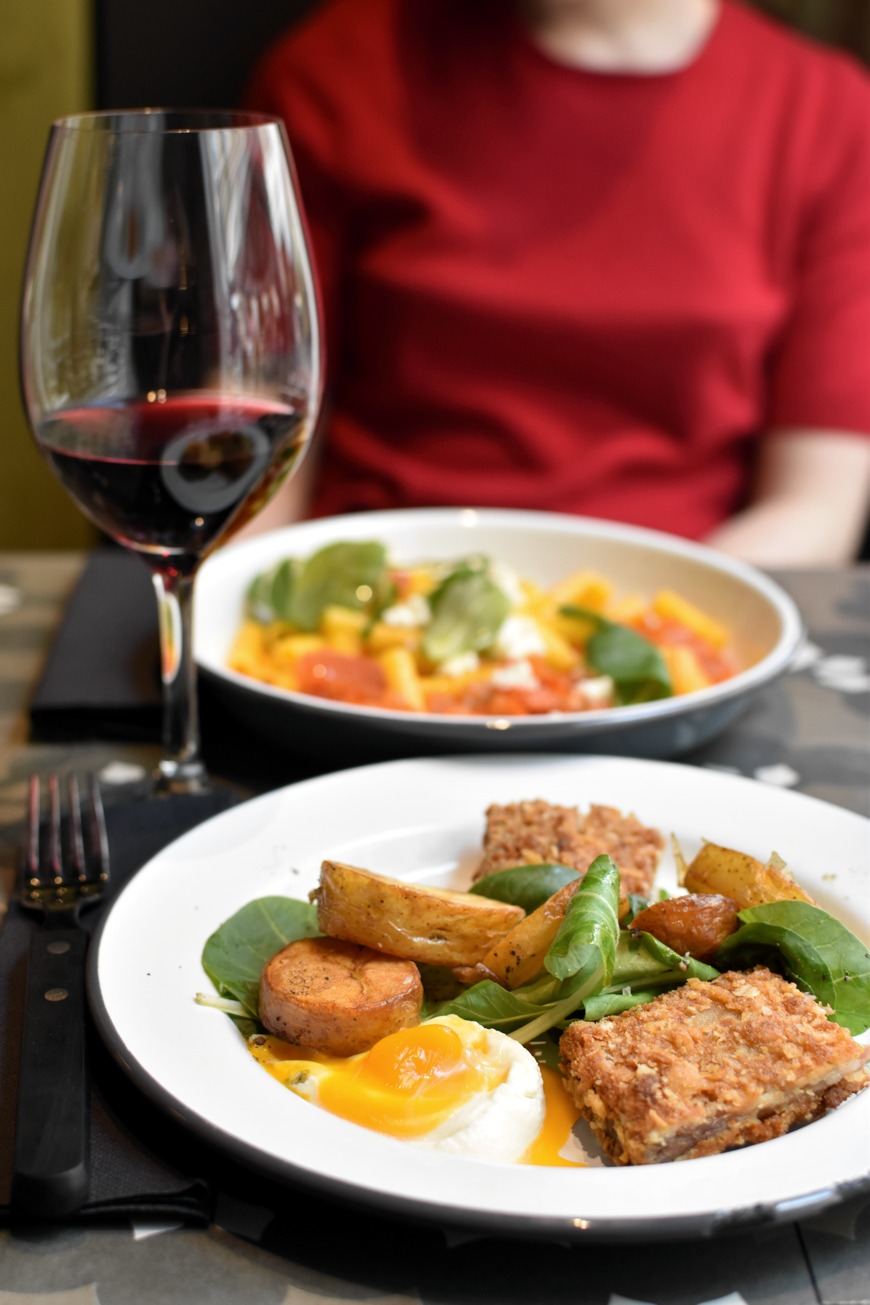 The dish was absolutely divine! Even though lamb is not my favourite type of meat, this was by far the best lamb I've ever tasted. The meat was so tender and full of bold flavours, with a slight buttery note, and at the same time really rich. The crispness of breadcrumbs added a beautiful contrast to the tenderness of meat and the skin-on baby potatoes complemented those beautiful rustic flavours perfectly. The dish was rounded off with a soft poached egg and goat's cheese. I paired it with a glass of red Meneghetti merlot. Altogether, heaven!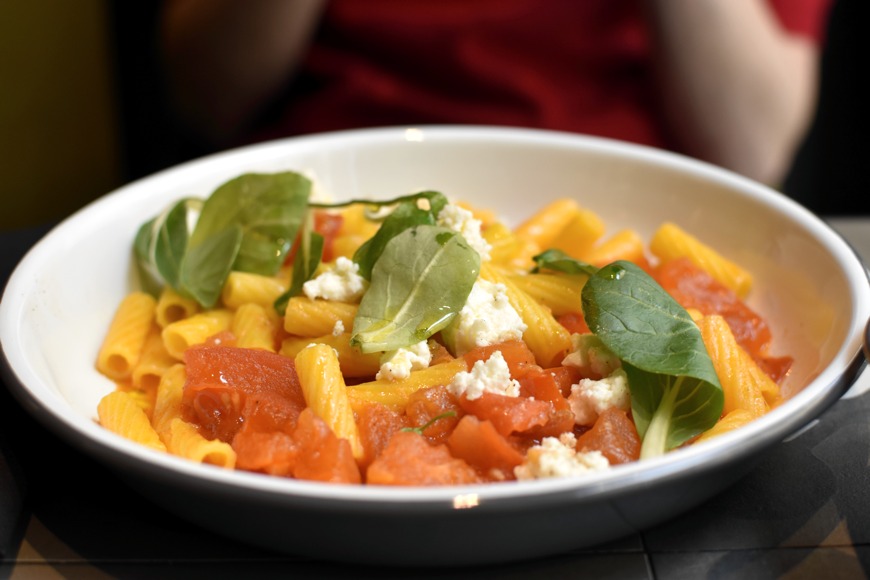 My friend had the only gluten-free dish on the menu: gluten-free rigatoni with organic tomato sauce, skuta (dry curd cottage cheese) and herbs. Sadly, it was pretty bland and unexciting and she was a bit disappointed. It is probably the weakest dish on the menu, but since she's gluten-free, she had no choice. But all you gluten eaters should definitely try the rest of Vella's dishes in Oranž! Interestingly, the prices are more than okay, for example, the slow cooked breaded lamb was the most expensive meal at around 11 euro (85 kuna), while most of the dishes are priced at 8 euro (60 kuna) and the portions are just right. You won't be falling into a food coma and you might have some space left for dessert!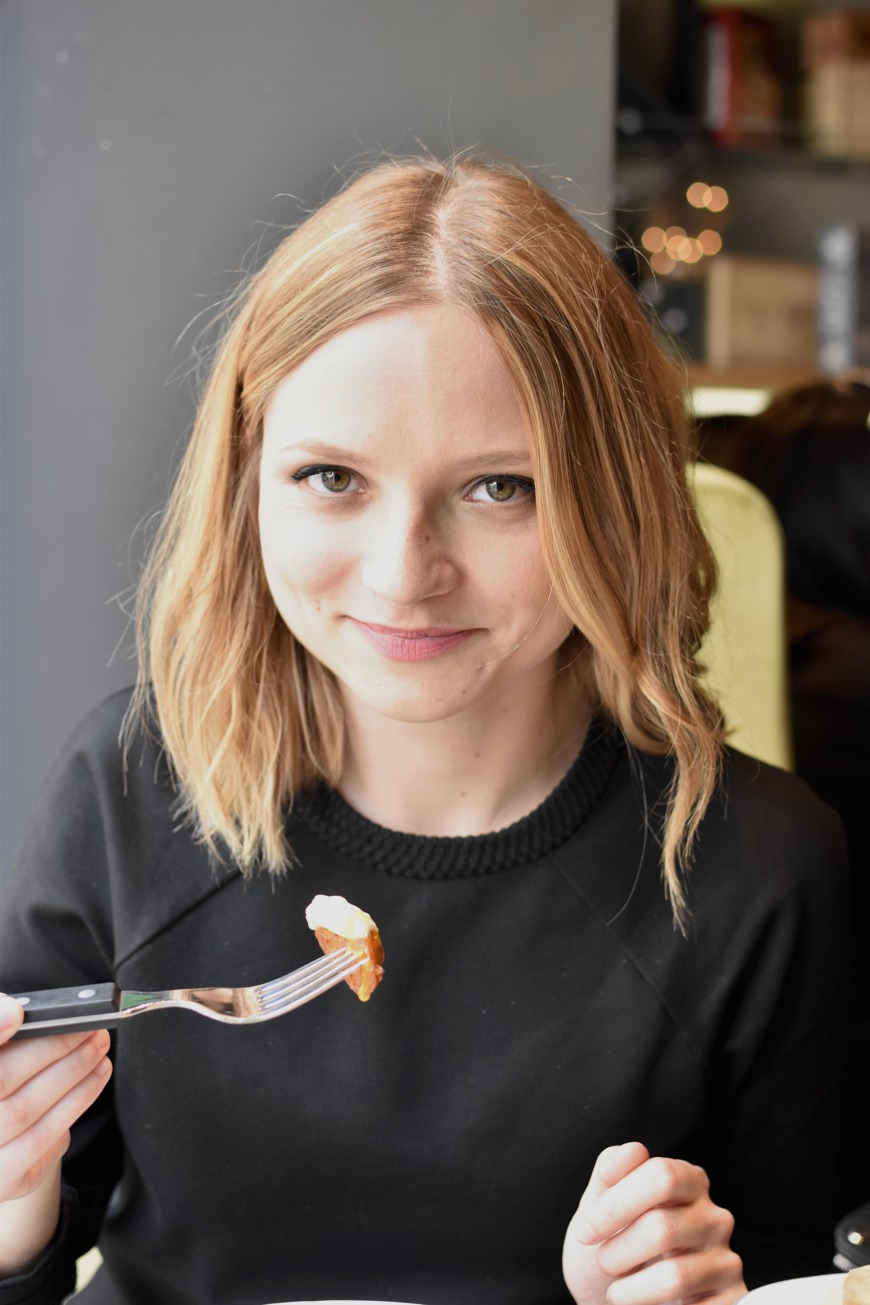 The interior looks pretty cool and very modern, with high and low tables, and there is an outdoor terrace where you can watch all the dressed up people pass by. The vibe is very trendy and stylish and the place was buzzing so you might feel like you're in some London or Berlin swanky bistro. Also, the service was very attentive and friendly. But I must say something about their choice of music on that particular Saturday. It was terrible! It was some kind of clubbing upbeat electronic music, much more suited to a Saturday evening club. I think that some lounge bossa nova or soft jazz would be a much better choice for a brunch/lunch time, especially if you've partied the night before and you're suffering from a hangover. Just saying. :)
Speaking of drinks, there are some 15 wine labels available and three types of craft beers. They also serve breakfast from 9 to 11 am so if you're searching for a place close to the main square, I would definitely recommend Oranž. I know I'm coming back, and soon!
How about you? Will you pay them a visit anytime soon? Is there any dish that sounds too good to be missed? Share your thoughts in the comments section.
By: Katarina Burić