Caught in the agony of making New Year's resolutions (with special emphasis on the one that has to do with losing weight and getting back in shape after a very very long break), we are struggling with writing a post about one of our favourite burger joints in Zagreb on an empty stomach (okay, it's filled with some low fat cottage cheese, boring cherry tomatoes and some terrible low fat rye bread, which altogether counts as nothing). But one can still dream about the burger-shaped happiness never to shine up the gloomy and hungry days ahead, can't they?
We've had the privilege of gorging on the wonderful patties complemented with an array of clever toppings that celebrate Croatian produce ‒ beef from Zagorje, potatoes from the Lika region, Slavonian tomatoes, Dalmatian pancetta, cheese from the Podravina region and brioche buns from a local bakery ‒ many times and we can safely say that we are in love! Unfortunately, the photos that were supposed to accurately demonstrate the deliciousness of Submarine burger creations were taken in the afternoon (which starts at 4:30 pm) and the lighting was crap (and Santa didn't bring either of us an external flash unit), hence the crappy photos. Sorry!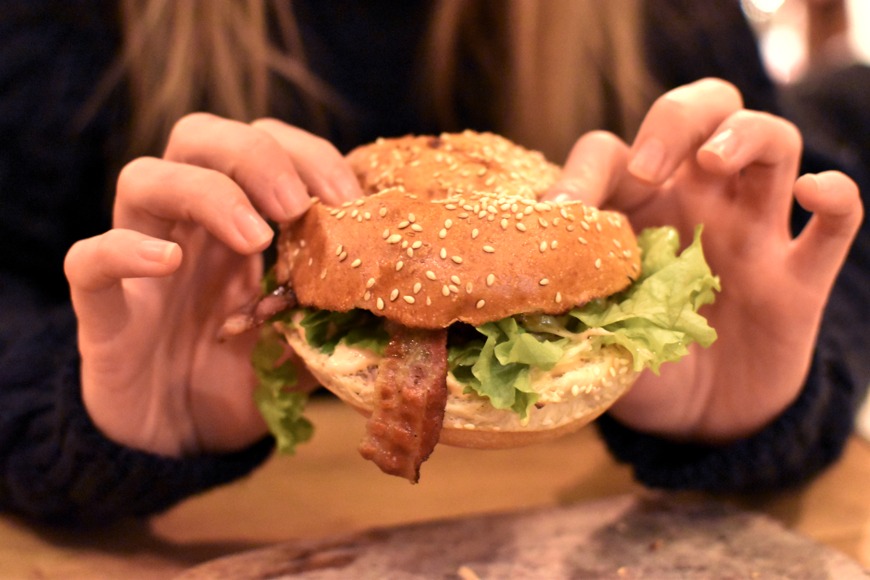 The story of Submarine BBQ (previously known as Yellow Submarine) started in 2014 at Frankopanska 11 and to this day they have seriously upped their game and opened another three venues in Zagreb (Radnička 34, Bogovićeva 7, Slavonska avenija 22f – The Garden Brewery), one in Volosko and one in Belgrade. It's safe to say that business is blooming and it's no surprise. Submarine BBQ earned its loyal following thanks to a very simple fact: they KNOW how to make damn good burgers! The beef, buns and toppings are all superlative! What you're getting is a wonderful patty (or patties if you decide on the double option) slightly charred on the outside, yet moist and rare within, topped with various sexy combos made of gooey melted cheese, smoky pancetta, caramelised onions, grilled Brie cheese, pesto Genovese, aioli, BBQ sauce, Istrian white truffle sauce and much more, sandwiched between a buttery brioche bun. Well, not all combined together, naturally. Speaking of combos, if you're ever in Submarine BBQ ordering a burger you mustn't overlook the amazing rustic fries in four variations, out of which we strongly recommend the "Beast style" fries topped with caramelised onion and their special house sauce, although the "Salchipapas" fries with chunks of smoked Slavonian sausage and BBQ-mayo sauce are super yummy as well. All the ingredients are sourced from Croatia, which is pretty cool given the fact that nowadays not many restaurants care to support the local farms and business, with their minds often fixed solely on profit, not quality.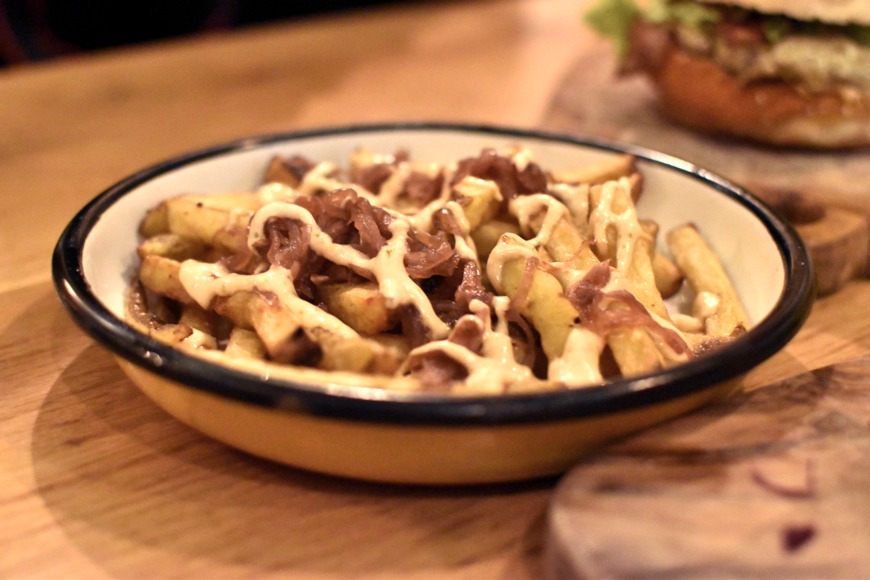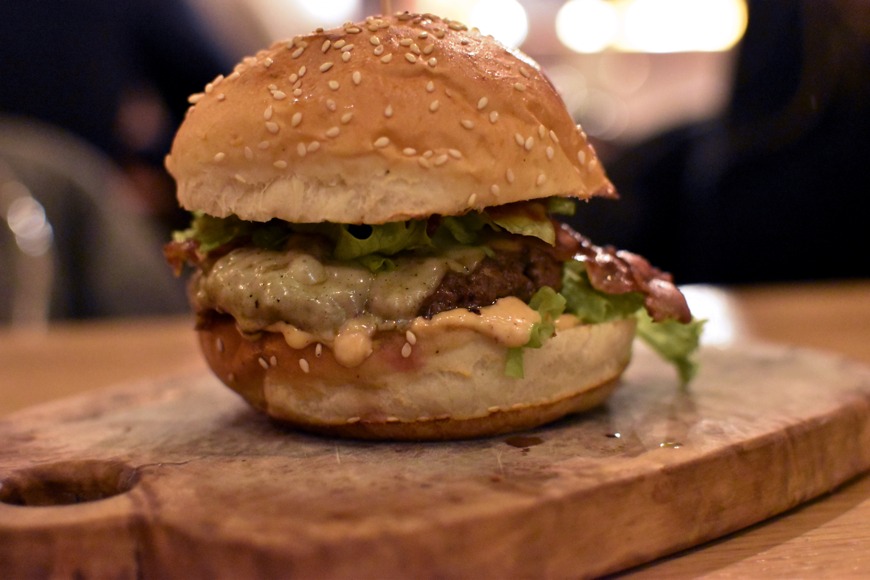 Remember how this September we roamed around the Strossmayer Square in search of the best burger at the first Zagreb Burger Festival? Submarine was there offering some two or three burgers from their menu and Katarina had the "Smokehouse"? She remembers it very vividly! Well, it turns out that their burger was actually named the best in the burger competition! We approve and congratulate!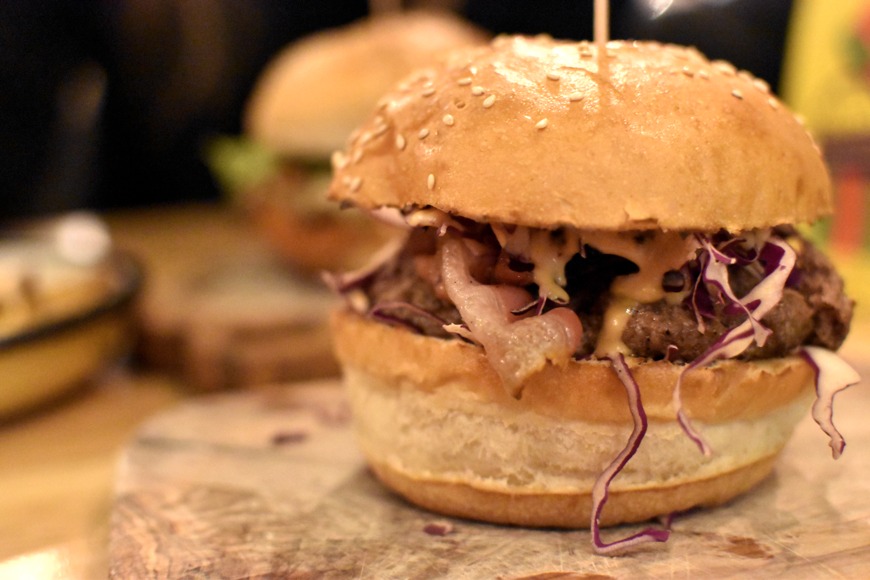 The last time we've had a Submarine burger was sometime in the middle of December and they had a special Christmas burger on the menu, which instantly intrigued Katarina so she gave it a go. It was actually their "Country" burger ‒ a beef patty, crunchy smoked bacon, freshly grated cabbage, caramelised onion drizzled with honey mustard sauce packed inside the brioche bun ‒ with one minor twist: prunes stewed in Port wine, which in the end made all the difference. It was a true flavourful treat! Barbara's burger of choice was the previously mentioned "Smokehouse" accessorised with a charred beef patty, crispy Dalmatian pancetta, grilled smoked cheese you want to dive in, fresh lettuce and a BBQ-mayo sauce altogether nestled in a shiny buttery brioche. We washed the gourmet burgers down with a big glass of Croatian beer "Zlatni medvjed" for the complete experience. The atmosphere is very relaxed and the staff is really friendly and alert. The decor is cute with a bunch of curving pipes on the ceiling and naked light bulbs hanging above your head that hint to the simplicity of the industrial design. The tables are arranged in lines and the seats are packed in so you get that "communal" touch, which is for a casual burger joint like this one entirely acceptable. The pricing is sensible with single burgers averaging at 5 euro, while the doubles are priced at around 6.5 euro.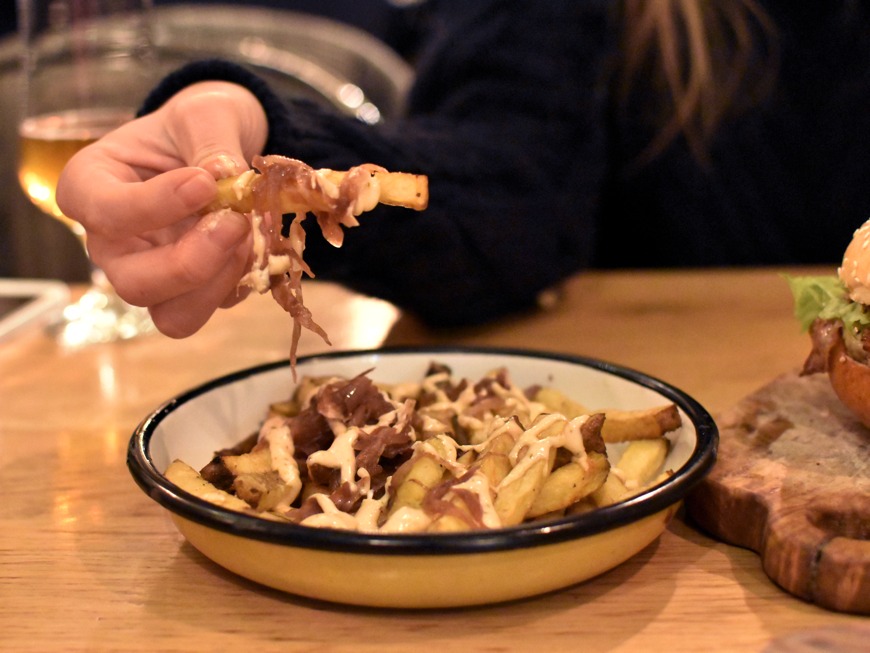 Okay, now let's finish with this burger torture because the oatmeal is ready!