First off, Croatia is not a vegan friendly country. It feels like an understatement to say that we Croats have meat running through our veins. Come to Dalmatia or Istria and there's pršut (dry-cured ham) and hard cheese on every table, sit at a restaurant table anywhere in Croatian inland and you'll be welcomed with some sort of regional sausage variety (kulen, anyone?), čvarci (pork rind), špek (smoked bacon), and we won't even bother to venture into the complexities of Croatian meaty mains.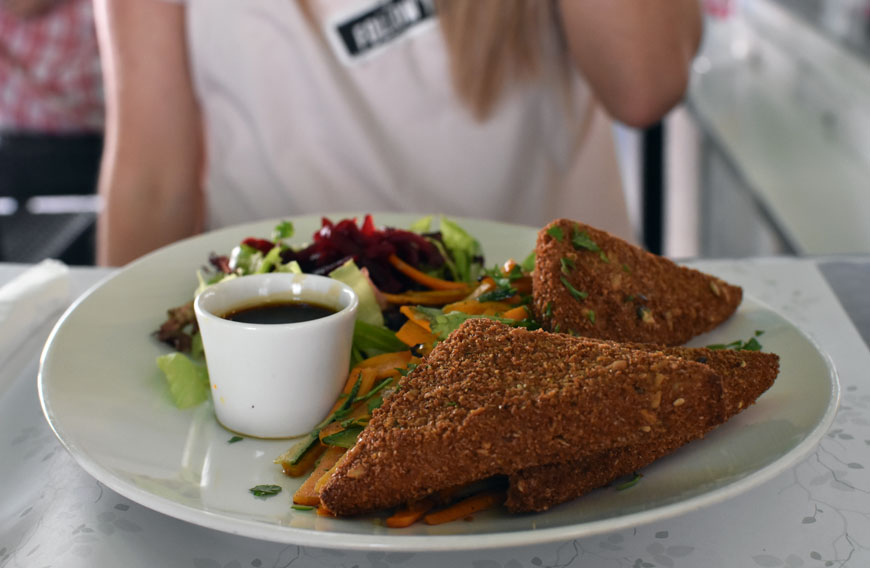 So it comes as no surprise that travelling as a vegan (and vegetarian alike) in Croatia can be quite challenging, and eating at Croatian restaurants can be almost impossible, unless you settle for a mixed green salad (which in Croatian cuisine serves mostly for decorative purposes, you know "to add some colour to the table"). Luckily, Zagreb has a place or two for herbivores so you won't be stuck on tomatoes, lettuce and grated cabbage. One such venue is located in Medulićeva 20 (not far from the Croatian National Theatre) and it's called Zrno Bio Bistro. It is Croatia's first and only certified 100% organic vegan restaurant (by Austria Bio Garantie, for what it's worth). And the best part of the story is that all of the organic ingredients come from the organic farm Zrno located in the small village of Habjanovec, only 55 km east of Zagreb. By all ingredients they mean fresh vegetables, including legumes and grains, handmade tofu, seitan and warm sourdough bread they make in their own bakery. And they especially pride themselves in preparing meals that cherish the holistic approach of macrobiotics in conjunction with vegan principles. Pretty impressive, if you ask us!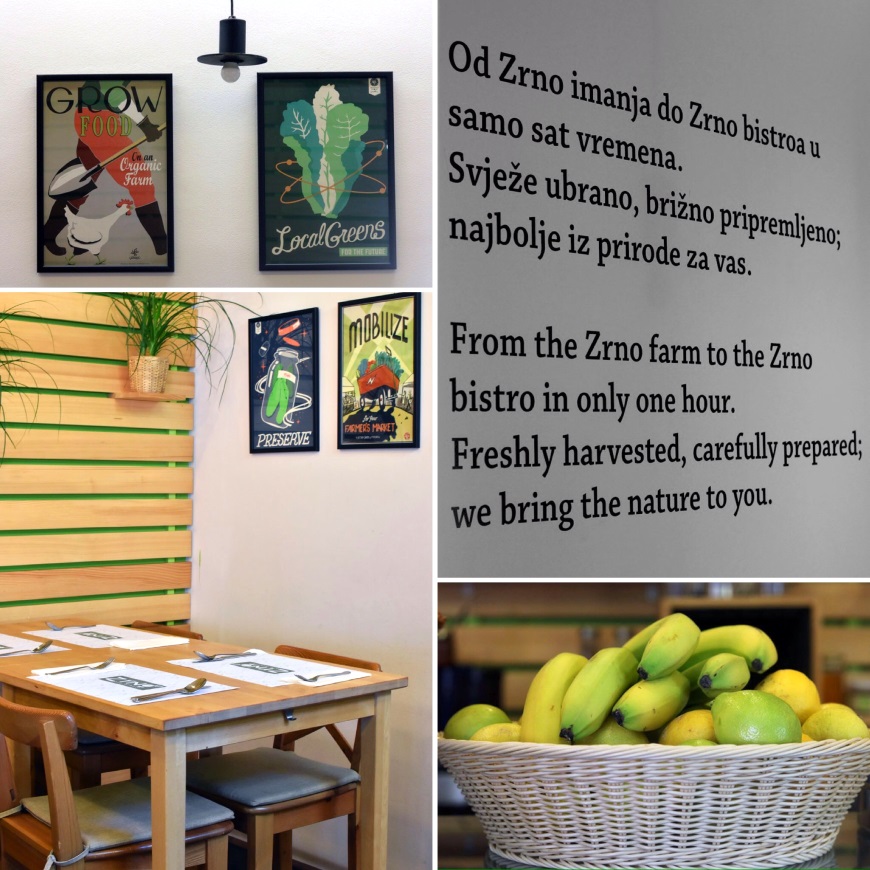 All you travellers struggling to eat healthy in this meat-obsessed country can stop stressing out about the lack of herbivorous food options. Zrno Bio Bistro has plenty of healthy, sustainable and above all delicious vegan dishes that even hard-core carnivores will enjoy, and they will go easy on your wallet. Plus some dishes are available in gluten-free versions! Do miso soup, wok vegetables, sweet potato fries, quinoa salad, whole wheat pasta with veggies, grilled tofu, tempeh and seitan in BBQ sauce sound tempting? They should, even if you would sell your soul for a juicy burger on any given day.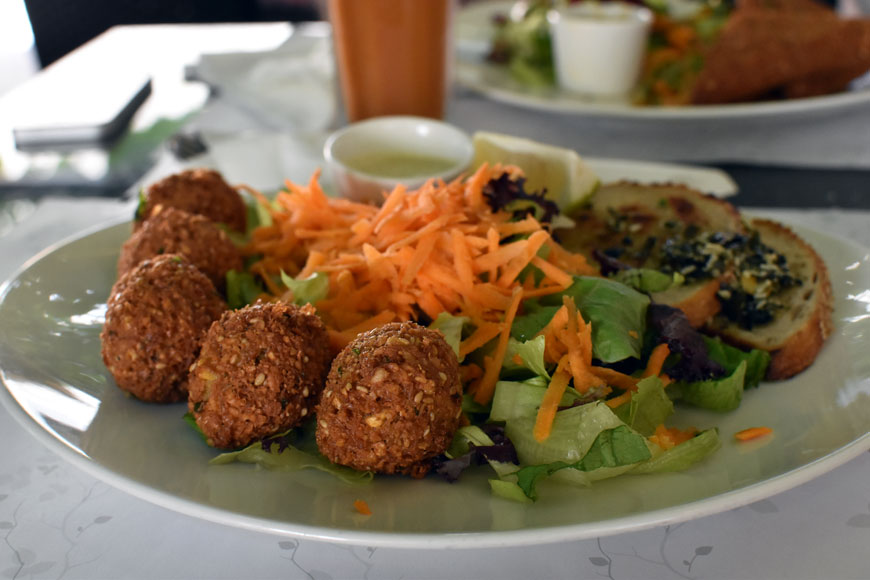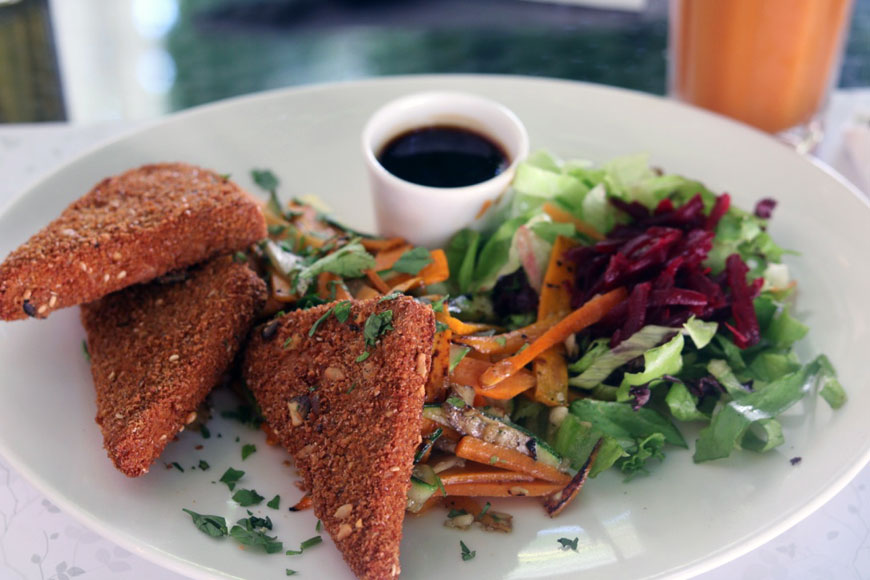 Since we've tried several sandwiches so far (Kayu breaded seitan, Kayu grilled tofu and some other) made with the ingredients sourced from the Zrno farm (they can be found in bio&bio shops across Zagreb), this time we decided on sesame-crusted tofu with ginger-tamari sauce and wok vegetables, and falafel served with a carrot and lettuce salad, tahini bread and tahini dressing. Both dishes were crispy, wholesome and really fresh with nice flavours and textures. Barbara's tofu was superbly executed with a beautiful golden-brown crispy coating, while the stir fried wok vegetables retained their freshness. Falafel was flavourful and light at the same time and the grated carrot with lettuce added an invigorating note to the meal, while the tahini dressing provided a bit of zing. Our healthy food experience was supported by the organic carrot juice and a cold green tea with fresh mint leaves.
All you carnivores (raising hands here) out there, it's not the worst idea to go meatless. At least once in a while...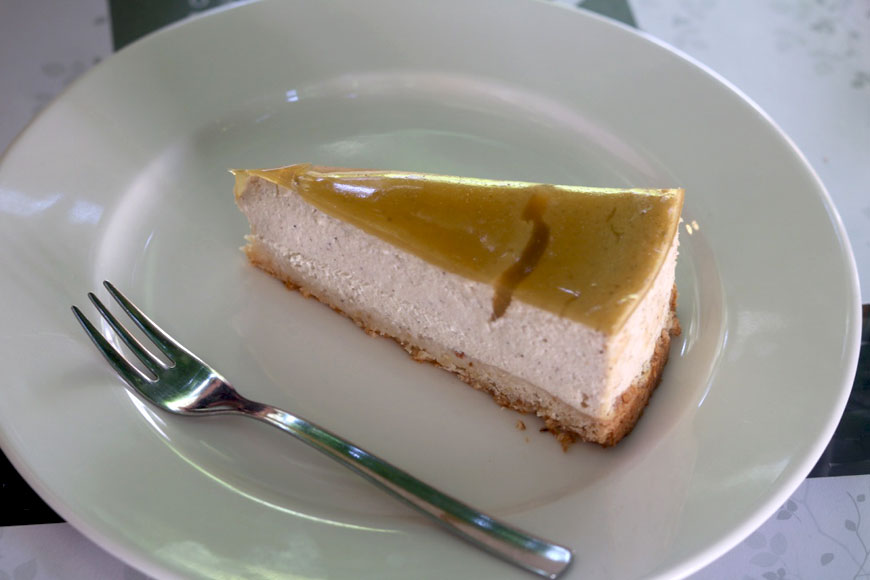 We proudly admit we are sweet-toothed creatures. (The key to our hearts is chocolate. Or is it ice cream? We're not sure.) Naturally, we couldn't say no even to a vegan dessert. But which one should we order??? What about ginger carrot cake, or maybe the Hungarian cake? No, let's try the ice cream! Being as indecisive as we are, it took us some ten minutes to finally make the impossible decision ‒ the tofu lemon cake, which was surprisingly creamy and rich given that it was made with dairy-free tofu cream. We really liked the walnut (?) cake base and a hint of vanilla in cream. Another plus would be that they use agave sweetener instead of plain sugar.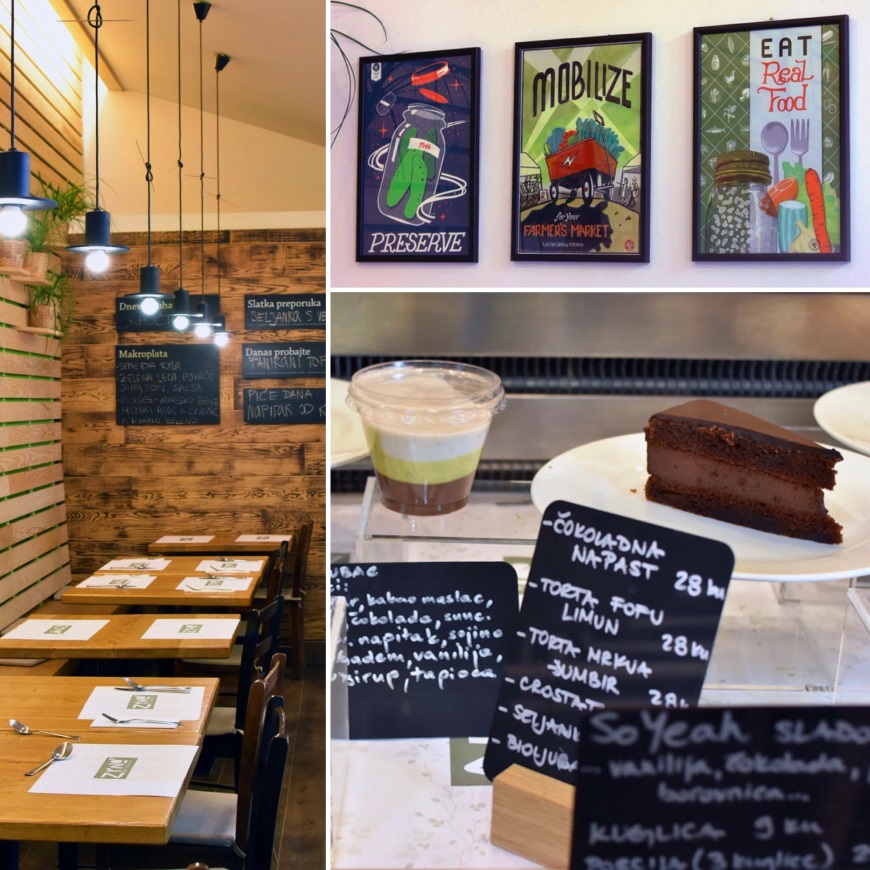 The drinks list is extensive and carefully chosen to reflect the overall healthy-vegan-macrobiotics philosophy. The menu features organic juices, numerous organic tea options varying from Japanese Sencha to South African rooibos and there are six organic Yogi Tea flavours. Coffee lovers can savour organic grain coffee variants served with soy, oat or rice milk. Smoothie and juice junkies will be happy to hear there are six creatively mixed superfood smoothies and twelve fruit and/or vegetable juice combinations. Not a single unhealthy ingredient! Even the wine and beer are organic, can you believe it?
Whether or not you are vegan, vegetarian or normally enjoy a rare steak, Zrno Bio Bistro will not disappoint, we promise!