Dubravkin Put restaurant has long been on our list of Zagreb restaurants we desperately wanted to visit, but being a bit on the expensive side we needed to set our priorities and wait for the right moment. And it has come!
Nestled in the enchanting greenery of Tuškanac Forest, in the serene Dubravkin Put street at number 2, this highly acclaimed restaurant has long been one of Zagreb's top seafood addresses attracting a fairly uniform group of patrons comprised primarily of business people, the social and political elite (Croatian "Somebodies") and deep-pocketed customers for years; until 2010 when the new owners decided it was high time the restaurant underwent remodelling and rebranding in order to get a fresh start and appeal to a wider audience. The place was relaunched as a modern and sophisticated wine-themed restaurant with ambitions of serving superb food and premium wines. The wine theme is cleverly showcased in restaurant's sleek interior with a towering floor-to-ceiling wine wall featuring more than 500 labels. (When you ask for the wine list, you get a whole book with countless pages!) The wine wall divides the bar from the dining area. The wine bar section is very spacious, with stylish ambience lighting and exposed wooden beams that add a warm rustic touch to the overall polished design, while the dining area is bathed in sunlight coming in through the oversized windows. Outstanding, in a word.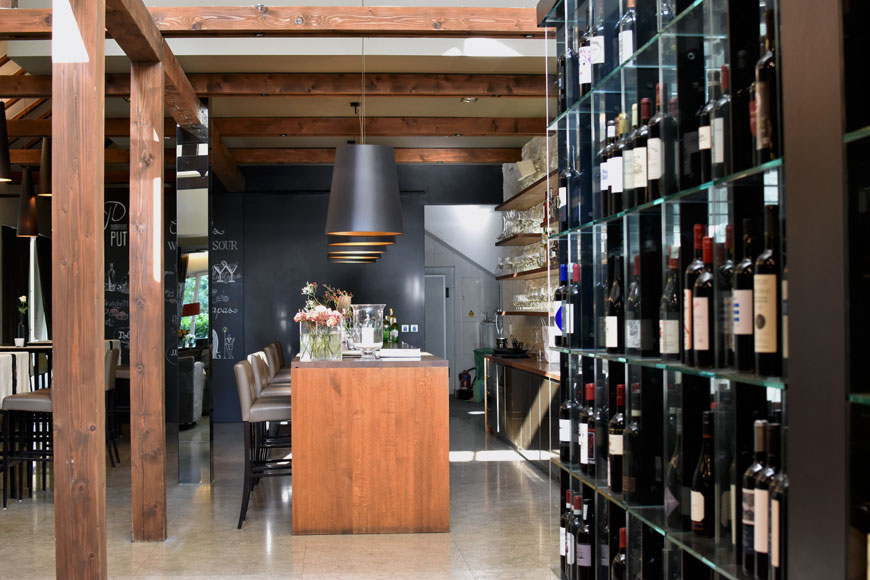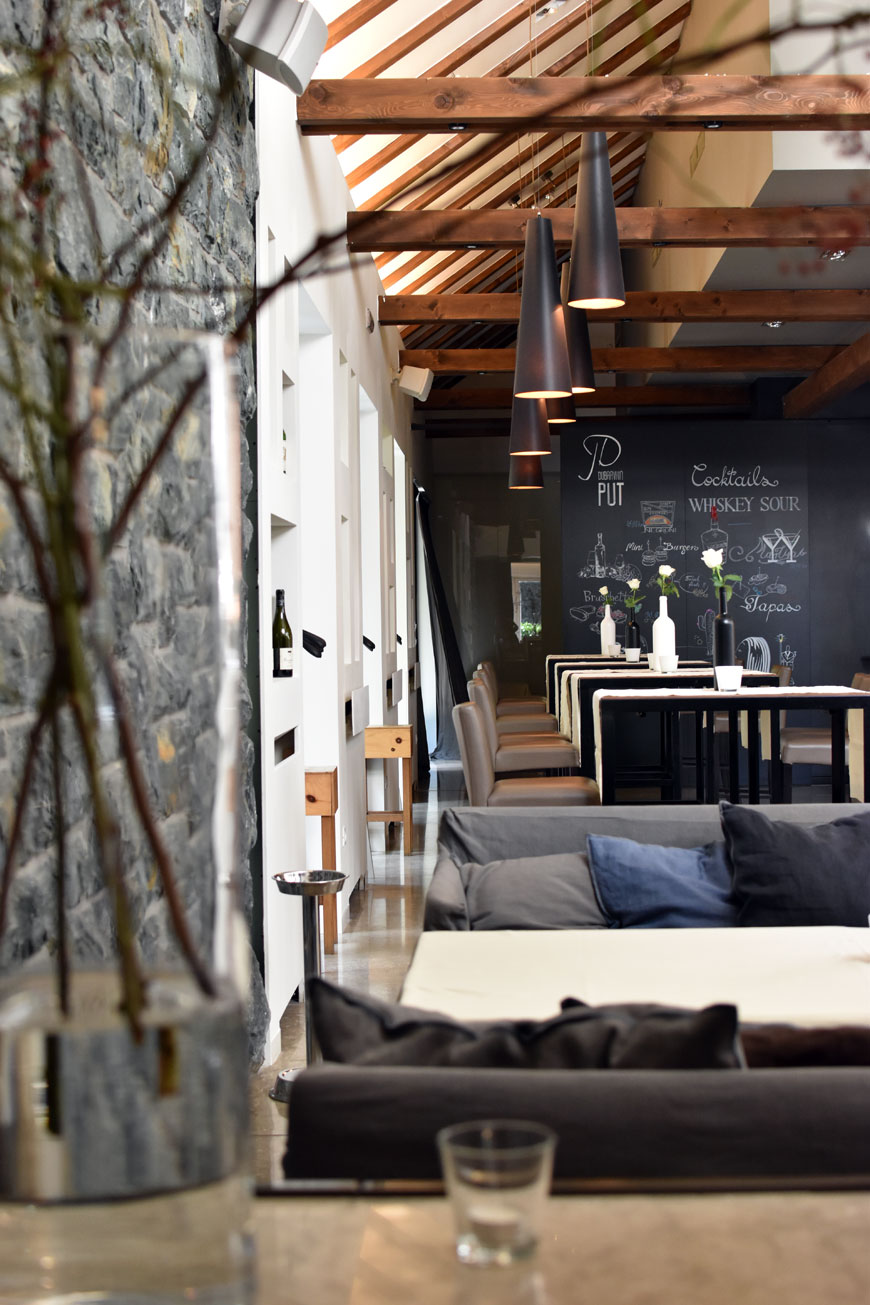 To cut the long story of the reinvention of Dubravkin Put short, the kitchen was taken over by the renowned Swiss-Canadian chef Priska Thuring in early 2015. You have to understand here that Priska Thuring, together with a few other distinguished individuals, is a highly esteemed chef in Croatian culinary circles. As the head chef of Dubravkin Put the charismatic Priska introduced a new concept ‒ by arranging the menu in a daily and evening variant (that are supposed to be friendlier on your wallet) she presented a creative menu balancing between the traditional and contemporary approach to cooking and Croatian cuisine, with a special emphasis on the Mediterranean food. More than that, let's not disregard the fact that Dubravkin Put holds a membership in the JRE (Jeunes Restaurateurs) ‒ the biggest international association of quality young chefs and culinary entrepreneurs (founded back in 1974), representing 350 individual restaurants and 160 hotels in 16 European countries.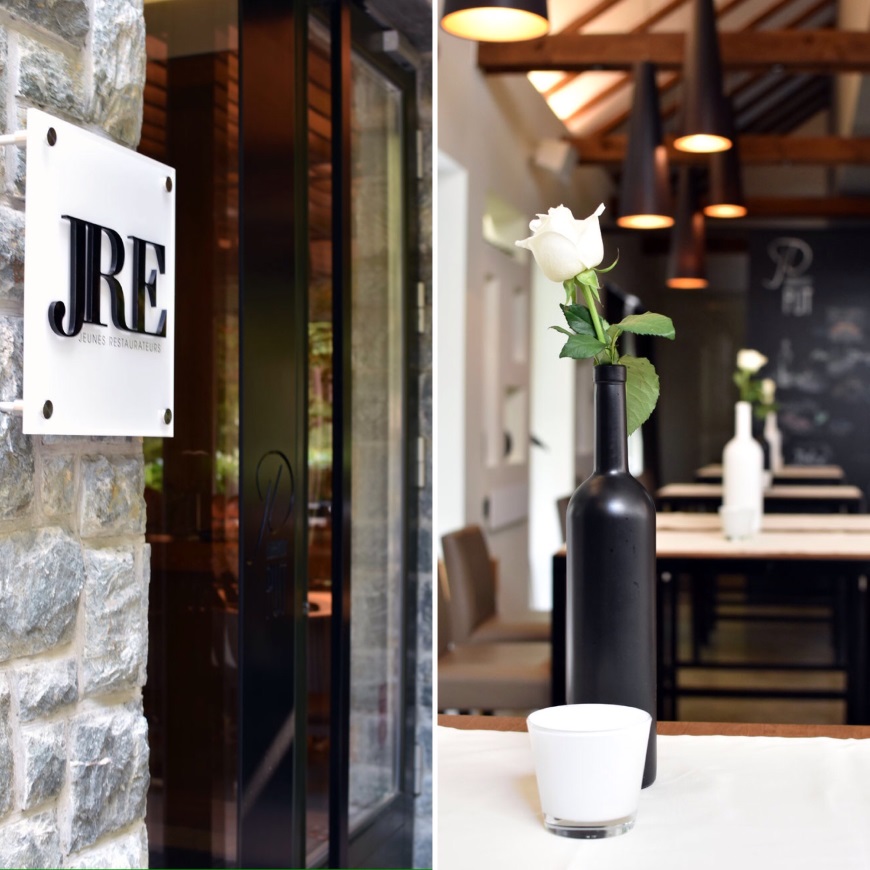 By now you must have figured out that our expectations were high. Really high. Like when you hear about a new cool book or a movie coming out and you can't wait to read/see it. And when we found out about the exclusive themed tasting dinner (a conceptual dinner, or whatever they call it) "Večera u Valu", designed as a tasting event for up to 18 people that took place in November last year, we said to ourselves: WE MUST GO.
Finally, last Thursday was D-Day. Hungry and ready as ever to savour the delicate flavours of the dishes we ordered, we waited patiently while the remarkably professional and polite waiter suggested one of the most delicious (and by far the most expensive) wines we have ever tasted. It was Crvik Vilin Ples (translates to Fairy Dance) from Konavle, a beautiful red blend (Cabernet Sauvignon, Merlot and Plavac Mali variety) which was amazing and perfectly paired to both the starter and main. But it seems a bit too expensive at 53 kn (that is 7 euro per glass!), wouldn't you say? Anyway, for starter Barbara chose the sea bass pâté served with arugula salad and toast from the daily menu. The toast was crispy and soft at the same time, the pâté was creamy, delicate and delicious but the arugula salad was too sour, even for Barbara and she really loves her salads sharp. Overall, it was nice. Katarina decided on the roasted black Slavonian pig belly with a pickled vegetables salad. Unfortunately, the pickled vegetables salad contained pickled cauliflower, Katarina's least favourite vegetable, so it didn't knock her off her feet. But that is entirely related to her personal dislike. If you love pickled cauliflower, the dish is not to be missed! The roasted pig belly was very tasty as well with super crispy skin and succulent meat. All in all, alright.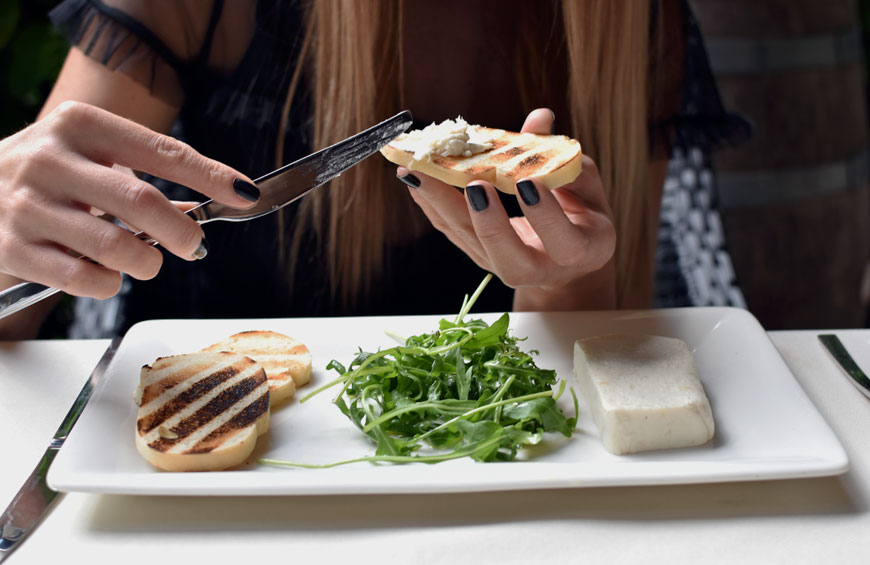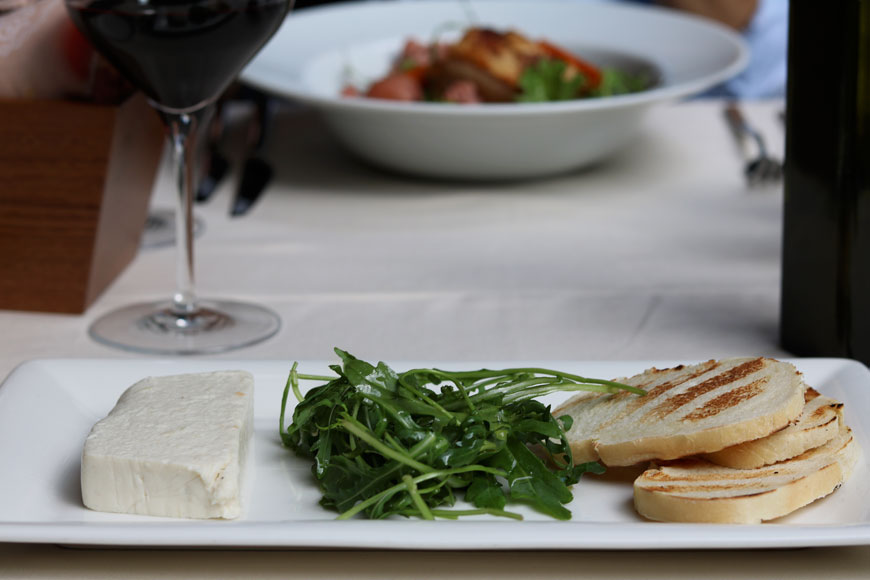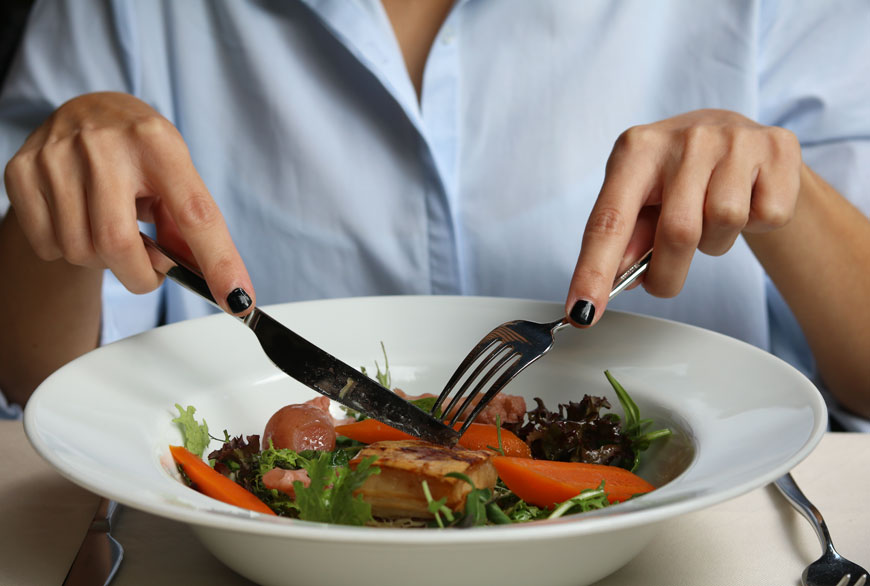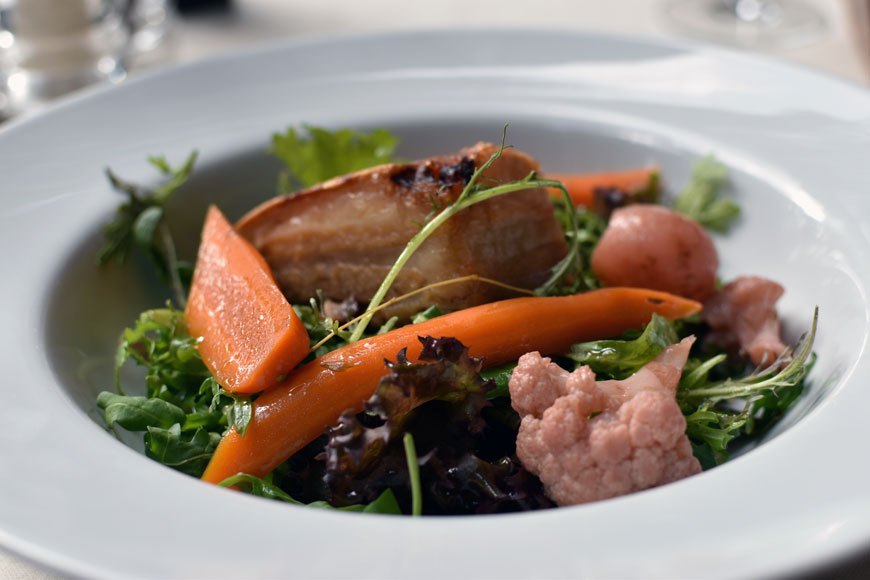 And now we come to the controversial mains ‒ braised beef cheeks with buttered polenta and green beans for Barbara and a lamb and broad bean ragout with couscous and barley for Katarina. Why controversial, you may ask... Ah well, because we didn't like it and even though we exchanged our plates after a couple of bites, it didn't help much. It seems that we set our expectations a bit too high and it ruined the long awaited culinary experience in Dubravkin Put. (The stale green beans did a good job of ruining the dish as well.)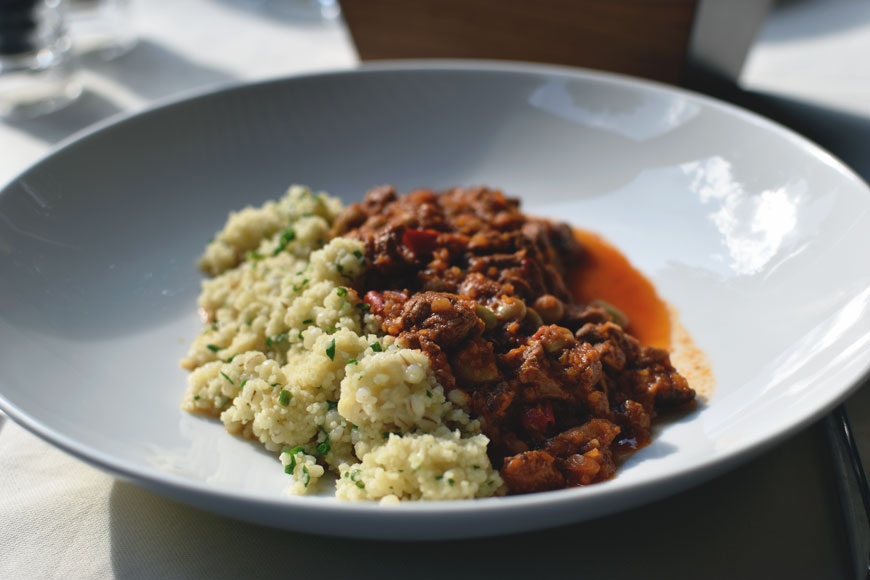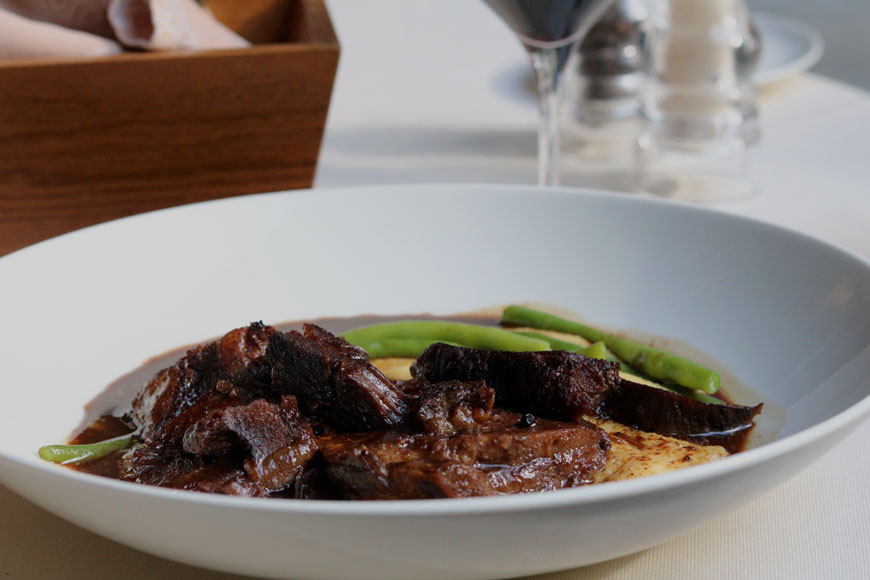 In more detail, braised beef was tender and melted nicely, the polenta, though a bit runny, was nevertheless nicely buttered but the green beans tasted as if they had been lying in the back of a box in some dark and damp store room. An unfortunate gaffe... The problem with the lamb ragout was the seasoning. The flavours were not in harmony and both meals had a bitter note we couldn't unriddle. To conclude, it was not quite what we'd hoped for. If you decide to pay a visit to Dubravkin Put, maybe it would be wise to order something else. Perhaps a steak or some top-quality Adriatic fish, which they are famed for. Ask for the à la carte menu or be a bit adventurous and splash out on the seven or twelve-course tasting menu. Just don't set your expectations sky high and you should be pleasantly surprised.