Every good story needs three basic elements: charismatic characters, an enthralling plot and a striking setting. The story we are going to share with you today revolves, for the most part, around one particular character and one very special setting ‒ the Ban Jelačić Square, Zagreb's central square ‒ the soul of the modern Zagreb city where everything happens. It's where we meet with our friends ("under the clock"), it's where we express our disagreement with the government, present local and seasonal produce from all over Croatia, enjoy a glass of mulled wine paired with hearty sausages in wintertime, run frantically to catch the tram, stagger tipsily in the middle of the night with a steaming hot burek (savoury baked filled pastry ‒ a preferred choice of food while "unsober"). It's safe to say that Ban Jelačić Square has been the lifeblood of Zagreb since the mid-17th century.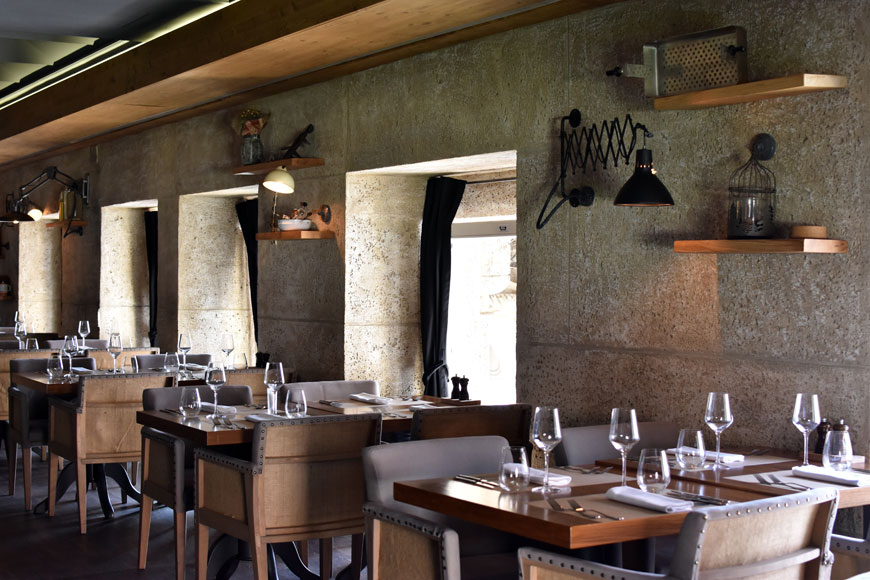 Located in a 1930's building (in the Ban Jelačić Square, number 9), with history as rich as its impressive architecture, the Johann Franck Café, Bistro, Bar and Club opened in May 2015 with an ambitious attempt to restore the old Viennese coffee house (originally known as Gradska Kavana) and turn it into a trendy café and restaurant during the daytime and a club/concert venue after dark. There has been a lot of debate over the years among architects, the city council and the public about how to best refurbish and revitalize the iconic Gradska Kavana but we'll skip that part and jump over to the more interesting story of Johann Franck Bistro and its young, talented and ambitious chef Ivan Tomašević.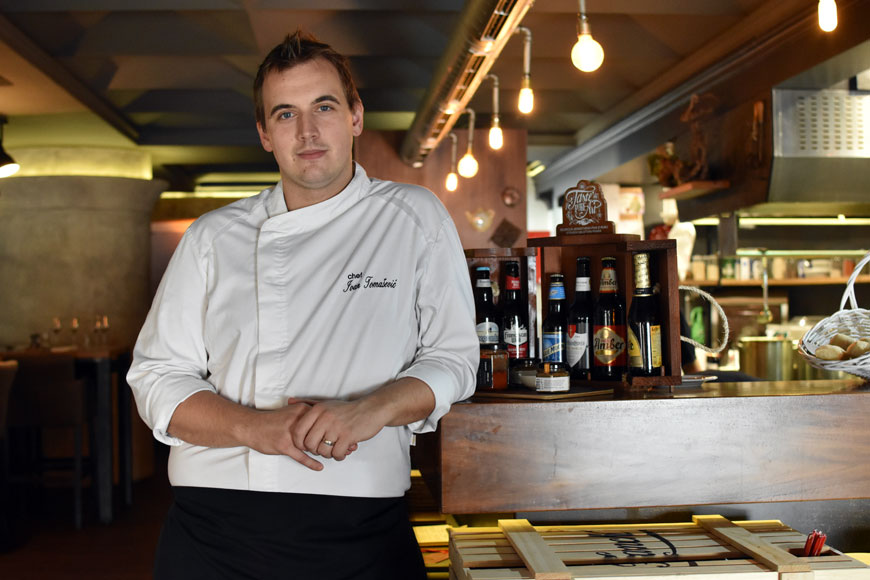 After getting a degree at the Faculty of Tourism and Hospitality Management, Ivan Tomašević's appetite for challenges and personal growth led him straight to Zagreb where he has been learning the tricks of the trade in several Zagreb's top restaurants for the past ten years before ending up as the head chef of the Johann Franck Bistro earlier this year. Over the past seven months, with Mr. Tomašević at the helm, the Johann Franck Bistro has been carefully complementing the traditional Croatian food with a cutting-edge, contemporary approach to restaurant food, drawing influence from his home region of Dalmatia and mixing it with the local North Croatian specialties and flavours. Basically, a touch of Croatia on a plate.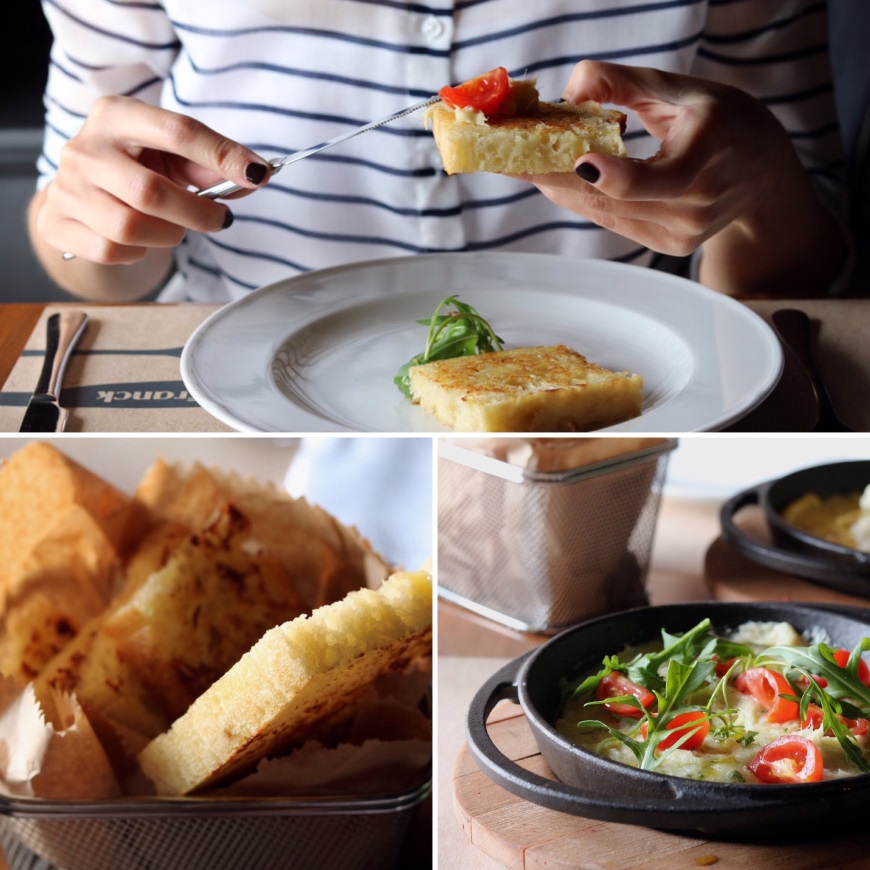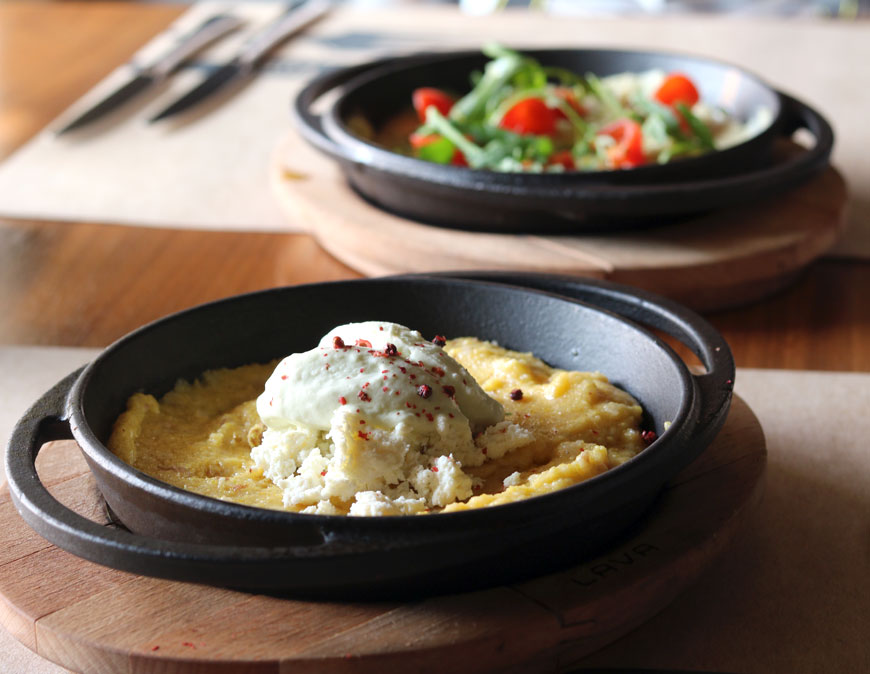 Today we want to share with you not only the food experience at the Johann Franck Bistro but also the story behind the scenes. First things first ‒ the food! We are not proud to admit it but the amount of food we ate that particular Friday was seriously obscene. But it's not our fault, it's the chef's. :D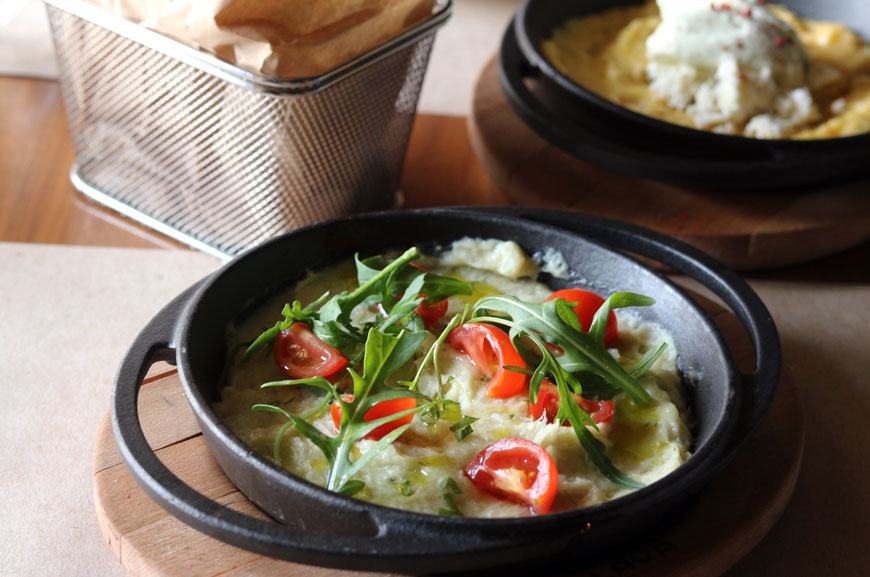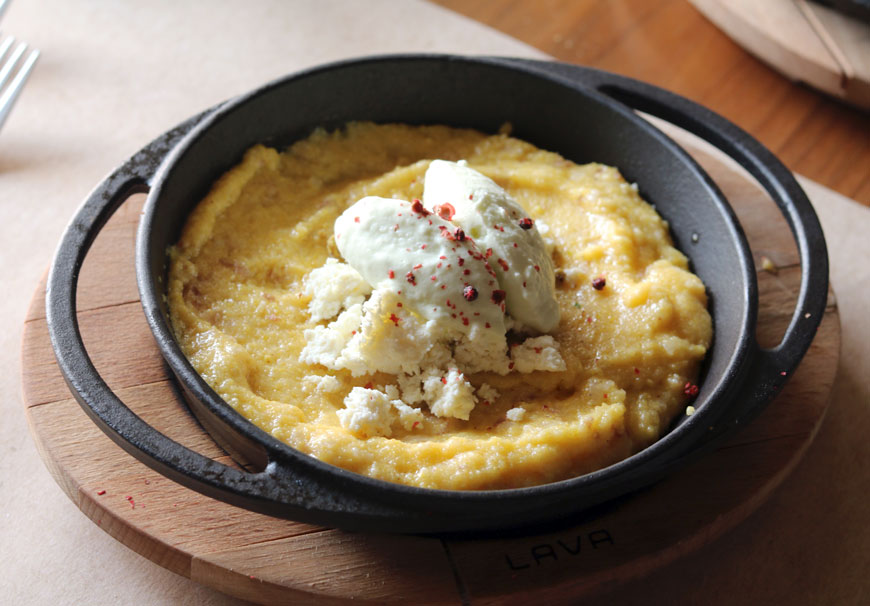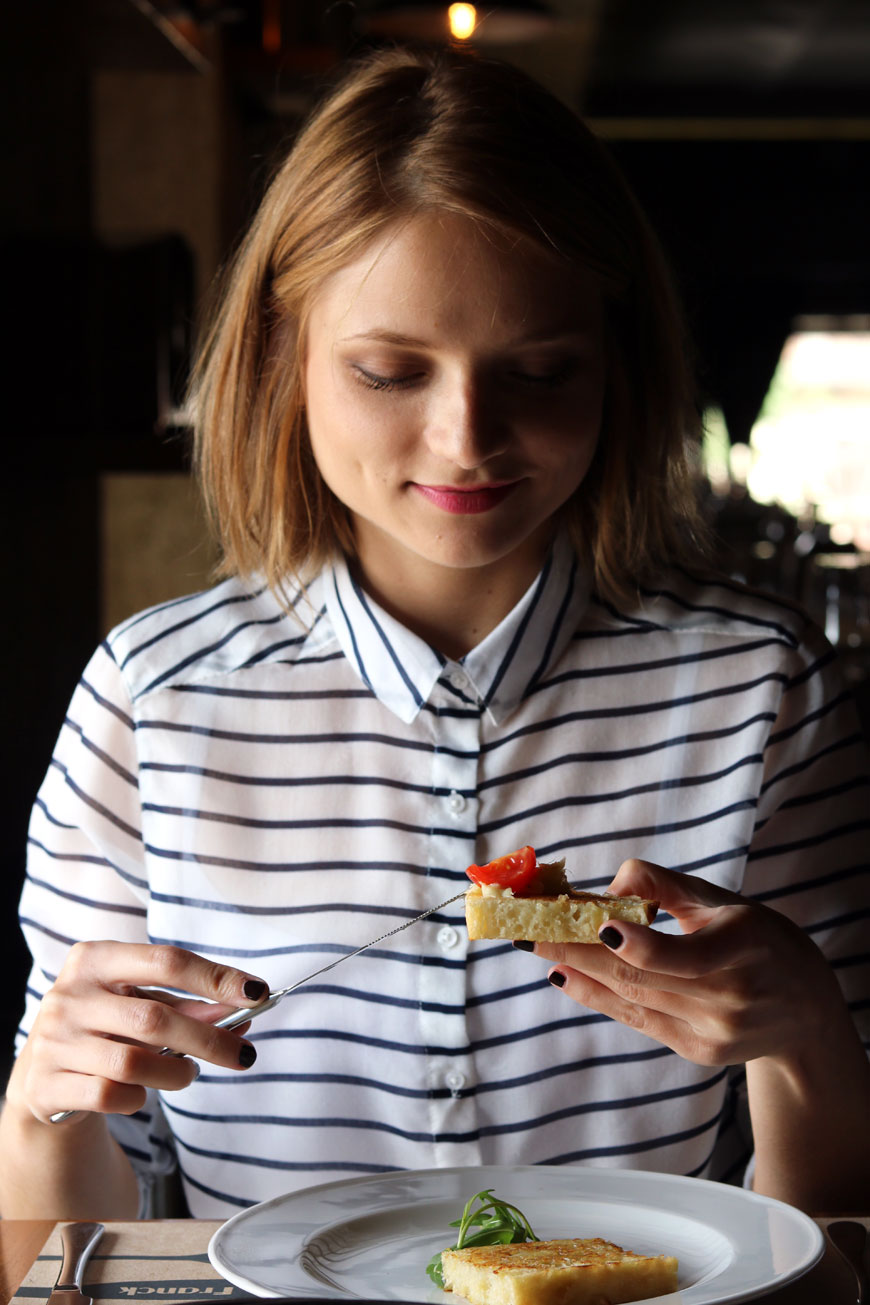 There was the beautiful salted codfish with potato, seasoned with olive oil and freshened up with cherry tomatoes and arugula as starter number one. Its perfect velvety texture really came through with the oily, rich freshly baked potato bread focaccia. The second starter was the traditional North Croatian breakfast (nowadays somewhat forgotten) ‒ cornmeal with fresh farmer's cheese (žganci sa svježim sirom in Croatian) but it was served with sour cream and fresh cheese ice-cream and bacon dust. It sounds a bit pretentious but it was actually very comforting and it tasted like we remember it from our childhood, although presented in a much more exciting way.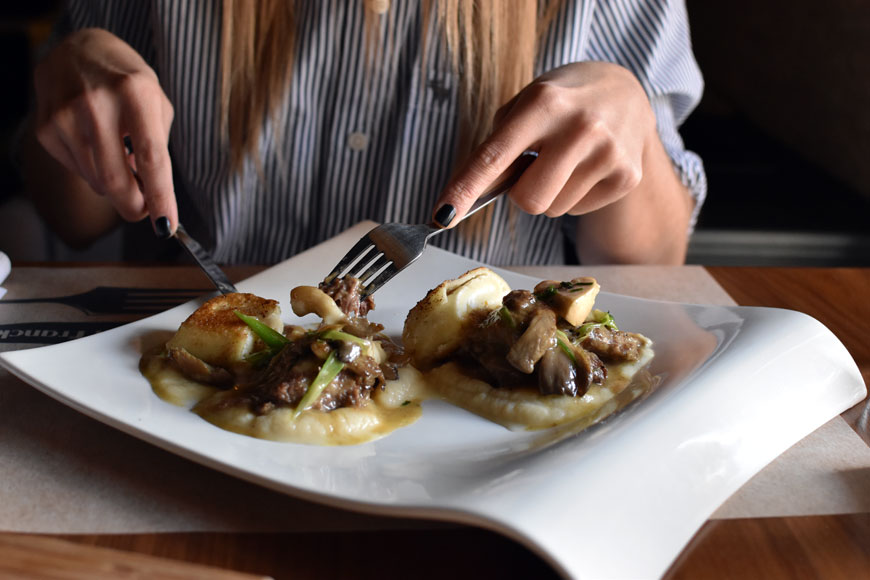 The mains were, in true Croatian tradition, very meaty. Veal cheeks in mushroom sauce served with baked štrukli covered in toasted breadcrumbs and cold celery root purée, and a Black Angus steak charred on a lava stone grill covered in red peppercorn and served with a generous knob of butter and coarse sea salt. Holy moly! The veal cheeks were amazing, so tender and flavourful and the idea to serve them with štrukli seemed absolutely brilliant, because the aromas complement each other nicely.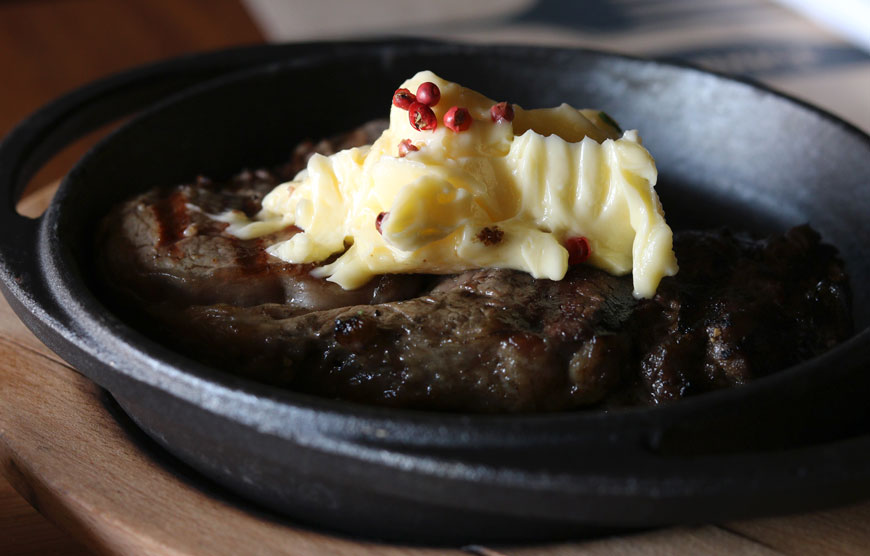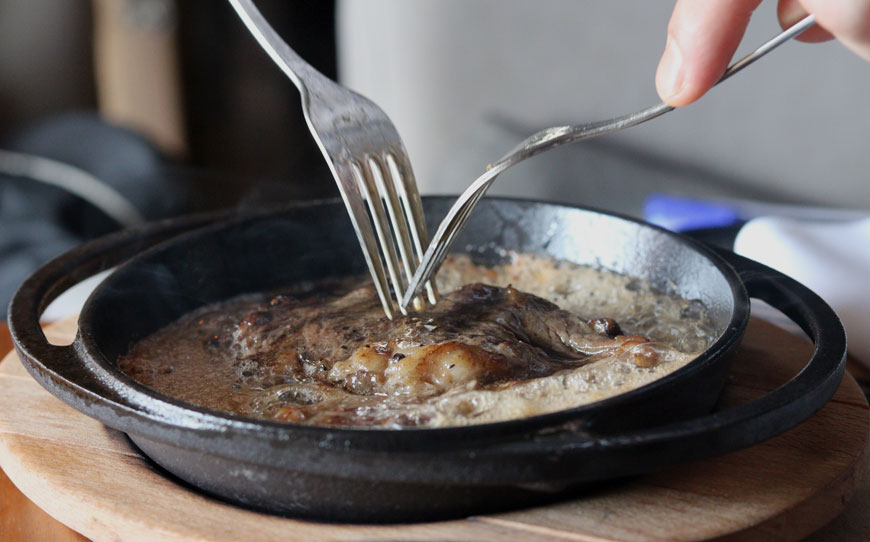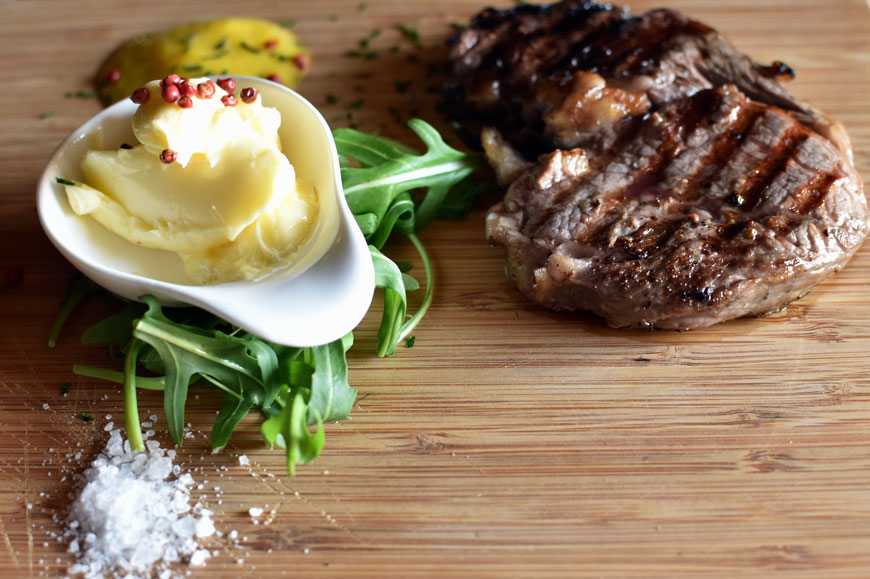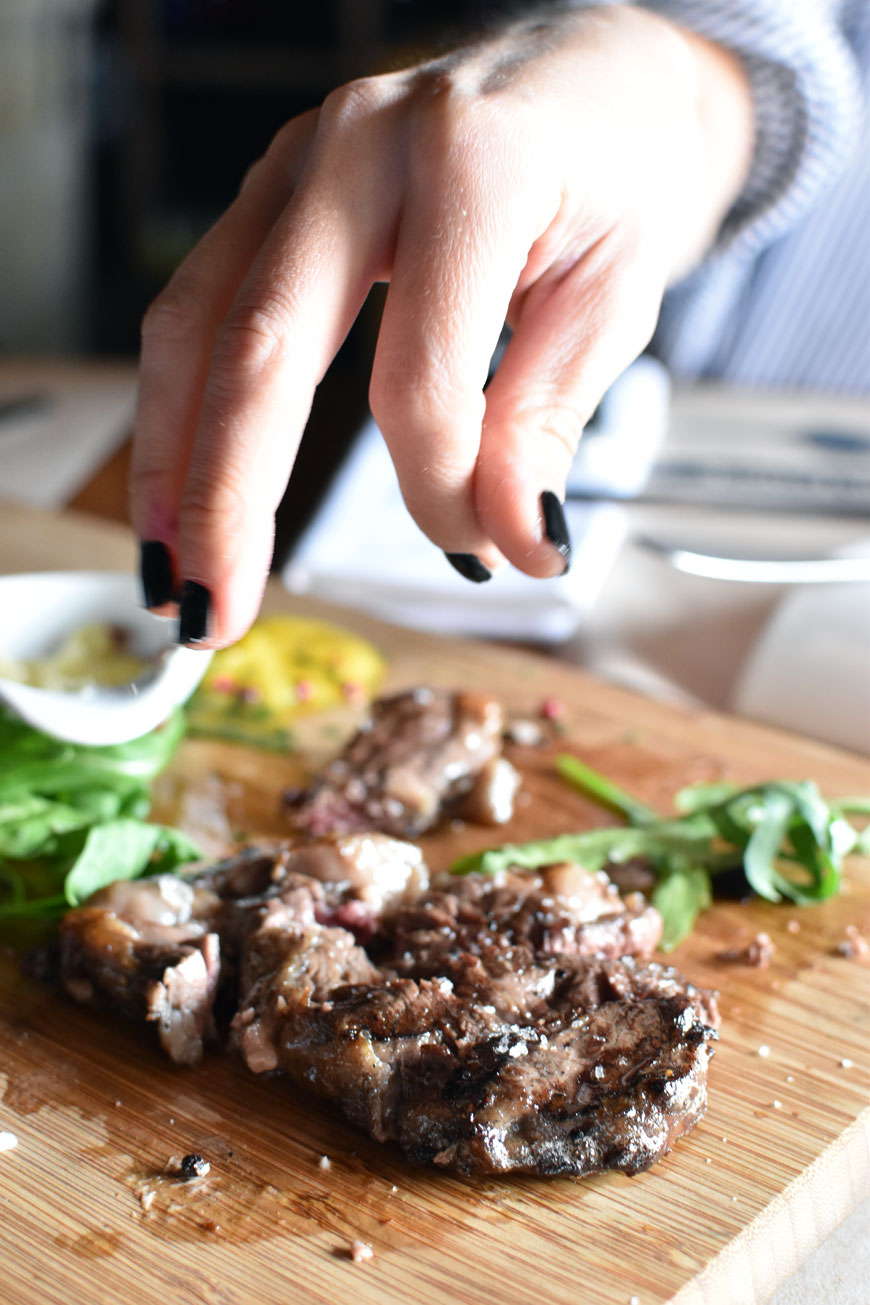 And where do we find the words for the steak? In the dictionary, under the idiom "fit for a king". It was nicely browned on the outside, tender and juicy on the inside, with beautiful crusty edges. That's all we have to say about the steak without using bad language.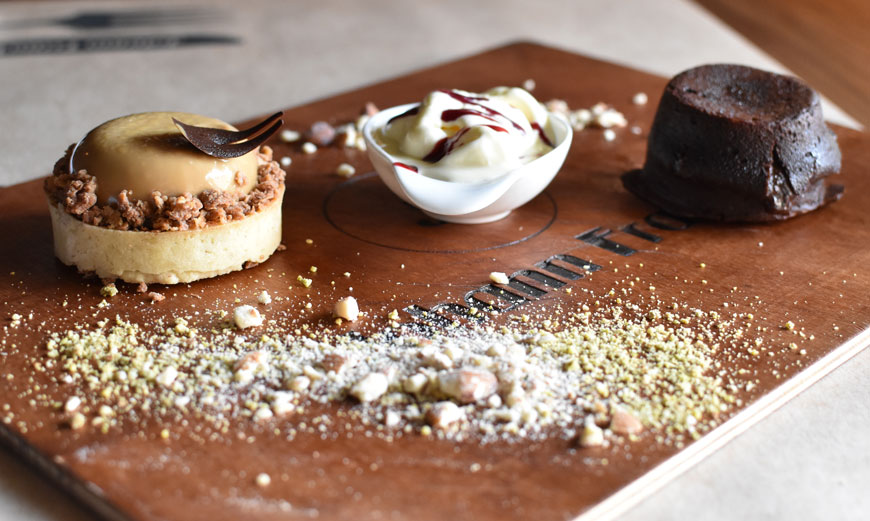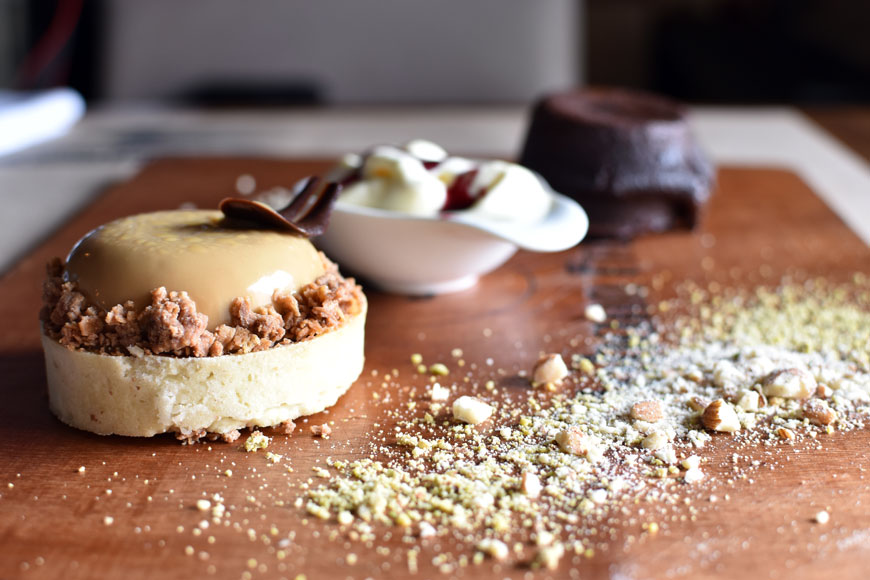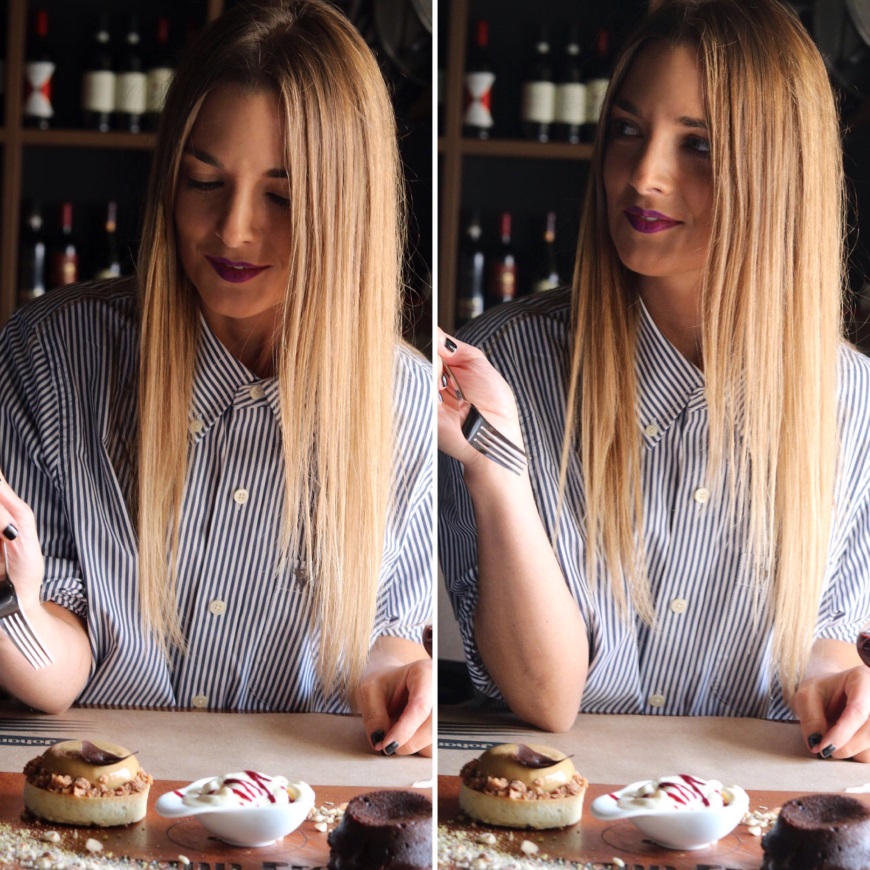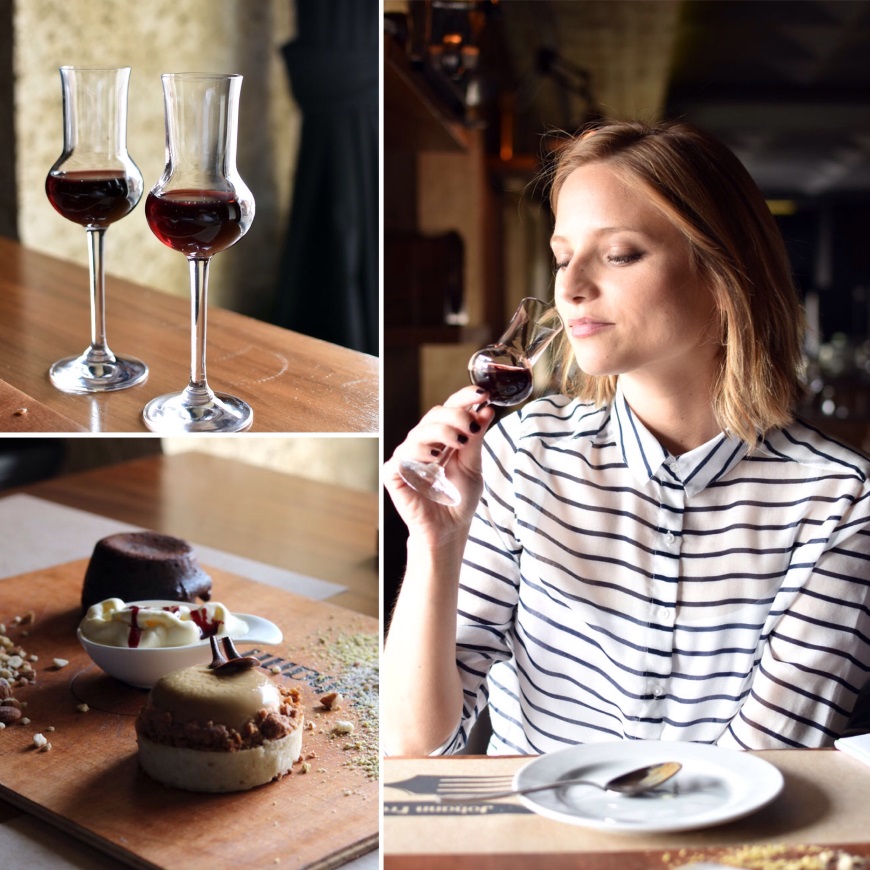 By the time we got to the desserts, the food coma was starting to kick in, but we were courageous! Lava cake with vanilla ice-cream and their signature dessert ‒ a coffee tart with caramel cream, coffee mousse and chocolate ‒ filled the invisible gaps in our Santa Claus bellies. And we didn't stop there, oh no. We had a glass of teranino ‒ a Teran wine based liqueur, the star of Istrian spirits.
Although very busy behind the chef's line, Mr. Tomašević fortunately made some time for us. In between the delicious courses we were tasting (or shamelessly devouring) from the new menu, we chatted about his views on the current Croatian culinary scene, his plans and goals for the Johann Franck Bistro and laughed over some funny cooking fails (which happen even in professional kitchens, FYI)...
Q: OK, so now that you have taken over Johann Franck's kitchen, what should we expect from you?
A: After several years at the Mano restaurant, first as a sous chef and later as the head chef, coming here and taking over the kitchen has been a great challenge, a huge opportunity for me. My idea is to draw from the local culture, which is why we work mostly with small family farms. For example, in order to provide a properly authentic food experience, we obtain the štrukli for the braised veal cheeks served over baked štrukli dish at a local family farm. Being born and bred in Dalmatia, I decided to leave the preparation of štrukli to experts from North Croatia. (laughing)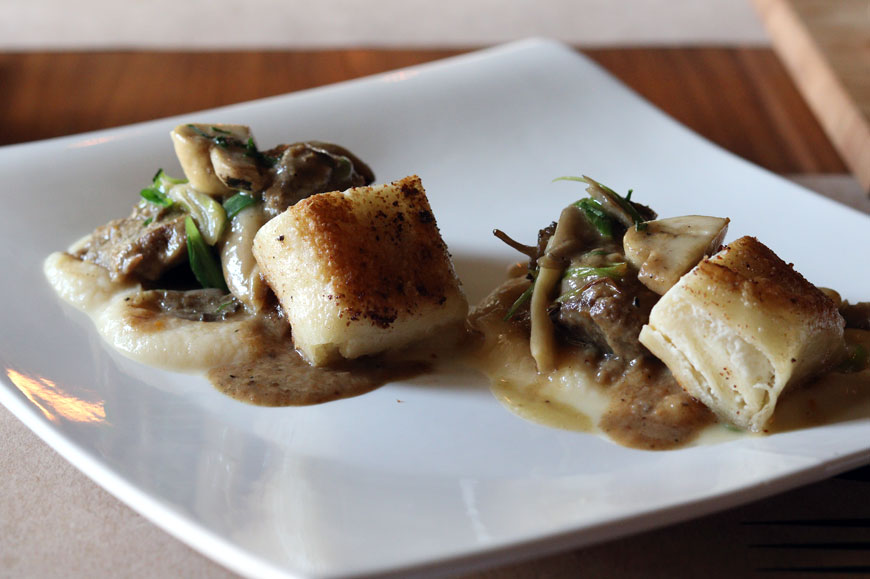 I really enjoy local dishes (cooking and eating) so you can expect classics such as roasted turkey/duck with mlinci, pork belly, cornmeal porridge with fresh cheese and sour cream, and some coastal specialties like salted codfish with potato (bakalar na bijelo).
Q: What do you think about the Croatian food scene at the moment?
A: People visiting Croatia are finally beginning to understand that Croatian cuisine is much more than fried calamari and they are now willing to try different things. Also, the street food scene is becoming increasingly popular in Zagreb, which is great. The best thing about the street food is that it's easily accessible, which is what we are trying to promote here at Johann Franck Bistro. I want to make our food available to a wider audience.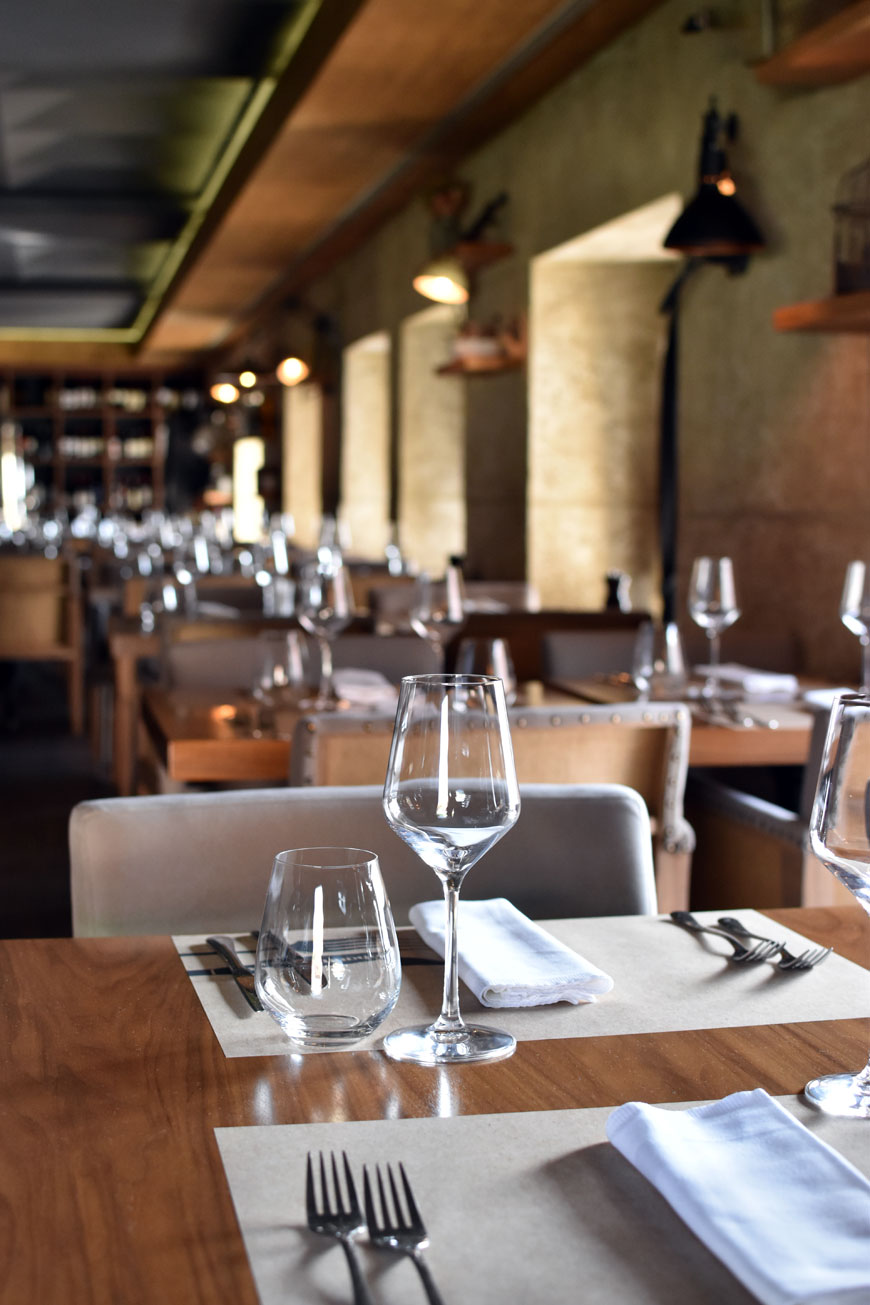 Q: What is your favourite traditional Croatian dish?
A: This may seem a bit odd, but I truly delight in collard greens with smoked ham/pork ribs and bacon. I know it's not the most common meal in the world but I like it. I enjoy a nice homemade stew, and wouldn't say no to the Pag lamb braised in white wine and capers, which will soon be on our menu as well.
Q: What is your least favourite dish?
A: Liver. I am not a liver lover.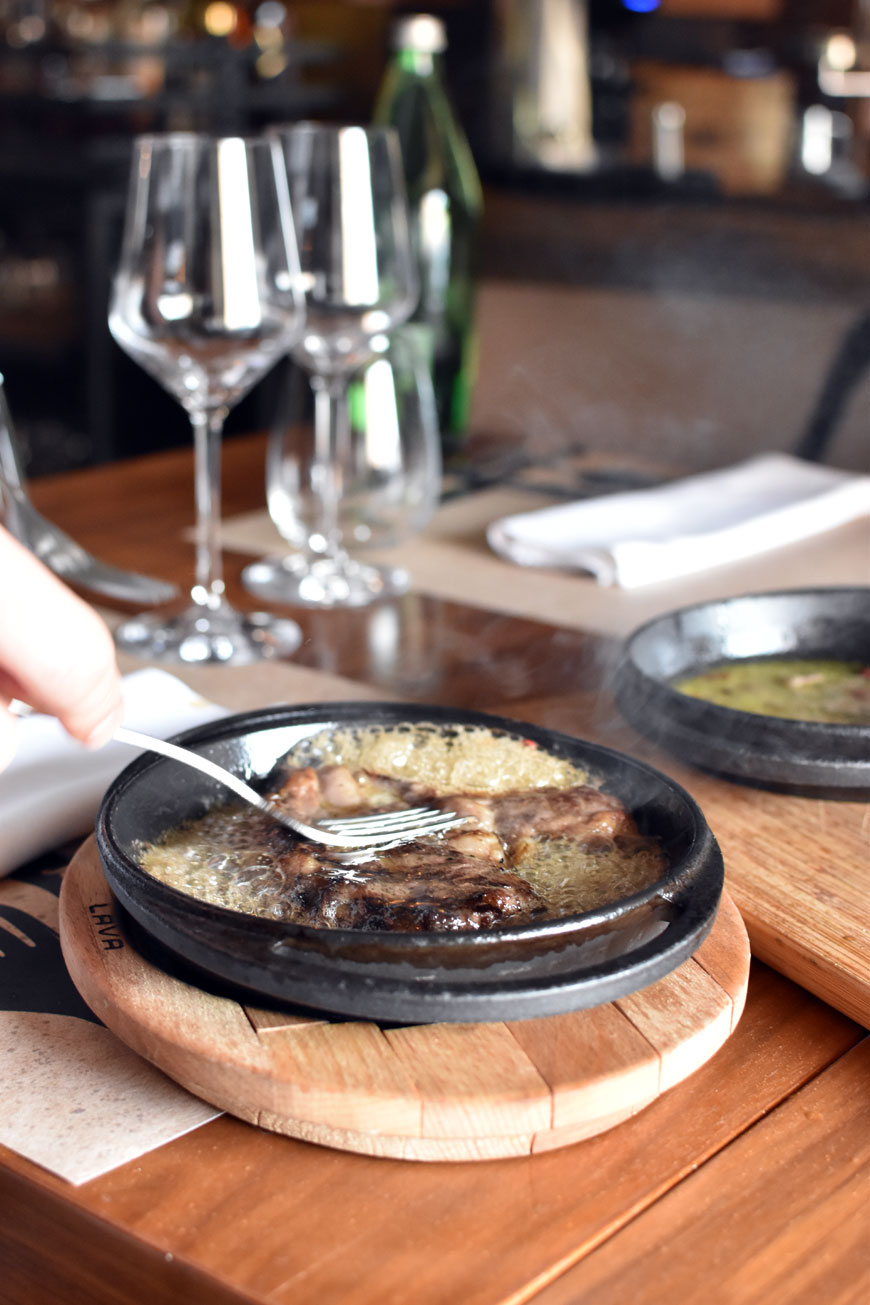 Q: Everyone makes mistakes. And just like in every other profession, a busy kitchen is fertile ground for blunders, gaffes and mishaps. We know that chefs usually don't like to share their cooking disasters, but can you reveal at least one for us?
A: OK, let's see. One time I decided to personally make and serve what was supposed to be a chocolate fondue to a customer. What I didn't know was that I had unfortunately taken the wrong bottle with brown "sauce" in it, which was unlabelled, mind you. So what I actually made was a soy sauce fondue! I then apologized to the customer, explained to her how sometimes mistakes lead to original dishes, we laughed over it and in a few minutes she got the real thing. Mistakes happen, but it's how you deal with them that matters.