There's a whole lotta love for burgers in Zagreb right now and it seems that the burger frenzy is not going to end soon. I'm still not sure if that's a good thing or not. Don't get me wrong, I adore burgers but I just wish there was more diversity to the Zagreb food scene. It seems that in Croatia, or in this case Zagreb, once a food trend takes off, there's no stopping it. Just to give you an idea about the strength of this burger trend, we're currently counting more than 15 specialized burger joints scattered around Zagreb. And let's not forget there are many other eateries (bistros, restaurants and gastropubs) that are popular, among other things, for their delicious gourmet burgers. I think this burger craze requires a more detailed investigation, which I might take up sometime. For now, I'll just enjoy it while it lasts and not take it for granted, I suppose.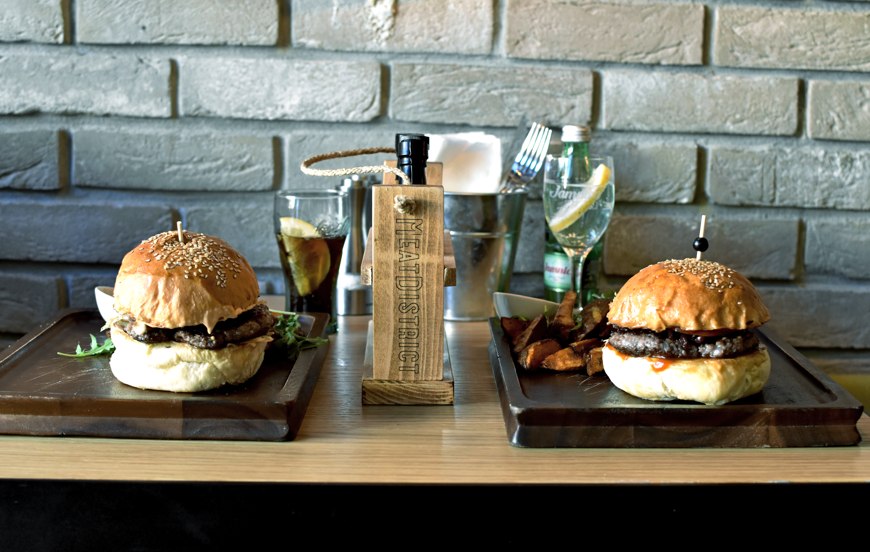 The best thing about this never-ending burger obsession is the existence of competition. What I mean is whenever a new burger joint opens, the standard is set even higher. That's great news for us, the consumers, because we keep enjoying more creative and yummier burgers!
A relatively newish competitor in the Zagreb burger arena is Meat District. Occupying a space in the hip Preradovićeva Street, Meat District already gained a few points over the competitors because there's no way a casual passer-by would miss it while strolling around Cvjetni trg (the Flower Square). The first thing I liked about Meat District is, of course, the interior.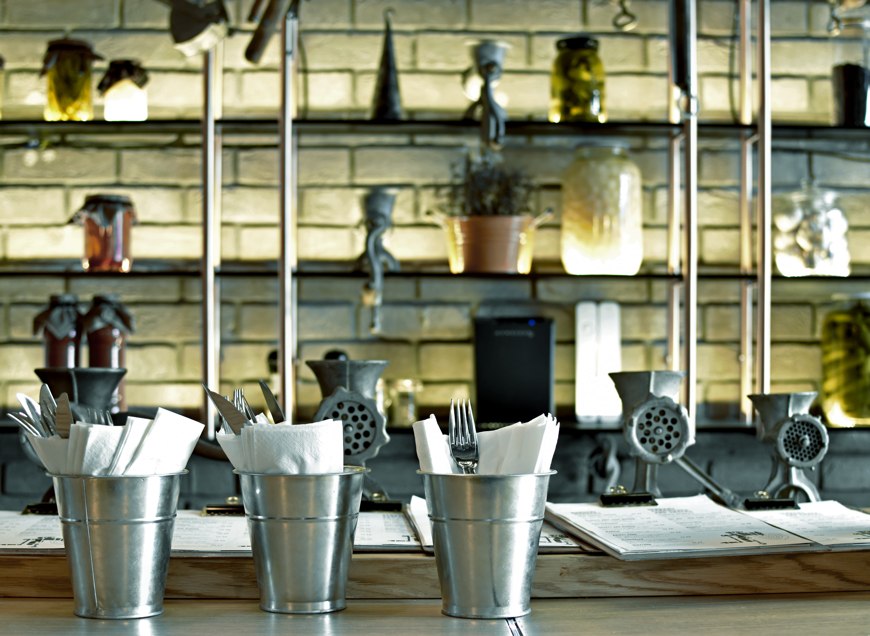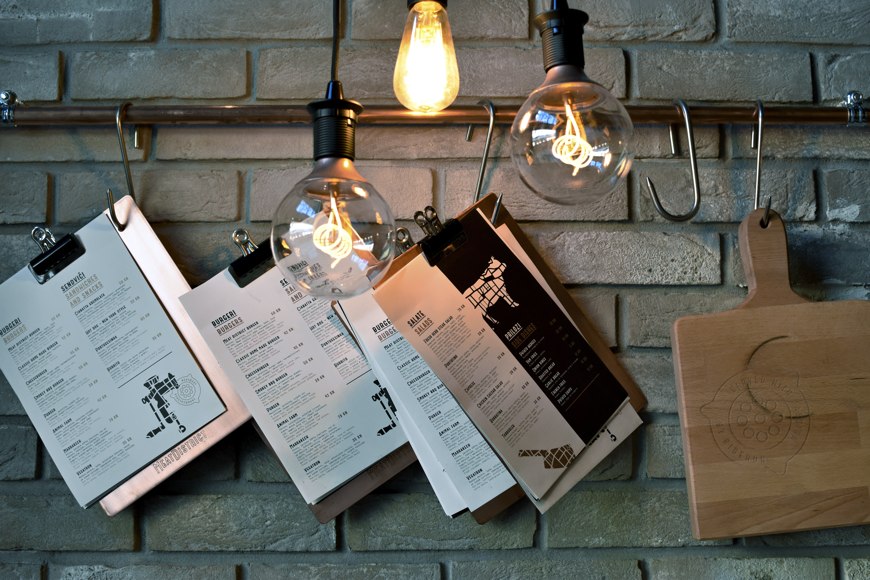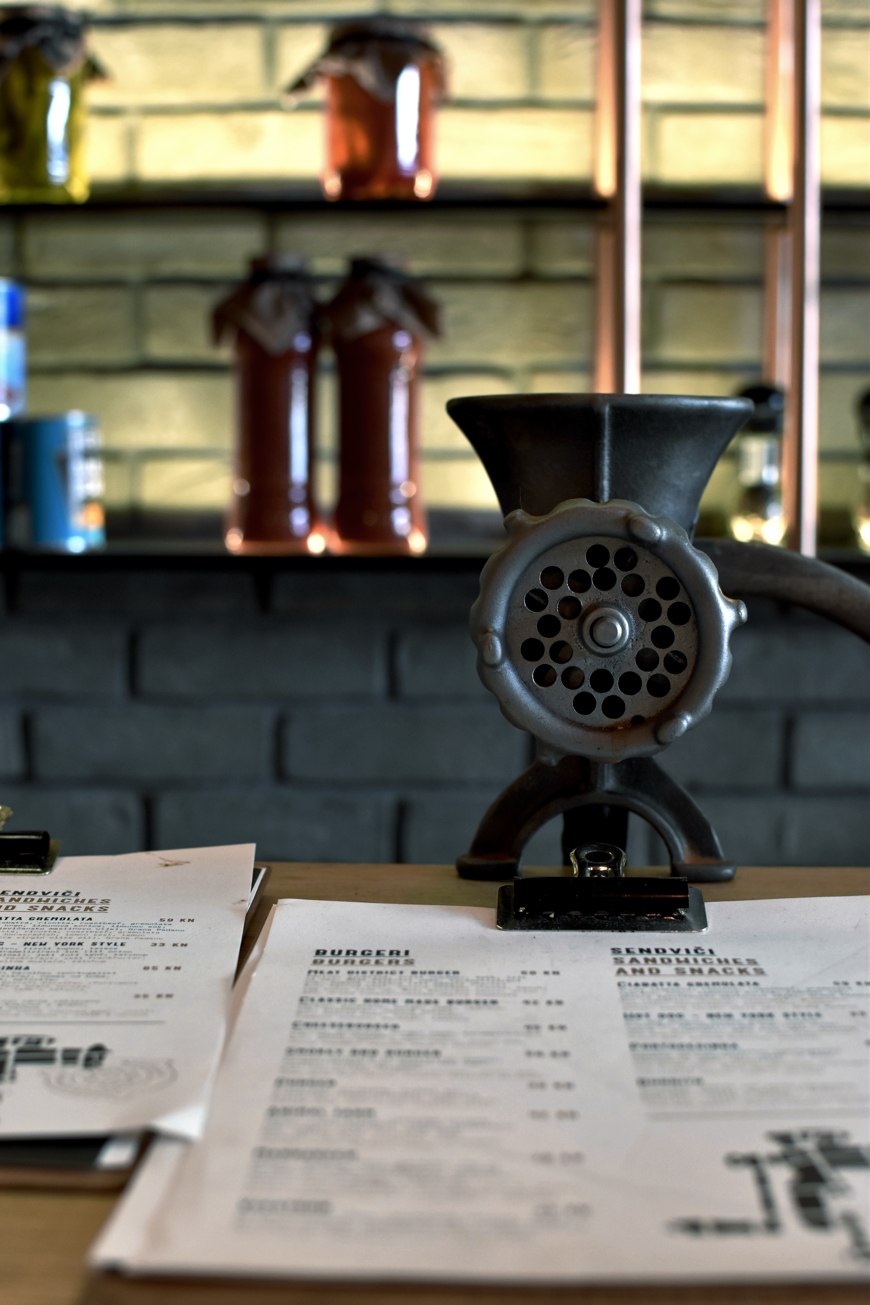 The recurring industrial design theme is also one of Zagreb's long lasting trends, but I really enjoy a beautifully executed interior such as the one of Meat District. Give me bare bricked walls, hanging exposed bulbs, old-fashioned hand-crank meat grinders, copper pipe open shelving, lots of wooden details, and I'm sold. Pair that with a generous, juicy burger with some luscious BBQ sauce (with a Jack Daniel's base!), some crispy skin-on potato wedges, and the need for protesting against so many burger joints popping up simply disappears into thin air. Poof!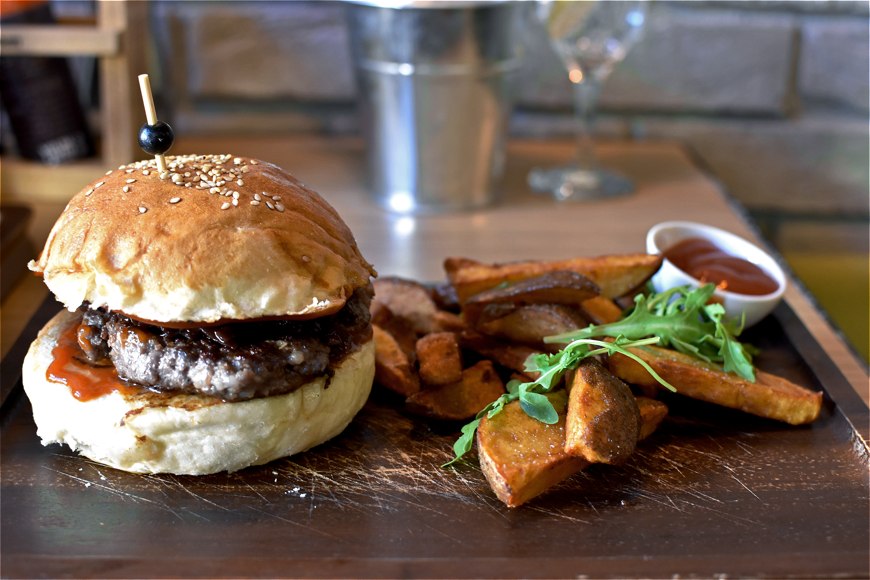 A serious burger-centred place such as this one brings eight different burgers into play. There's the house burger: the Meat District Burger with a patty made with different meat cuts, covered in molten Cheddar, caramelised onions, roasted cherry tomatoes, crispy bacon and a sunny-side up egg, altogether soaked in a "special sauce". Apart from some must-haves such as a classic homemade burger, a cheeseburger and smoky BBQ burger, they also offer the so-called "Purger" burger, which is "a combination of American techniques and the taste of old Zagreb". It's a turkey burger patty in a typical Zagreb pastry kajzerica (a Kaiser roll), with mixed fresh cottage cheese and chive sour cream, fresh horseradish and lamb's lettuce. Haven't tried it yet but it's on my list.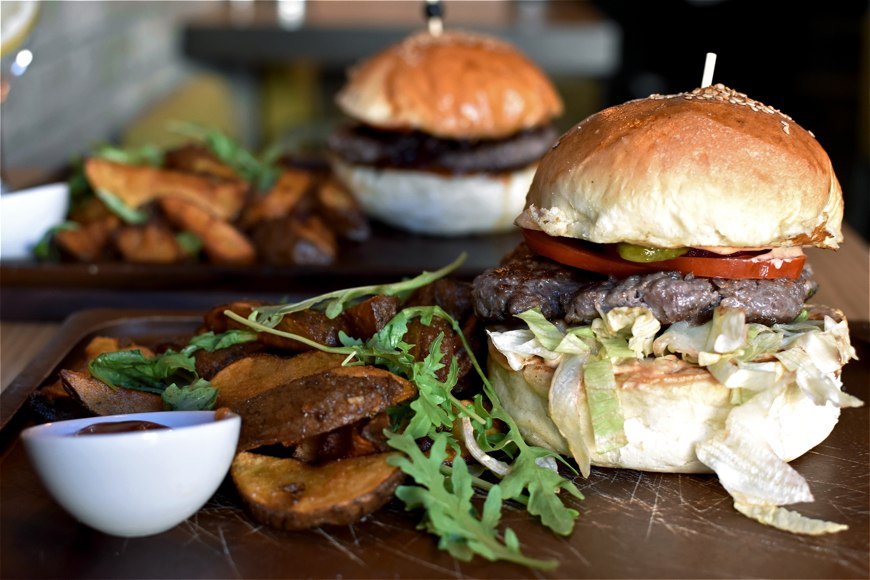 For burger lovers who like to move a bit away from the classics and have a go at a slightly different approach to burgers, there's a pork patty and an exotic lamb patty one as well – a burger with a Marrakech twist. If, by any chance, you're not into meat (then what are you doing in a place called Meat District?!), there is something for you, too, and it goes by the name of "Vegatron" – a brown lentil patty with pickled zucchini, sweetened with an onion curry salsa and seasoned with fresh basil.
If you're watching your weight and don't want a burger but you're masochistic enough to watch your companions sink their teeth into the succulent burgers, there are six different salads that should meet your nutritional needs and satisfy the taste buds. The sweet-toothed creatures like myself should be satisfied with the dessert offer – a tiramisu, mousse au chocolat, panna cotta, American maple pancakes and a long forgotten Croatian egg dessert "šnenokle" (or Floating Island).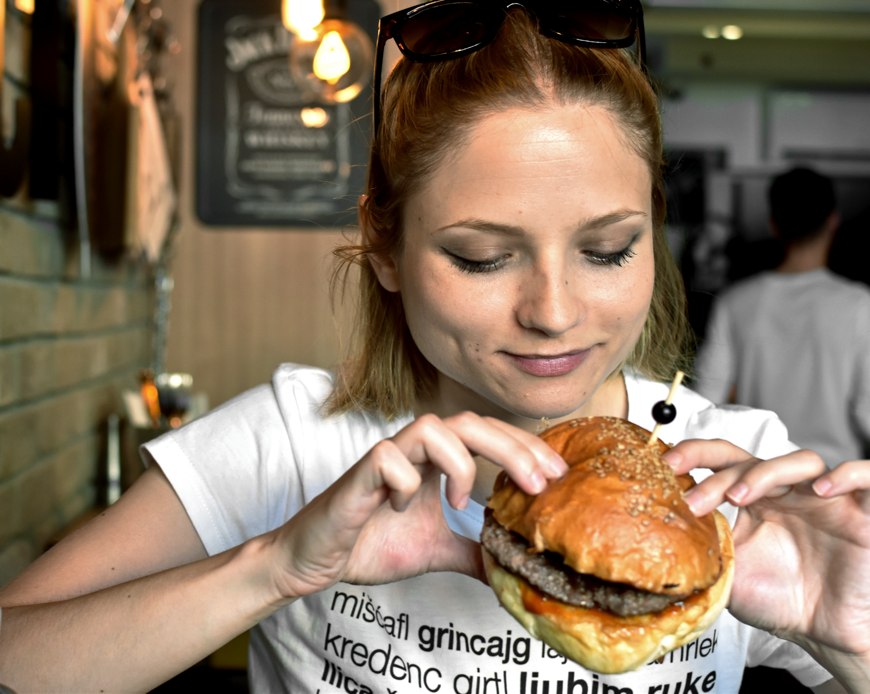 As far as the prices go, they are a bit higher than some of the competitors, with an average of 50 kn (6.6 euro) for a burger, which I think has to do more with the central location. So, apart from the yummy burgers, you're paying for the experience of sitting at an outdoor terrace (or inside the beautifully designed space) at one of the most buzzing areas of Zagreb.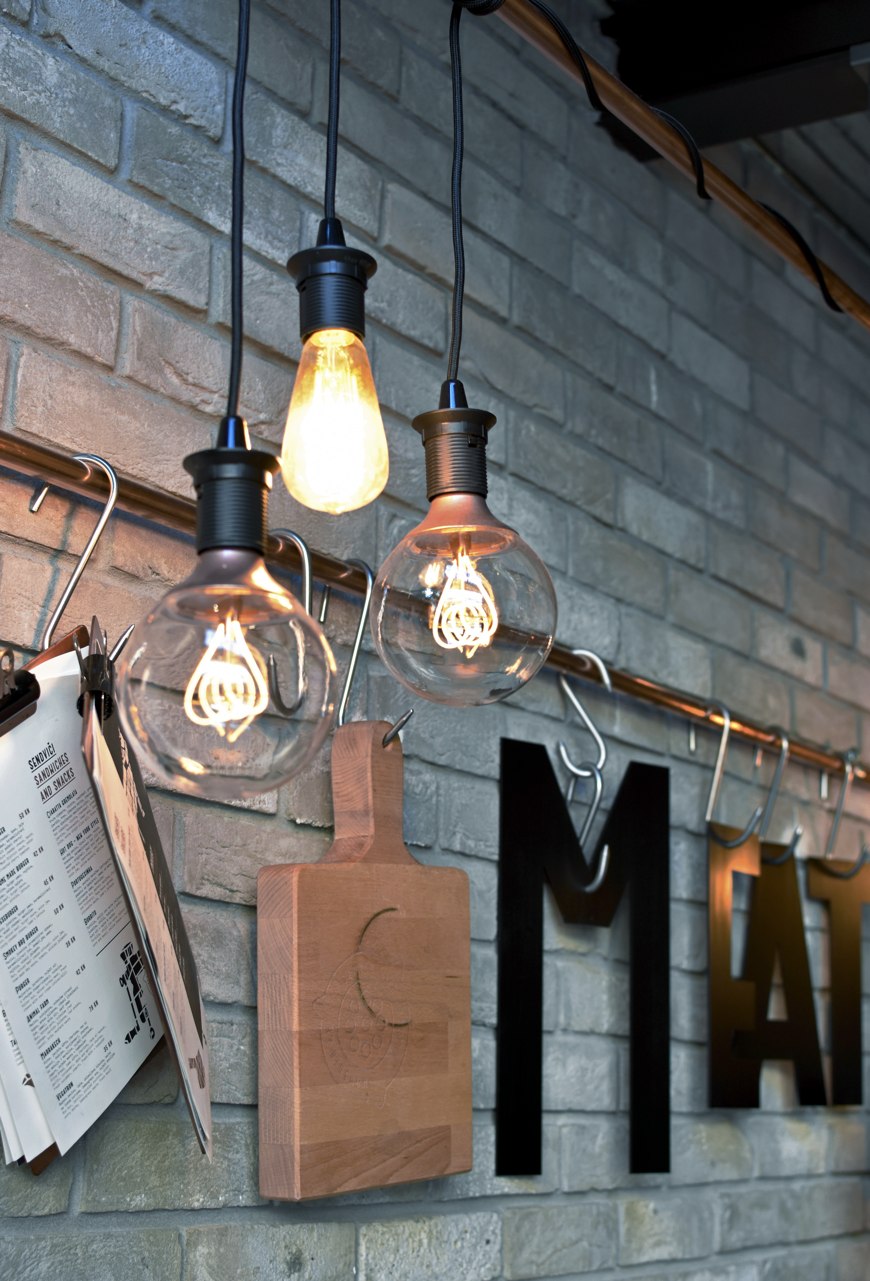 When you take all of Zagreb's burger places into consideration, I think Meat District definitely deserves your attention. The address is Preradovićeva 2, and my personal recommendation is the "Smokey BBQ Burger". Spice it up with one or all three hot sauces by the Volim Ljuto company. Wash it down with some cold beer. Thank me later.
Are you a fan of burgers? I bet you are! Do you think that the competition in the food scene is a good thing? Share your thoughts in the comment section!
By: Katarina Burić